The "By the Numbers" page in the Latin America Amateur Championship media materials reads as follows:
29 — Countries and territories are represented in the 2022 LAAC field. Argentina leads the international contingent with eight players in the field, followed by Venezuela with seven players.
Each of those countries, from mighty Argentina down to the U.S. Virgin Islands—whose one entry in the LAAC lives on an island with no golf course—features some incredible stories. But if you were looking to expand that list to 30 countries, you might look to an unlikely, uh ... "country." A country that we'll call "Hog Nation."
Five current players from the Arkansas Razorbacks men's golf team are competing in this year's LAAC at Casa de Campo in the Dominican Republic, and each of them have a shot at taking down the big prize. They have a model in that regard, too, because in 2019, Mexico's Alvaro Ortiz won the title at this same Teeth of the Dog course. And at the time, Ortiz was a college golfer at—you guessed it—the University of Arkansas.
Razorbacks men's coach Brad McMakin attended the LAAC for the first time in 2019 and was impressed with how talented the field was at the time. "The talent level has definitely increased in Latin America," McMakin said then, pledging to continue to follow the tournament for potential players.
Among his charges is Peru's Julian Perico, who is playing in his fifth LAAC at age 22. Perico has two top-six finishes to his credit and has never finished outside the top 25. He also had a front-row seat to Ortiz's victory three years ago and remains inspired today.
"I was very excited just to see it," he said. "Alvaro is a really good friend of mine. Him and Luiz Garza are probably the reason why I'm at Arkansas now, so it was just very nice to see him out there doing his thing, winning. I was kind of trying to sneak up there the whole week, but I was just making too many mistakes. … I've grown as a golfer and a human being since then."
Perico has plenty of game, as proven by his second-round 65 at Casa de Campo in 2019. Last week at the South American Amateur Open in Ecuador, he shot another 65. In fact, Perico has the special distinction of having shot the lowest first-round score in an LAAC history, a feat he pulled off in 2017 with a 64 when he was the youngest player in the field, including a record 29 on the back nine. And you may have seen Perico more recently than you think—when John Daly and his son John Daly II won the PNC Championship in December, Perico was on Big John's bag as caddie. That's no surprise, since Perico and John II are Arkansas teammates and Daly Sr. is a former Razorback.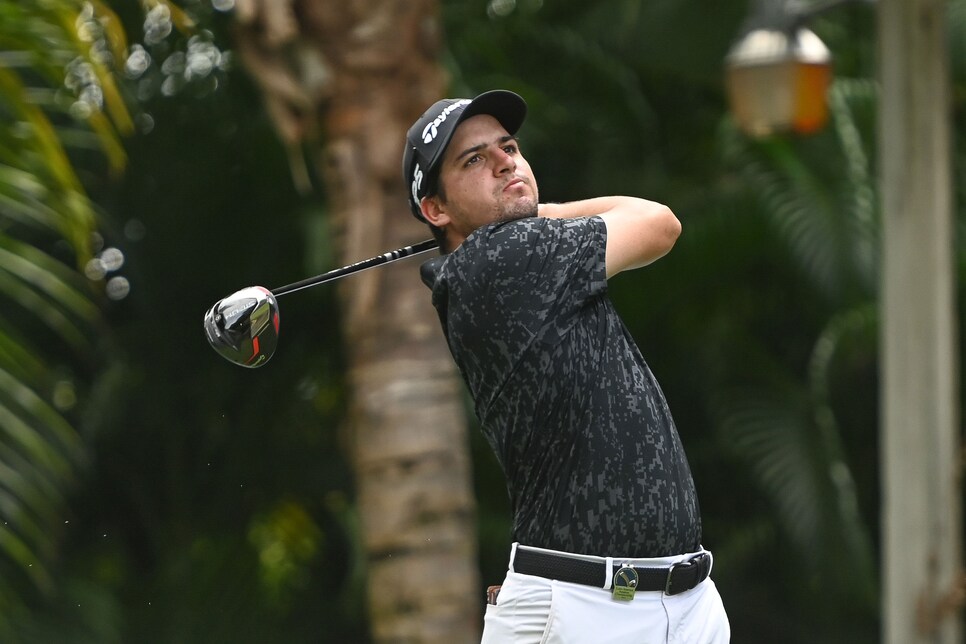 Mateo Fernandez de Oliveira just joined the Arkansas team as a transfer this fall from TCU and already has a win and two more top-three finishes for the Razorbacks.
Enrique Berardi/LAAC
If Perico is coming in with confidence, teammate Mateo Fernandez de Oliveira, a 22-year-old from Argentina, deserves to be outright cocky about his chances to win this week. Certainly, he's one of the tournament favorites. The TCU transfer played in three stroke-play events for the Razorbacks last fall and improved each time—from third place (Carmel Cup at Pebble Beach) to second (Blessings Collegiate Invitational) to first (Jackson T. Stephens Cup). These are the three best finishes of his college career. Then, last week, he won the South American Amateur, posting a cumulative score of 277. And that's was after missing a flight connection in Brazil and being stuck for two days in the airport. All in all, it took him 65 hours to get to Quito.
"I think I gained a lot of confidence in the last couple months," Oliveira said on Tuesday. "Transferring to Arkansas was a big part of everything. Now I compete against the other four guys that are playing with me this week. We all played pretty well, and we tried to beat each other each time we go out to the course. I think that helps a lot."
Oliveira's victory in Ecuador came by two shots, and the runner-up? You guessed it: Another Razorback teammate and fellow Argentine, Segundo Oliva Pinto. Pinto will be making his second LAAC appearance this year after an eighth-place finish in Mexico in 2020, and though he wasn't quite as scorching as Oliveira in the fall, he did post top-20 finishes in all three events and was a first team all-SEC pick in 2021. Like Perico, he's technically a senior, but will be granted an extra year of eligibility due to COVID-19.
Juan Camilo Vesga, of Colombia, is the youngest Razorback in the field at 19, and his best LAAC experience is 43rd place in 2019 at Casa de Campo (he missed the cut a year later in Mexico). Despite the fact that he's still building his résumé, he did go 3-1-0 at the SEC Match Play in the fall and was the 2019 South American Junior individual champion. He's also been a Colombian national champion 11 times in various age divisions.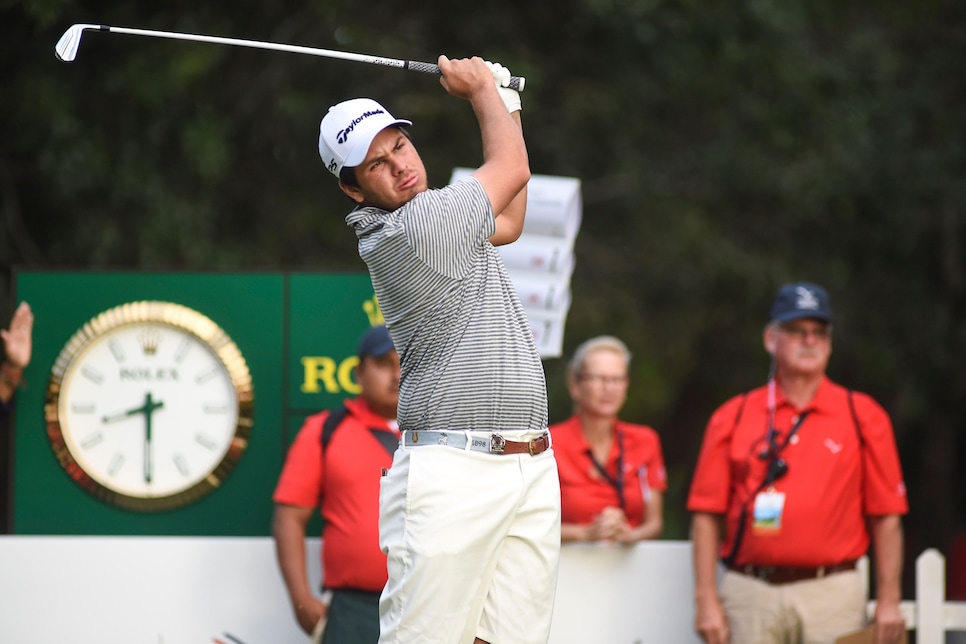 Julian Perico has the record for lowest first-round score ever shot at the LAAC (64 back in 2017).
Enrique Berardi/LAAC
Rounding out the Razorback Five is Manuel Lozada, a 19-year-old sophomore from Argentina. He's coming back from a broken left ankle that kept him out of the Arkansas lineup in the fall. It was Perico who told McMakin to take a look at Lozada after seeing him play an amateur tournament in Pennsylvania, and the rest is history.
"I decided to reach for another level in golf when I went to study and play in the United States," Lozada said before this week. "Living 100 percent for the sport. I had to put a lot of things aside, like parties, friends, and even seeing my family less. I did it in pursuit of something greater, which is what I love."
It may sound lonely, but at least Lozada and the Razorbacks can count on each other—both this week and into the future.
"With the other guys [from Arkansas]," Oliveira said Tuesday, "it feels like we are the same country. We play for the same school which could be like another country."