Next Stop Augusta
Latin America Amateur champ Aaron Jarvis becomes the Cayman Island's instant golf hero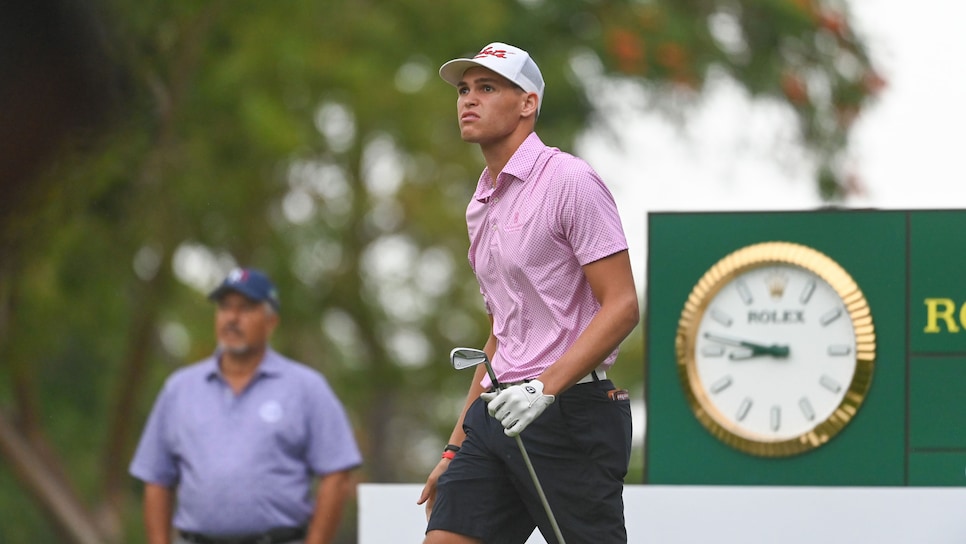 Photo By: Enrique Berardi/LAAC
For a moment, it looked as though a sprinkler head might cost Aaron Jarvis the biggest title of his career. The 19-year-old UNLV freshman who hails from the Cayman Islands made birdie on the 18th hole to reach seven under par at the Latin America Amateur Championship, good enough for the solo lead after Brazil's Fred Biondi, who was ahead for most of the day, fell to six under with a bogey on the 17th hole.
Minutes later, standing greenside by the 18th hole at Casa de Campo's Teeth of the Dog course, Jarvis watched as the final threesome made its way home. Vicente Marzilio, the 20-year-old Argentine and reigning Conference USA individual champion for the University of North Texas, was the more unlikely spoiler. He needed an eagle 3 to get to seven under and force a playoff, and though the finishing par 5 has played downwind all week, his approach looked short. Then it happened—his ball bounded off a sprinkler just in front of the green, bounced toward the flag and stopped perhaps seven feet from the pin.
All Jarvis could do was laugh as those around him cringed, but he knew he had a more pressing concern. That was Biondi, who striped his drive past his two playing partners, and had 183 yards to the green. An eagle from redshirt junior at the University of Florida would get him to eight under and steal away the title. But his approach started right and stayed there, leaving him an awkward pitch on an afternoon when his short game wasn't quite up to snuff. Biondi landed his third a couple yards too far onto the green, and missed the long birdie attempt (barely) to tie Jarvis.
That left Marzilio, he of the sprinkler head, poised to pull off what might be his country's greatest sports miracle since Maradona's hand of god goal. Instead, his eagle putt lipped out, and Jarvis was mobbed by friends and family.
"It hit a sprinkler or something and bounced straight up in the air, and I was like 'oh my God,'" Jarvis said. "I just couldn't believe that happened. Just a crazy ending."
One that's also a beginning too, as Jarvis will now be heading to the Masters in April and the Open Championship in July, rewards for his LAAC triumph. (He's also exempt into the Final Qualifying for the U.S. Open and into the British Amateur and U.S. Amateur.)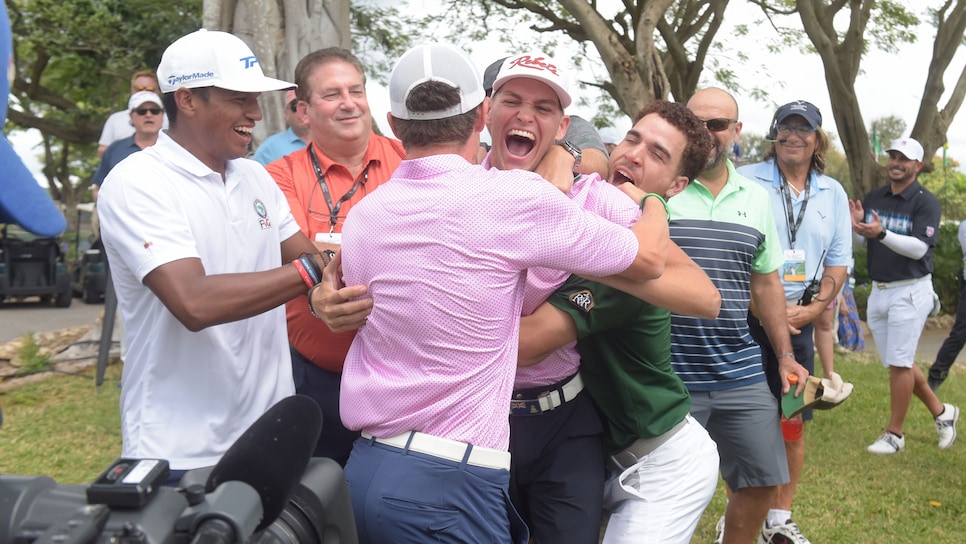 Aaron Jarvis celebrates with friends after clinching his LAAC victory Sunday at Casa de Campo.
Enrique Berardi/LAAC
Jarvis started out Sunday red hot, going three under through his first six holes, but a bogey at No. 8 and a double bogey at No. 9 brought him firmly back to the pack, needing a spectacular back nine to contend. And that's just what he delivered, with birdies on Nos. 11, 12 and 15. On the 18th, Jarvis pushed his drive slightly right, but it stayed in the fairway, and then he hit his shot of the tournament, a 3-iron from 253 yards that reached the green. A missed eagle putt left him a downhill four-foot slider, left to right, and though he called it the most nerve-wracking moment of his life, he drained the birdie for a three-under 69.
Jarvis spoke earlier in the week about his dual mission of winning the event and expanding golf in the Cayman Islands, a self-governing British overseas territory with just 71,000 people and two golf courses (one of them nine holes). This is a massive step in the right direction—he'll become the first player from the Cayman Islands to compete at Augusta National.
"It's crazy, representing the Cayman Islands," Jarvis said. "I'd like to keep doing it, get more players involved, be an inspiration by playing in the Masters and the British Open. It's special."
North Sound Golf Club on Grand Cayman is the lone 18-hole course, and that's where Jarvis grew up playing after watching his brother compete in the Caribbean Amateur whetted his appetite.
"From there, I was like, 'screw it, let me start playing,'" he remembered. "It hooked on to me, and it obviously led up to this point."
His dad worked in accounting, his mom in real estate, and they stayed involved in their son's early career as he won the boys 15-and-under title at the 2018 Caribbean Junior Individual Championship and the 2019 Cayman Islands junior title. He moved to Florida for high school, attending Windermere Preparatory, and began training at the David Leadbetter Golf Academy as he contemplated college. Three world amateur golf titles in 2020, including the South Junior Open, made him an enticing prospect, and in the end he chose UNLV, former home of players like Adam Scott, Ryan Moore and Charley Hoffman. Heading into the LAAC, his confidence was high.
"With the college experience under my belt [from the fall season], I knew I had a chance," he said. "I had the mindset that I was good as anyone out there. I came out and gave myself an opportunity to win, and I did it."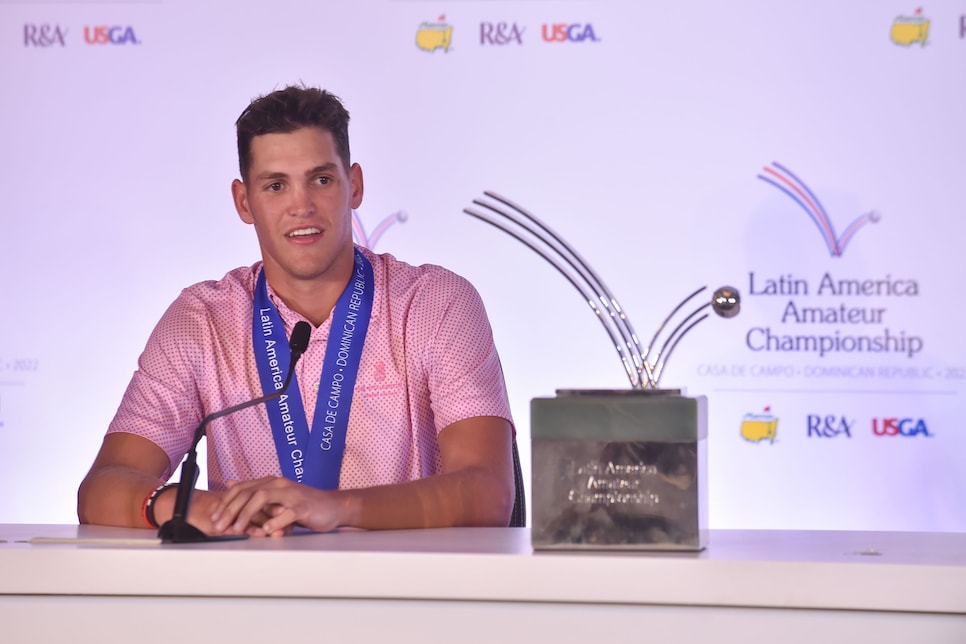 Jarvis said he's proud to represent the Cayman Islands and to be the first golfer from the country to compete in the Masters.
Enrique Berardi/LAAC
Now he'll get to play at Augusta National and the Old Course at St. Andrews, and though he's not old enough to have a celebratory drink in the United States, he gave a bit of a wink to the assembled media when he said that in the Cayman Islands, the theoretical celebration of choice would involve a glass of rum or a beer called Presidente.
Most of all, though, Jarvis will settle for the pride that comes with such a monumental win. And if you missed him this past weekend, keep an eye out later this year for the kid from the Cayman Islands at the two most famous golf courses in the world.