Amateurs
Mature, fit and eager for more, Abel Gallegos is ready to defend his LAAC title
Abel Gallegos is less than two weeks from his 20th birthday, and he knows there's no better present he can give himself than to become the first golfer to win two Latin America Amateur titles. It's an unlikely outcome, as judged by the fact that it hasn't been done since this tournament began in 2015, but Gallegos' path has always been unlikely.
Born in the town of Veinticinco de Mayo—the "25th of May," a name celebrating the start of Argentina's independence movement—Gallegos only discovered golf because of the influence of a man named Raul Bordato. The golf instructor gave the young Gallegos classes for free on a day when the local nine-hole course, Las Mulitas, was empty and later took him out to play. Gallegos remains the only golfer in his family, and didn't fully commit to the sport until age 11 after spending most of his childhood on Las Mulitas—the only track for miles around.
Since that time, though, things have moved fast.
The highlight, of course, is his 2020 LAAC win at El Cameleon Golf Club in Mexico, the same course that host the PGA Tour's Mayakoba event. Gallegoes became the championship's youngest winner (17) when he shot a spectacular closing 67 for a four-shot victory just months after Bordato passed away. Because of COVID, Gallegos has held the LAAC title for two years, and it earned him a berth at the delayed Masters in fall 2020 and the postponed Open Championship in 2021. At Augusta, he stayed at the crow's nest and ran into Tiger Woods on the night of the champions dinner (yes, he got a picture). He played with Jason Day and Charl Schwartzel that week, and though he missed the cut there and at Royal St. George's the next summer, the learning experience was invaluable.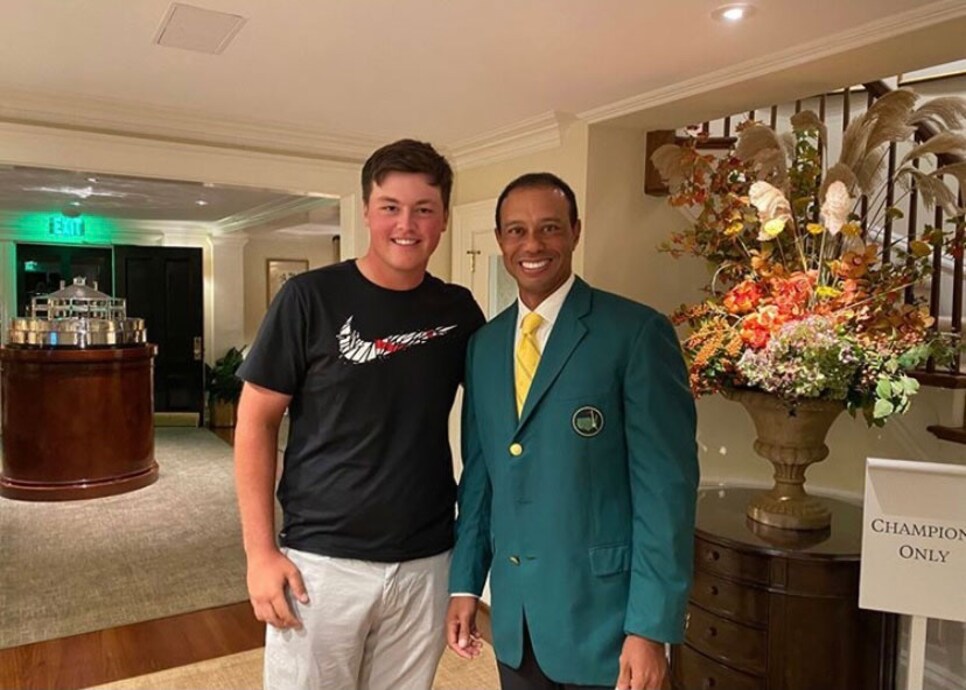 "There were two dreams that came true for me," he said on Wednesday at Casa de Campo in the Dominican Republic, the site of this week's LAAC. "I was impressed by everything, but mainly I have to say what really caught my attention is what good people all the players are. They treated me really well, and, of course, they hit the ball very well, but what impressed me most was the commitment that they have to the game."
The players he met at those majors told him to keep working and stay committed, and it's a lesson Gallegos has taken to heart. Since his 2020 victory, he's lost more than 30 pounds—"you can notice that I changed a lot since Mayakoba," he said—and moved to the United States, where he trains at the Hernan Rey Golf Academy in Orlando. The LAAC isn't his only triumph, either. Prior to that, he won the Argentine junior championship, made the cut in a PGA Tour Latinoamerica event, and posted a top-five finish at the Junior Open at St. Andrews. Since winning at Mayakoba, he teamed with other Argentine amateurs to win the South American Team Championship, and won the 2021 Azalea Invitational, a tournament that boasts past champions like Ken Green, D.J. Trahan, C.T. Pan, Cole Hammer and Webb Simpson.
So while Gallegos may have been slightly in awe at Augusta—"I didn't feel anything until I was able to walk off the tee, and there I felt my legs again," he said—the 19-year-old is a proven winner who is more than ready to shed the nerves of youth and take his place among the elite golfers of the world, and he's ready for the challenges of Casa de Campo.
"Amazing golf course," he said. "I haven't played here before. It's tricky from the tee box because the fairways seem narrow, but actually, they are not. The key this week is going to be to hit the greens because they are quite small and elevated."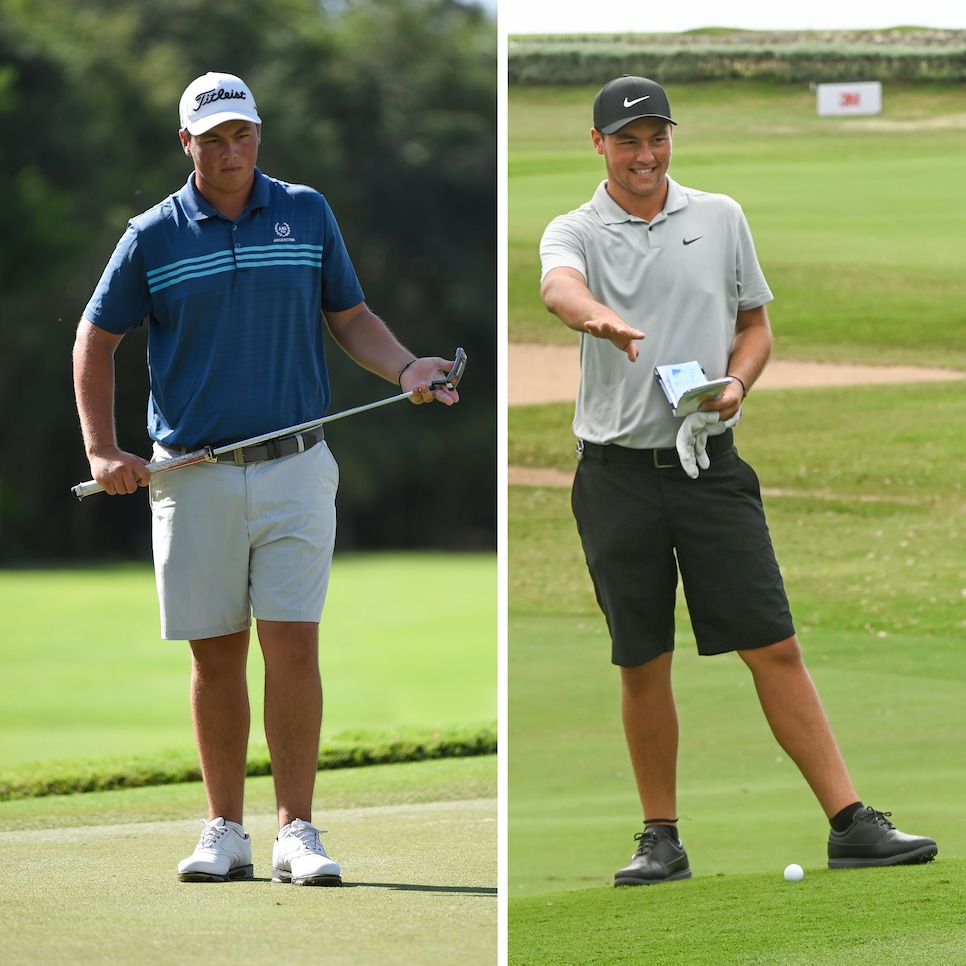 Gallegos has lost 30 pounds from when he won the LAAC in 2020 (left) and trains in the United States with an eye on a pro career.
When asked who he thought could win this week, he made the prediction that the title would remain in the hands of Argentina, which boasts eight players in the field. He was too humble to say his own name, but as he prepares to leave his teenage years for good, it's clear that Gallegos is infused with self-belief and still at the very start of what could be a long and prosperous golf journey. Maybe there has never been a repeat champion at the LAAC, but why not here, and why not him?