I want to say a heartfelt thank you to the Puerto Rico Golf Association and to our friend and peer Sidney Wolf. I'm not sure what it will say the day that Sidney leaves us on that tombstone, but I hope it says 'Here lies one of golf's best friends,' because he has been both to me and to this organization."
—Mike Whan, CEO, USGA
"I know I've had many discussions over the years with my friend Sidney Wolf about the desire, and just a burning desire to have this championship. So we knew when we came here it was going to be successful."
—Fred Ridley, Chairman, Augusta National
RIO GRANDE, Puerto Rico — Reversing a common story of the Puerto Rican diaspora, Sidney Wolf's family moved from New York to Puerto Rico in the early 1960s, when he was just 2 years old. His father was in manufacturing, and his mother stayed at home, but that would change for both in time. Sensing an opportunity, his father pivoted to real estate, and when he passed away in 1971, his wife inherited the business (and is still alive today, at age 98). Wolf never played golf growing up, which wasn't a surprise; although sophisticated courses were beginning to pop up on the island, they weren't far out of the era when most golf was centered around U.S. military bases, with sand greens due to the absence of heat-resistant grass strains and, for some reason, extra-large holes. He played the national sport, baseball, instead, and even played a semester at the University of Maryland before deciding that he'd rather own a team than play on one, at which point he focused on his studies.
That ambition won't surprise those who know Wolf, an entrepreneur now in his mid-sixties who credits his "passion" as the engine of everything that was to come—his involvement with Puerto Rican golf over the decades that led to his current role as president of the Puerto Rico Golf Association, a position he's held almost without pause since 1995. (He tried to stop twice, but both times they called him back within six months.)
The arrival of this week's Latin America Amateur Championship to Grand Reserve Golf Club in Rio Grande, a half hour's drive from PRGA headquarters in the nation's capital of San Juan, represents a kind of culmination for Wolf's career, to the point that he starts to feel sad at times, wondering if this is the end.
"There's nothing more to do," he said.
You get the sense, though, that for a personality as singular as Wolf, something will come up. Thus far in his career, it always has, and it may even be in the genes. As part of his real estate business, Wolf's father worked in recreational development. According to Wolf, he built the first putt-putt course, bowling alley and amusement park on the island. It's perhaps only natural, then, that Wolf took this work further. Upon returning from college, a few friends encouraged him to play golf, and he started to learn on the course attached to the San Juan army base. After six months he gathered the courage to try a "real" course, and before long he was starting to become immersed in the island's fledgling golf community. He played in a tournament called the Wheeler Dealer, a charity event involving prominent members of the Puerto Rican and mainland U.S. financial communities, and when he complained about how it was run, he managed to talk himself into an organizational role.
He knew little about marketing, and not much about golf, but when it came to raising money, he was a natural talent. By the 1980s, he was asked to be on the marketing committee for the Mazda Champions event, which brought together LPGA and Senior PGA Tour players for an event at TPC Dorado Beach. He was running the Wheeler Dealer in the meantime, along with the family business, and he even started to dabble in golf equipment distribution through a deal with the now-defunct company Belding Sports—a side hustle that became his company Sports Group, which now runs distribution across the Caribbean for the top equipment and apparel lines in golf, including Acushnet and Ping.
Wolf started running more and more tournaments, many of them through Hyatt, the corporate host of this week's LAAC, and became a member of Lake Nona in Florida. There, he watched the World Cup of Golf in 1993, which was set to come to Puerto Rico the following year. He joined the PRGA board in '94, became the manager of the national team, worked on the World Cup in '94 and the senior match play event, and was elected president of the PRGA for the first time in 1995.
When Judy Bell rose to become USGA president, she became a "savior" for Puerto Rican golf, outfitting the PRGA with the technology and equipment needed to take its national program to the next level. That allowed him to start running professional events, like a Tour de Las Americas event, and after trying and failing for several years in his capacity as the president of the Caribbean Golf Association, he landed the World Amateur Team Championship for Puerto Rico in 2004. He also started the Americas Golf Association, a tour that ran from Puerto Rico to Canada, and then decided to become even more ambitious by seeking a Nationwide Tour event (the Korn Ferry Tour, today).
The PGA Tour told him he needed funding, so he went to the government, the bank, and everywhere else he could, and in what had become a common theme for Wolf, he got the job done.
"I look you in the eye, and you can't say no," he told me, only half-joking.
The PGA Tour came back and told him to forget the Nationwide Tour—they wanted him to run a PGA Tour event. Thus, in 2008, the Puerto Rico Open came to Rio Grande after a wholesale property upgrade to prepare for the event.
"Any event that comes to Puerto Rico is because of what I've been able to do," Wolf said, and while that sentiment isn't dripping with modesty, and he corrected himself to say that there were a few that didn't quite meet that criteria, he's not far off from the truth. And everything he's done for golf, he's done as a volunteer, including as president of the PRGA.
The number of members of the Puerto Rico Golf Association has increased 300 percent since Sidney Wolf took over as president in 1995, thanks in part to initiatives like Golf Para Todos ("golf for all").
As his involvement grew with the USGA and R&A, he became intricately involved in the inception of the Latin America Amateur in 2015. He doesn't take credit for the idea, but he did retell the story of meeting with Ron Cross, who was with Augusta National then and now works with LIV Golf, and suggesting that the success of the Asia-Pacific Amateur could translate well to Latin America. Wolf put together a document for Cross with facts and figures about golf in his part of the world and was integral in in the LAAC's formation. The idea of Puerto Rico hosting the event was a fait accompli, and Wolf thinks it would have happened in 2018 if not for the devastation wrought by Hurricane Maria.
That disaster, strangely, strengthened his relationship with the USGA. The PRGA building was destroyed, and financial relief from the USGA was key in rebuilding his organization—and, in turn, restoring golf across Puerto Rico. By 2021, the PRGA had become the 59th Allied Golf Association of the USGA, and the first outside the 50 United States.
Now, Wolf has brought the LAAC to his home shores, and he's eager to talk about all nine Puerto Rican golfers in the field—the largest contingent of any country or territory in this year's tournament. It's a signifier of the game's growth in Puerto Rico, where 19 courses host the roughly 12,000 golfers on the island, including 5,400 members of the PRGA—a number that has increased by about 300 percent since Wolf took over, thanks in part to initiatives like Golf Para Todos ("golf for all") started in 1998.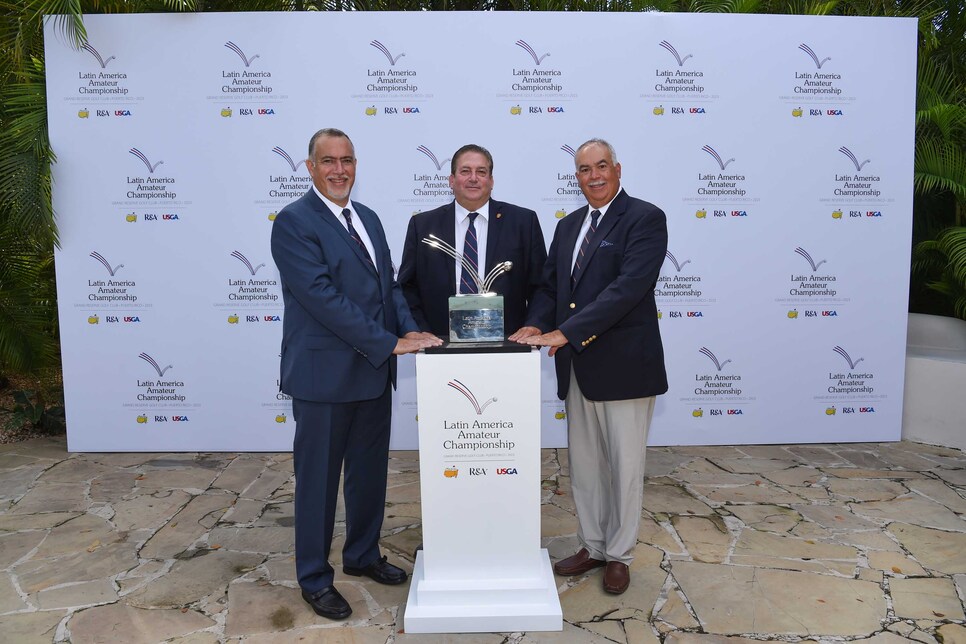 Sidney Wolf (center) is joined by Rafael Rovira and Carlos Suarez after Grand Reserve Golf Club was named site of the 2023 Latin America Amateur Championship.
Enrique Berardi/LAAC
And if his love for his island and its golf shines through, the players in this year's LAAC reflect that affection right back. Gustavo Rangel, a 19-year-old from Guaynabo, mentioned the work Wolf has done in building driving ranges and working to create academies on the island. He said that Wolf's support in finding spots in big tournaments helped him become a more confident player, which resulted in a scholarship at Loyola University in Maryland.
Ian Aldarondo Hernandez, a San Juan native who is completing his college career this season at Embry-Riddle Aeronautical University in Daytona Beach, FL, echoed Rangel's gratitude.
"Sidney Wolf is just a key part of our organization," Hernandez said. "Yeah, he's the president, but his influences, his connections, his knowledge of the game and his love for the golf in Puerto Rico is just outstanding and his support me and to every junior growing up and now playing as amateurs around the world, he's very helpful and the PRGA without him wouldn't be the same, and we probably wouldn't have this event here because of him and how much he loves this game and how much he supports golf in Puerto Rico."