Starting Thursday, 108 players representing 28 countries and territories will compete for the 2023 Latin America Amateur Championship at Grand Reserve Golf Club in Puerto Rico. At stake is not just the pride of winning one of the most important amateur events in the world, but also a spot at the Masters, the Open Championship, the British Amateur Championship and the U.S. Amateur.
Since the tournament's inception in 2015, it has been a life-changing prospect for past winners, from stars such as Joaquin Niemann to virtual unknowns like Aaron Jarvis of the Cayman Islands, who captured last year's title in the Dominican Republic and went on to make the cut at the Open Championship.
The 10 players below, from a variety of backgrounds and with varying pedigrees, represent only a fraction of the best stories in Puerto Rico this weekend, but each of them caught our eye for his own special reason.
1. Aaron Jarvis, Cayman Islands
Well, of course we have to include the defending champion. There has never been a back-to-back winner at the LAAC, and Jarvis would be a surprising man to get the job done for the first time, though the UNLV sophomore does possess a tireless work ethic ("He never sleeps," said Runnin' Rebels assistant A.J. McInerney, his caddie at the Masters).
Ranked 1,669th in the World Amateur Golf Rankings, Jarvis was three strokes off the lead before the final round last year and survived a bogey and double bogey just before the turn to stage his impressive comeback victory. He was the first Caribbean champion in LAAC history, and once again he's playing a Caribbean course with a chance to shock the Latin American world.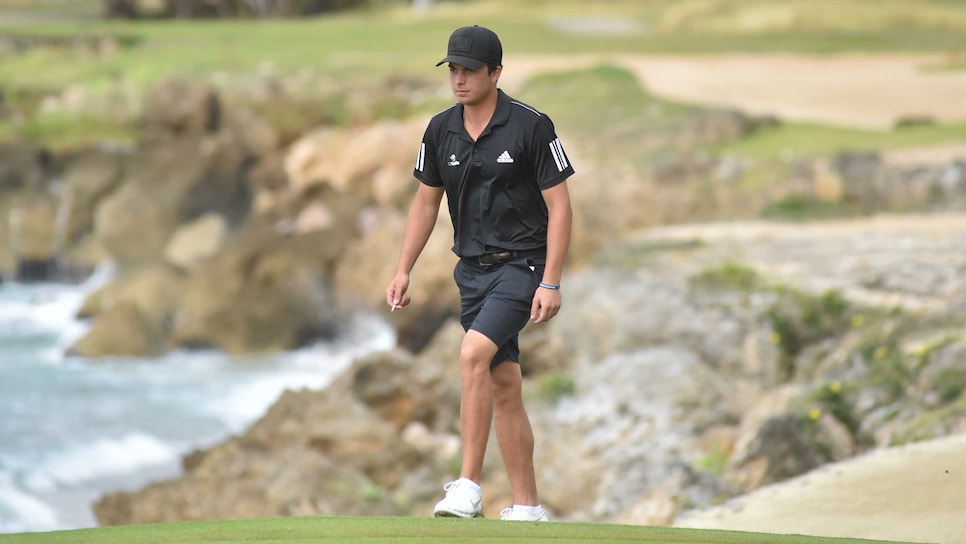 Biondi is the highest ranked amateur in the field, at No. 18, and the University of Florida senior was one stroke away from winning last year's title, turning a potential eagle opportunity on the 18th into a disappointing par that kept him out of a playoff with Jarvis.
He went on to win twice in the spring for the Gators, collected First Team All-America honors, and finished T-20 at the NCAA individual championship. Biondi is the star here, and probably the golfer most likely to win the tournament, but to become Brazil's first LAAC champ, he'll have to overcome the nerves that caught him at the tail end of last year's attempt.
"My first time in front of a bunch of people and cameras," he said then. "It was tough."
Since then, though, Biondi has been on a torrid pace—along with his two college wins, he reached the round of 32 in the U.S. Amateur, played at the U.S. Open in Brookline, and has started his fall season with four top-20 finishes.
With an improved short game, he's ready to shine in Puerto Rico, and maybe even become the most famous athlete in his family ... eclipsing his brother Leonardo, aka "Kyno," a professional E-Sports player who lives in Las Vegas.
3. Mateo Fernandez de Oliveira, Argentina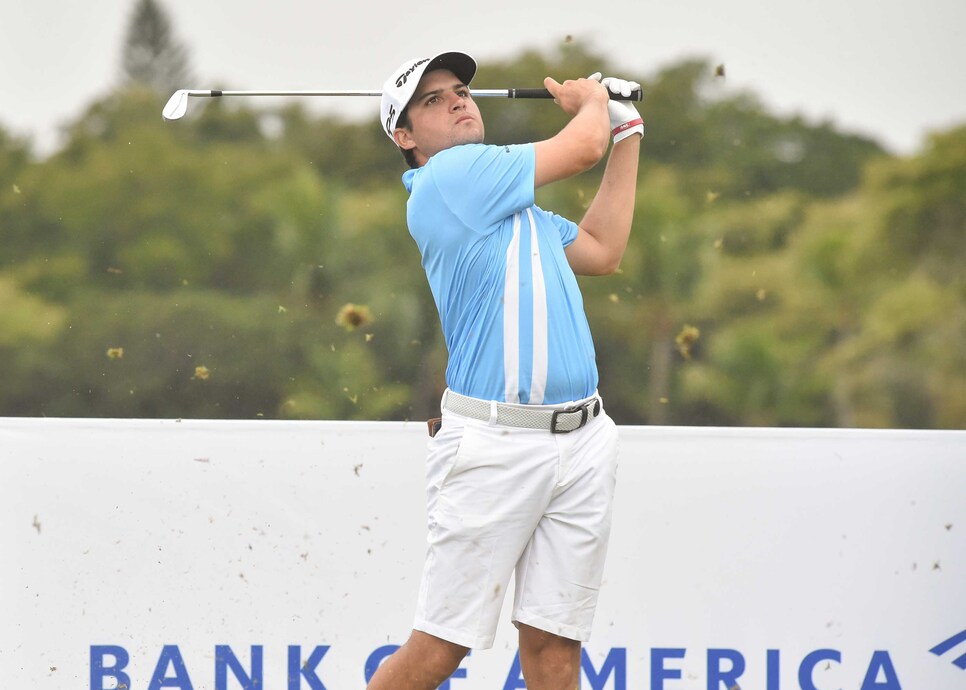 Fernandez de Oliveria is the only other top-100 world amateur in the field (No. 34), and coincidentally, he also found himself, like Biondi, with a putt to make a playoff last year in the Dominican Republic. He also missed.
He's a senior at Arkansas, a South America Amateur champion, and an All-American with a ninth-place finish at last year's NCAA championships. In fact, the Razorback delegation is perhaps the most fearsome of any at the LAAC, with him and countrymen Segundo Oliva Pinto and Manuel Lozada, and Peru's Julian Perico all in the field. Along with Biondi, he led the international team to a win over the Americans at the Arnold Palmer Cup.
4. Segundo Oliva Pinto, Argentina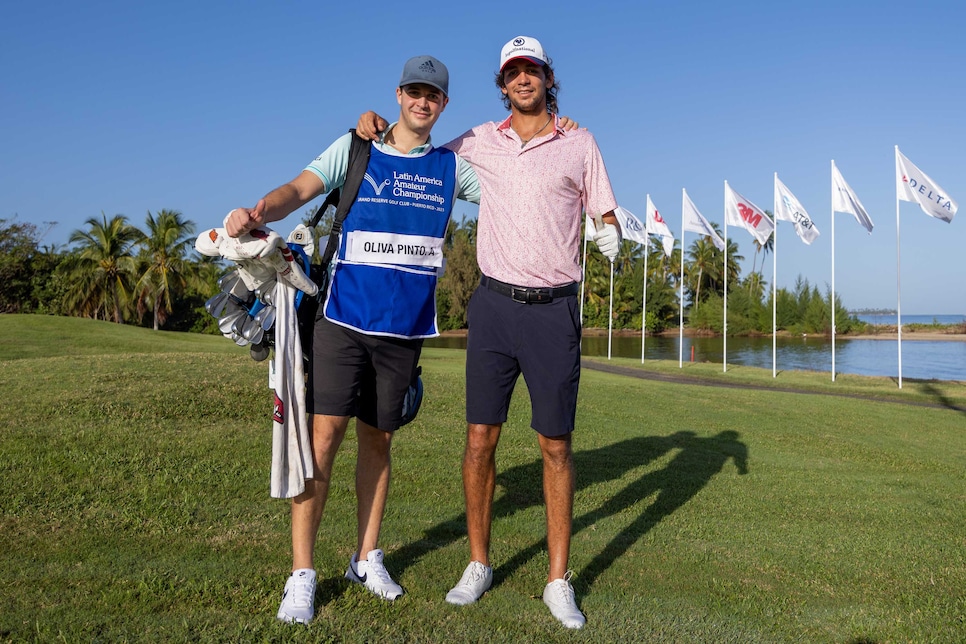 Speaking of Argentine Razorbacks, we have to throw Pinto into the mix here for the simple fact that some of the trivia on this guy is wild. First off, he lost the Latin America Amateur title by hitting the wrong ball on the 17th hole in the final. Second, he was tied with Tyler Strafaci at the U.S. Amateur in Bandon Dunes in 2020, 18th hole, round of 16, when his caddie tested the surface of a bunker by brushing it with his hands, costing him the hole and the match (Strafaci went on to win the whole thing).
All of that is odd, but it pales into comparison to some details from his personal life. He broke his elbow snowboarding as a kid and now has a metal plate and six screws holding it together. Half of his index finger on his right hand is missing because he blew it up with fireworks at age 10. We can only hope Pinto is in contention on Sunday, because chances are, things are going to get chaotic.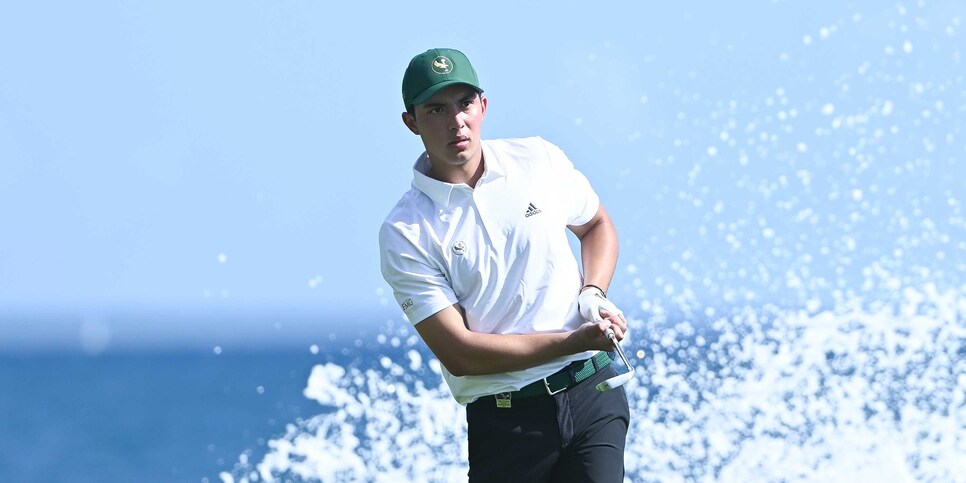 This is our "hot hand" pick—Islas finished third at last week's South America Amateur. He led by three shots heading into the final round before making three doubles on the back nine to lose the title by two shots. Despite those difficulties, he was one of the best players on the course, and he made the final 16 of the U.S. Amateur in 2021.
6. Alvaro Ortiz, Costa Rica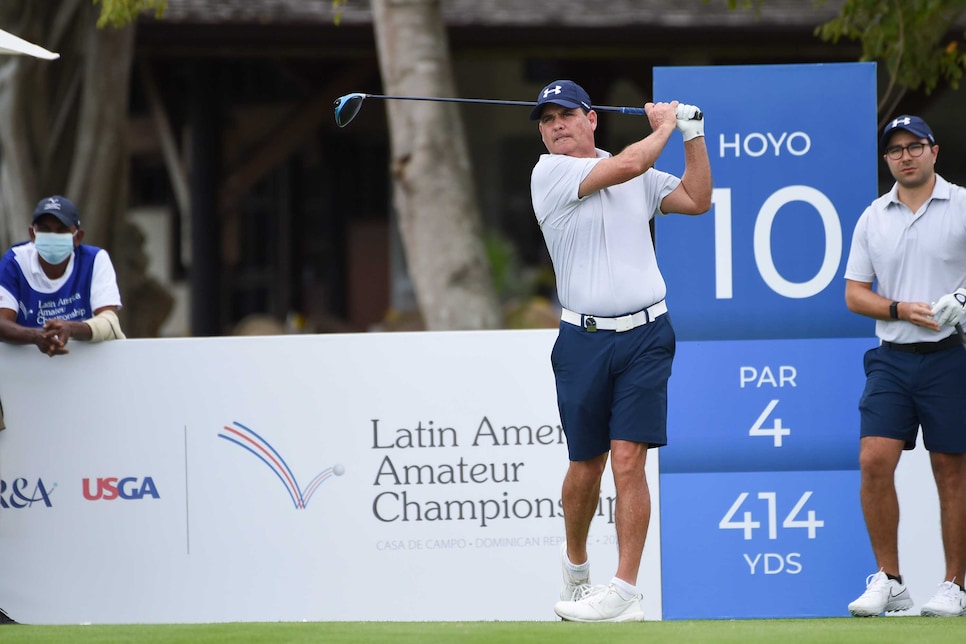 As you'll see, most of the players in the LAAC are on the younger side, but that doesn't mean there are no old-timers in the field. Ortiz is 54, has played in every installment of the LAAC, and almost won the thing in 2017, when he finished one shot out of a playoff.
To make matters even more confusing, a player named Alvaro Ortiz did win the LAAC in 2019, but that was the Mexican golfer who turned pro soon after. The elder Ortiz is a terror in Costa Rica, winning 29 times as an amateur since 1984 in his home country, and that's with a 10-year period off to play professionally. If he's in the mix on Sunday, you better believe we'll be rooting for the old guy.
7. Franco Fernandez and Ezequiel Cabrera, Paraguay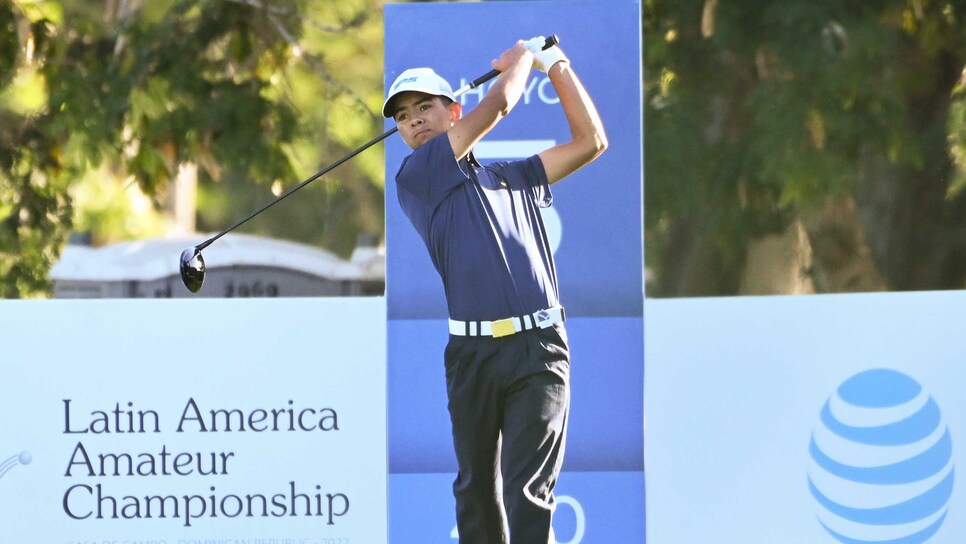 If we're going to pay homage to the near-senior citizens, we must also tip our caps to the young blood, and these two Paraguayans are the youngest in the field, each of them 15 years old.
Fernandez is the youngest and also probably the most likely to do real damage, having just won the U-15 South America individual championship last fall, and combining with Cabrera and others to win the team title for Paraguay. Cabrera (above) has some interesting pedigree—his uncle, Carlos Franco, is a four-time PGA Tour winner.
8. Kelvin Hernandez, Puerto Rico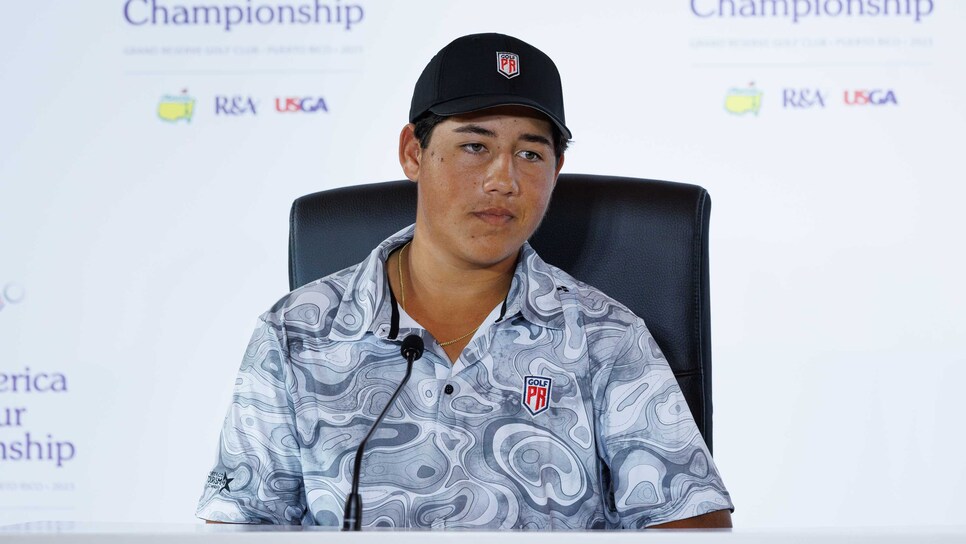 If you're looking for a home island favorite, here's your man. Hernandez, just 17, has already captured a Caribbean Junior Amateur and Amateur Championship, and prevailed at Grand Reserve Golf Club in another junior event just two months ago. He's had success in the U.S., too, finishing fourth at the U.S. Kids Teen World Championship at Pinehurst and 17th at the Junior Players Championship at Sawgrass.
He's 389th in the amateur rankings, and while that doesn't quite make him one of the favorites, he's also not a real longshot. Hernandez also has a cool Chi Chi Rodriguez story: He met the Puerto Rican legend when he was 10 years old. Rodriguez asked to look at his hands, and when he saw that Hernandez had no calluses, he told him he wasn't practicing enough.
Considering his familiarity with the area, Hernandez is our favorite underdog.
9. Juan Camilo Malagon, Colombia
This 29-year-old construction company co-founder and CCO is included here for one reason—the man plays right-handed outside 100 yards, but left-handed inside 100 yards. Apparently, this is a technique he adopted to improve his short game on the advice of a friend, and since he's 376th in the amateur rankings, it must work. Still, we have to say ... what???
10. Joseph Sibilly Jr., U.S. Virgin Islands
This story was wild last year and remains so. Sibilly lives on St. Thomas, where the only golf course was destroyed by Hurricanes Irma and Maria in 2017, and now, to play golf he has to fly to St. Croix—or take a three-hour ferry through typically rough waters—to play at all. He made the trip 20 times this past year, and while he has almost no chance to win (or to make the cut ... his best round last year was a 93), the sheer long odds of him even playing in the event make for a fascinating story.
When he's not playing golf, which is almost always, Sibilly is a painter and a builder, and represents the USVI in beach volleyball.