Masters
Masters 2021: Majors beast Xander Schauffele has another shot at closing the deal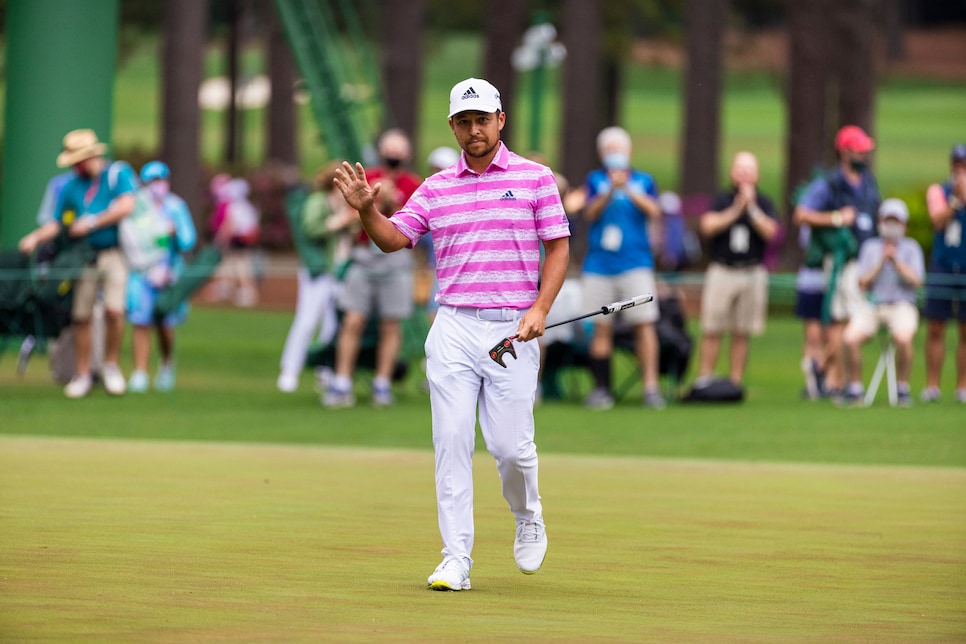 A half-dozen years into the career of Xander Schauffele, many people still can't get his name right. Soufflé, Shovel, Shoefull, Scoffol, Xavier. He's heard them all. Never mind that he has already made a name for himself by collecting four titles on the PGA Tour, climbing as high as No. 4 in the World Ranking and is an alpha male with a sharp sense of humor. Or that in the first major he ever played, the 2017 U.S. Open at Erin Hills, he was a shot off the lead after the first day, went on to tie for fifth and has compiled a remarkable record in major championships since.
In 14 previous majors, the 27-year-old San Diegan has finished in the top 10 in half of them. Six of those finishes were in the top six, which included a tie for second at the 2019 Masters.
"It's all part of the process," Schauffele said after a four-under 68 on Saturday that included a spectacular eagle from long range on the par-5 15th hole. "I'm a huge fan of putting myself in position with nine holes to go and learning from each and every mistake and also the things I did well in those moments."
Two years ago, he was in one of those positions at Augusta, where it is perhaps not remembered that Schauffele was tied for the lead with four holes to play on Sunday. But he failed to birdie the 15th that day and wound up losing to Tiger Woods by a stroke. After his round, and while Woods was putting the finishing touches on his incredible comeback story, Schauffele sat in a near-empty interview room. It didn't really bother him that much in the moment as he was happy to be witness to the coronation. But he did learn from it.
"That was, to me, a nice rookie mistake I made," he said Saturday. "Just got caught up in the moment. I'm glad it happened sooner than later in my career."
Given the euphoria surrounding Woods that afternoon, and the bevy of stars he beat that day—Dustin Johnson and Brooks Koepka among them—of course Schauffele would be the forgotten man. It's been that way forever.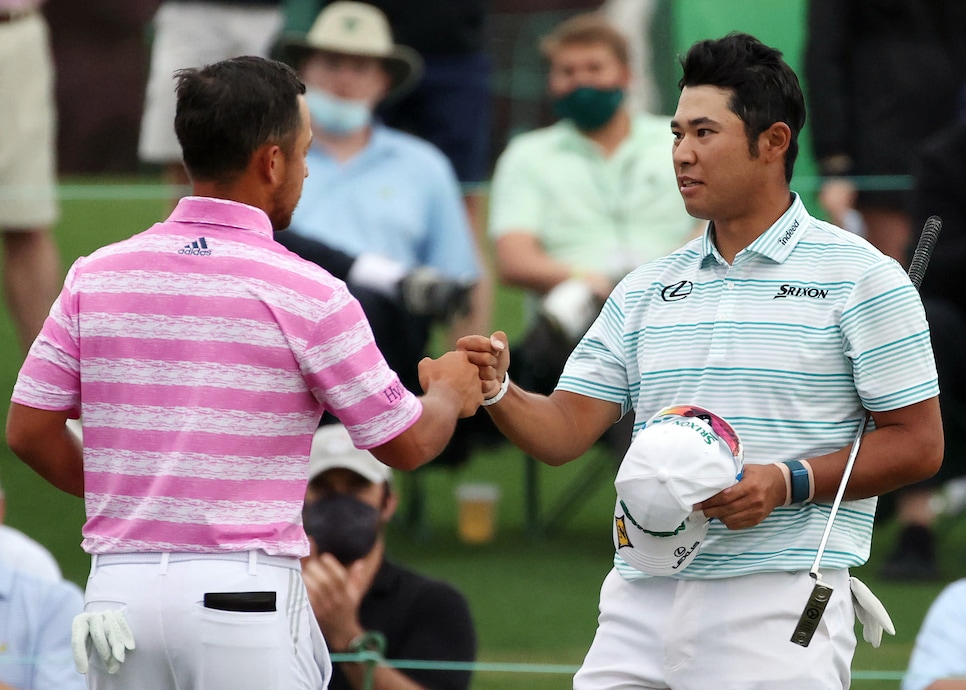 Hideki Matsuyama (right) and Xander Schauffele will play in the final pairing on Sunday in the Masters.
Kevin C. Cox
In junior golf, peers Jordan Spieth and Justin Thomas, both of whom graduated from high school the same year (2011) as Schauffele, got all the ink while they tore up the AJGA circuit. Schauffele, meanwhile, spent most of his formative years playing less-heralded local events within driving distance of So Cal. When it came to college, Spieth and Thomas starred at powerhouse programs in Texas and Alabama, while Schauffele first chose less-heralded Long Beach State before ending up at San Diego State, where he won three times and was an All-American as a senior.
Once all three were in the professional ranks, Spieth and Thomas, among other contemporaries, continued to garner more attention, and rightfully so, as they quickly racked up trophies. In the case of Spieth, he put together an historic run through the summer of 2015.
But Schauffele was doing just fine. He won his first PGA Tour title at the Greenbrier in 2017, then added another at the Tour Championship that August—a moment that was overshadowed by Thomas winning the more lucrative and prestigious FedEx Cup the same day. Two more victories followed for Schauffele in 2018 and 2019, but he once again took a back seat at East Lake, where despite Schauffele shooting the lowest score of the 2020 Tour Championship, it was Dustin Johnson who walked away with the FedEx Cup title because of the tournament's new staggered scoring system.
All of it, meanwhile, continued to feed into an underdog role that Schauffele readily embraced.
Yet when it comes to major championships, he is anything but. By comparison, Spieth tallied a half-dozen top-10s in his first 14 career majors and Thomas just two in the same span—both fewer than Schauffele. The difference? Spieth won two, including a Masters. Thomas also won a major, at the PGA Championship.
Schauffele has had his chances. At the 2018 Open Championship at Carnoustie, he was tied for the lead going into the last day but ended up losing by two to Francesco Molinari. There have also been a handful of regular tour stops this season and last where he fumbled away victory or had it snatched from him.
On Saturday, Schauffele briefly pulled even with Matsuyama with his long eagle putt on 15. Moments later, his playing partner moved back in front when he sank a five-footer for an eagle of his own. Matsuyama then birdied each of the next two holes to extend the lead.
"I was happy to make my 60-foot eagle putt on 15," Schauffele said. "I knew Hideki was going to make his. I was just trying to stay in touch."
Now he'll try to do even better. If he can, maybe Schauffele will stop being an underdog and everyone will finally get his name right. He'd also take on one that's even easier to pronounce: Masters champion.