Unkind cut
Masters 2021: Defending champ Dustin Johnson among big names to miss the cut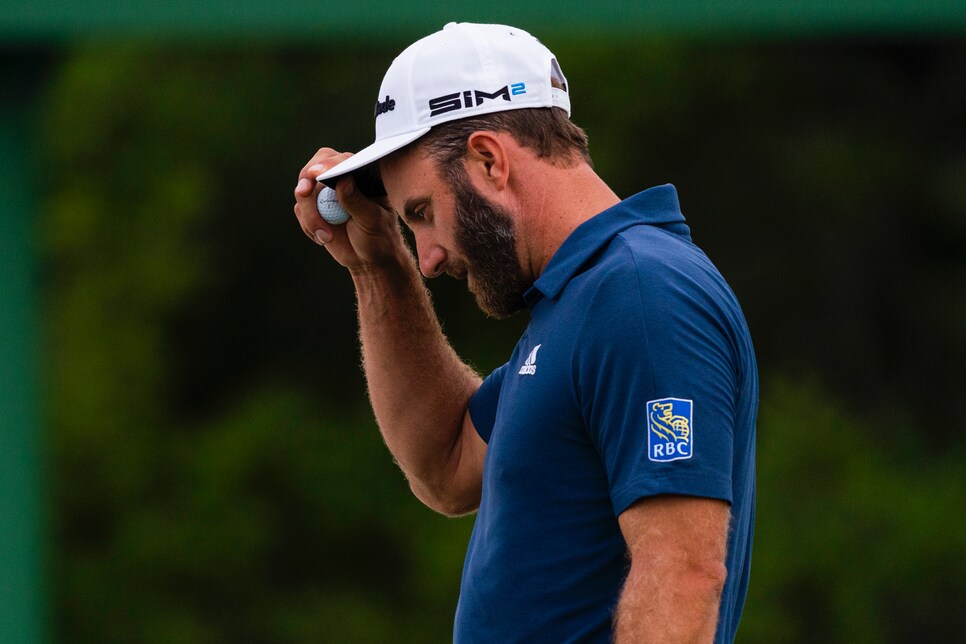 After clawing his way to a second-round 72 on Friday that enabled him to retain his lead in the 85th Masters, Justin Rose was asked about his struggles early in the round. He played his first seven holes at Augusta National Golf Club in three over par before steadying himself, just as he had done in his first-round 65.
"Augusta happened," he replied.
Two words. But they contain so much meaning. And the players who know this best, who had way too much Augusta happening to them the last two days, are those unlucky souls uninvited to the final two rounds.
The field for this Masters was rather lean, just 88 players vying for the green jacket. Now there are 54 after the cut of low 50 scores and ties came in at three-over 147.
A surprising bunch do not have tee times Saturday. At the top of that list is the guy who finished at the top of the list just five months ago—defending champion Dustin Johnson, who gets to cool his heels for two days in the Garden City before helping the next winner slip into golf's ultimate sartorial statement.
It's probably no stretch to say that Johnson is the most shocking defending champ to call a lid after 36 holes since 1967, when Jack Nicklaus belched out a second-round 79 following consecutive Masters titles. And it all fell apart quickly for DJ, with bogeys on three of his final four holes for a 75 and 149 total. And to think he came in with 11 consecutive sub-par rounds at Augusta and owner of the tournament record with his 20-under 268 total in November.
Amazingly, he didn't break his putter (as far as we know) after six three-putts over two rounds, while Si Woo Kim, just three off the lead, slammed his putter into oblivion on the way to shooting 69. Augusta happened to him even while contending.
"Not very good. Mostly just the putter," Johnson said. "Obviously didn't drive it great, but drove it good enough, and I felt like I even left myself … never was really too bad out of position, just the three-putts killed me. You take all the three-putts away, I'm one under. That was kind of the difference."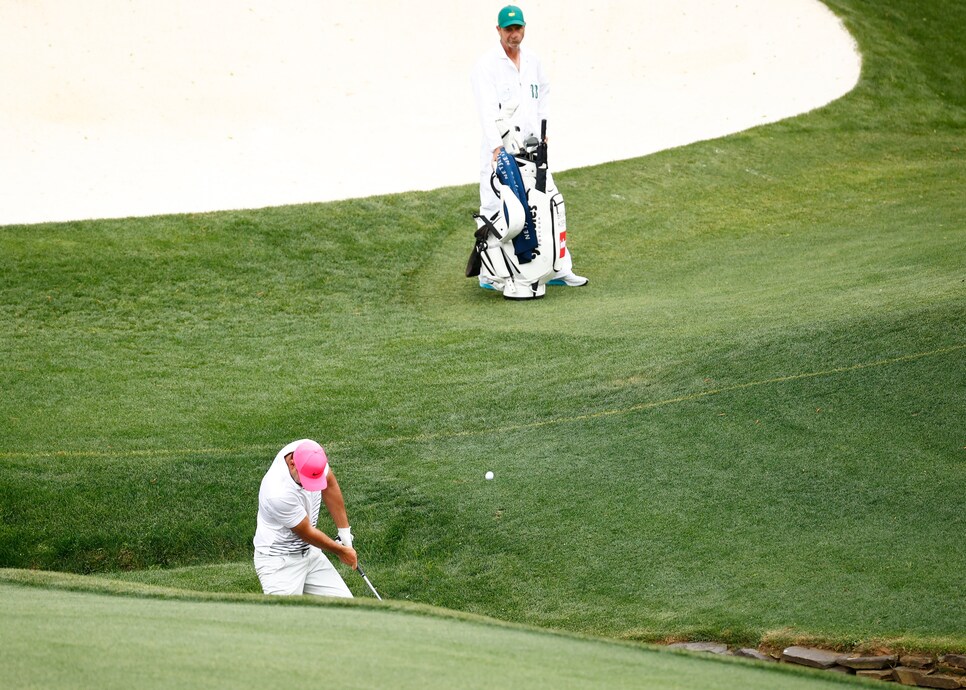 Brooks Koepka plays a shot from near Rae's Creek on the 13th hole during the second round of the Masters.
Jared Tilton
Some players were poised for an early departure, and four-time major winner Rory McIlroy comes immediately to mind. He arrived for his seventh attempt at the career Grand Slam sorting through swing adjustments and decided to take on Augusta with a four-way miss (left, right, short and long), and looked intent on inventing a fifth. There were few highlights in his 76-74 effort.
And did anyone think Brooks Koepka, on one good wheel, could pull a Tiger Woods, circa 2008 at the U.S. Open, and contend for a green jacket? Koepka is a tough son of a gun, but just three weeks after knee surgery the four-time major champ just wasn't ready to take on a course that requires more than a modicum of precision. His streak of 24 consecutive cuts in majors came to an end by tying Johnson at 149.
Someone asked if he was disappointed. Oh, boy. "How f---ing disappointed do you think I am? I worked my ass off just to get here, and then to play like this is pretty disappointing," said Koepka, who admitted he'd have taken another month off if not for the Masters returning to its April slot. He might not play again until next month's PGA Championship.
Other surprises include Lee Westwood, Jason Day, Patrick Cantlay and Sungjae Im.
Westwood, 47, finished runner-up in consecutive starts in Florida and was feeling good about his chances of breaking through for his first major title. A second-round 71 was not enough to erase an opening 78, and the Englishman missed his first cut at Augusta since 2006, a run of 12 starts.
Day has three top-five finishes at Augusta, including a T-5 in 2019, and seemed to be trending, ranking 11th in strokes gained/tee to green over the last two months. But the Aussie missed his second cut in a row at Augusta and assembled his worst 36-hole total, nine over par, after a second-round 76. He played the par 5s in even with just one birdie.
Just one ahead, thanks to a birdie on the home hole was Cantlay, who broke one course record and tied another earlier in the year in his native California, but he couldn't break par in either round in his fifth Masters in posting 152.
Then there was Im, who, well, Im-ploded in his sophomore appearance. He beat just three players, plus Matthew Wolff, who got disqualified for signing an incorrect scorecard that really wasn't worth saving anyway—a 79 that extended his recent struggles. Im was joint runner-up in November with Cameron Smith, but this time he just cased all corners of the joint and got in a lot of cardio work with rounds of 77 and 80.
Augusta happened. Happens to the best of them.