Masters
Masters 2023: Phil Mickelson more talkative after typically atypical opening round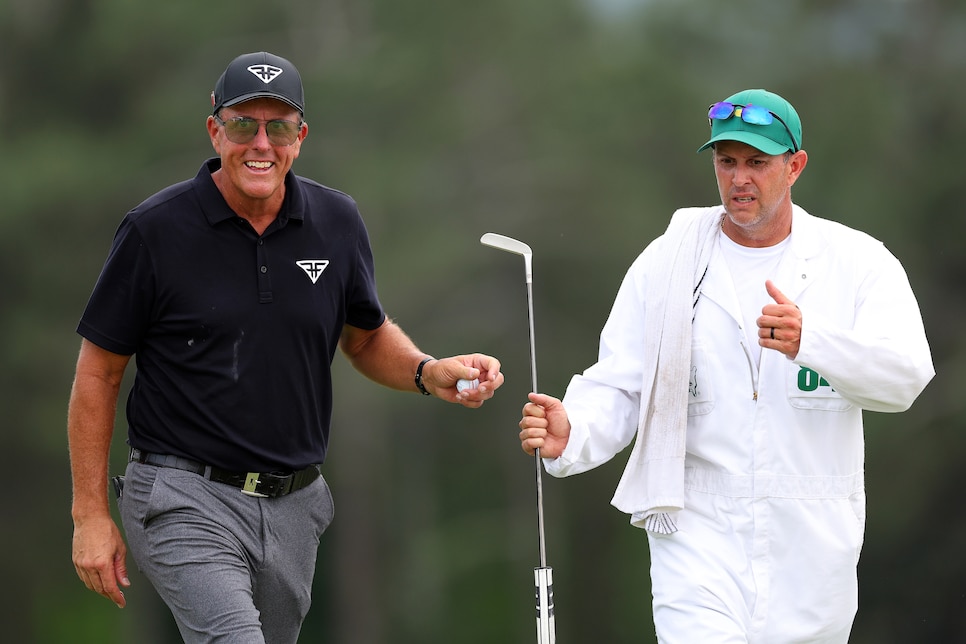 AUGUSTA, Ga. — From a distance, because he has lost 25 pounds and keeps his hair more closely cropped under his cap, Phil Mickelson isn't quite as recognizable as he was in his prime. But there was something familiar about his opening round Thursday at Augusta National Golf Club. With a series of entertaining shots, be it familiar lobs, foul balls or "salty" driver shots from off the deck, there was no mistaking the left-hander had returned to wreak havoc on his favorite playground.
That's the nature of the Mickelson mystique at Augusta National. He doesn't walk on a tightrope. It's more like a thread. And there's always plenty of woulda and coulda before the final tally. Mostly, if he woulda kept the ball out of the water with two poor swings, the three-time Masters winner might be more hotly on the tail of the leaders.
"I hit a lot of good shots today and had a chance to shoot a low round," he said, clad in his black LIV Golf garb. "But this is the issue I've been dealing with is I'll make two swings and it costs me four shots on 11 and 16. I just need to keep working on eliminating it. I'm hitting enough good shots to shoot some good numbers, and I'm having fun playing, and I'm having fun hitting the shots again and driving it well. Just need to stay a little bit sharper."
Mickelson hasn't been particularly sharp thus far on the LIV tour, failing to break into the top-25 in any of the three events this year on its stop-and-start schedule. And there were certainly moments on Thursday when the mercurial left-hander produced astonishingly poor shots. As he mentioned, he found the water at the par-4 11th and par-3 16th, losing both balls to the left. It cost him three shots.
Those were part of a nine-hole stretch starting at the eighth hole when he made just one par. The run began when he chose driver off the deck for his second shot at No. 8, the par 5, which led to a birdie. (Mickelson also hit driver from the pine straw on the par-5 second hole that led to a wild birdie. Trust us, watch the highlights.)
At the par-4 14th he pulled his tee shot left and it skittered up against a tree, forcing him to turn an 8-iron over for a right-handed shot. That he is naturally right-handed didn't help him avoid a bogey, but the effort was classic Mickelson. You never know what he'll do next.
And so it went. But it added up to an acceptable outing.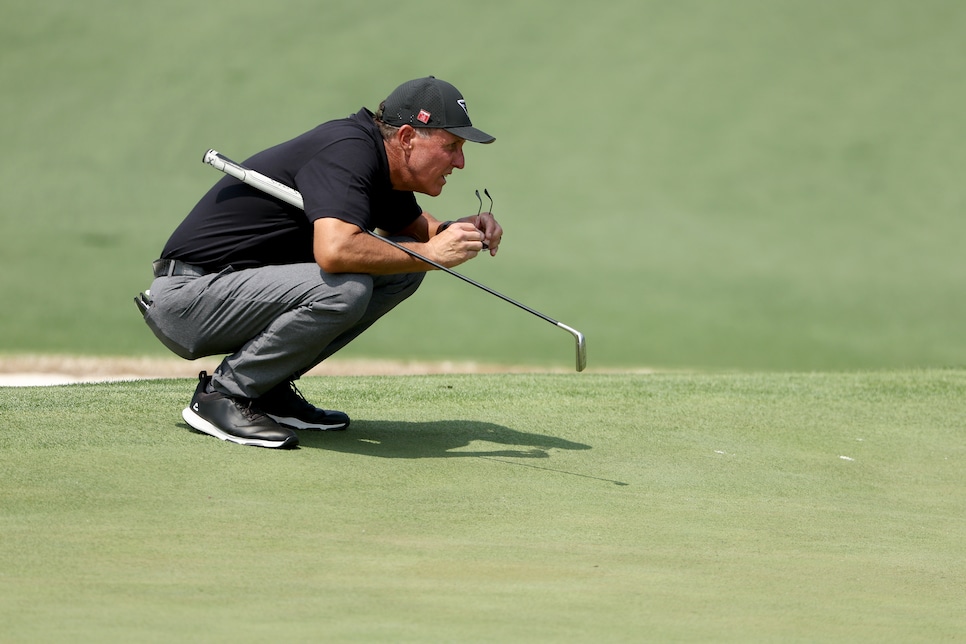 In the balance, he seemed somewhat pleased, mentioning "a lot of positives." Perhaps that's why he was willing to chat with reporters for more than 10 minutes. He fielded 21 questions. He seemed more relaxed than he did during a brief and awkward interview on Tuesday after declining to visit the interview room. He offered a pithy reply when a reporter noted how much thinner he looked.
"Thank you. I stopped eating food. That was a big help," he quipped.
He also had fun explaining the recovery shot at 14, quoting actor Rip Torn. "I had like a leaf that I practice swung [on], and I was like, all right, if I can hit this leaf, I can hit the ball. If you ever watched Dodgeball, 'If you can dodge a wrench, you can dodge a ball.' I thought, if I can hit this leaf, I can hit a ball. I hit the leaf and did it twice, and I'm like, all right, I can do it. Let's go do it."
Mickelson remained circumspect about his absence last year. He went skiing with his wife Amy but stopped short of saying that he missed it. But you know he had to miss not being on a course where his imagination is an advantage and he can get away (most of the time) with a poor swing here and there.
Instead, he focused on simply trying to enjoy his 30th Masters. He appeared to be succeeding.
"That I get to play Augusta National in the Masters and this is an awesome day no matter what I shoot," he said of his mindset when he embarked on his round. "Just trying to enjoy the day and not put so much pressure on myself.
"I was actually enjoying it and appreciative of the opportunity to be here. There was a lot of talk a year ago [about] guys [from LIV Golf] wouldn't be able to be here, and I'm very grateful for the opportunity to play and compete here and be a part of it."
Trailing a trio of leaders—Viktor Hovland, Jon Rahm and fellow LIV player Brooks Koepka—by six strokes, Mickelson isn't quite part of the tournament narrative sitting in a tie for 26th place. He has plenty of time, another 54 holes, to change that. One thing Mickelson is not afraid of is change.