Masters 2022
Masters 2022: Scottie Scheffler's longtime coach says the pressure at Augusta is 'feeding him'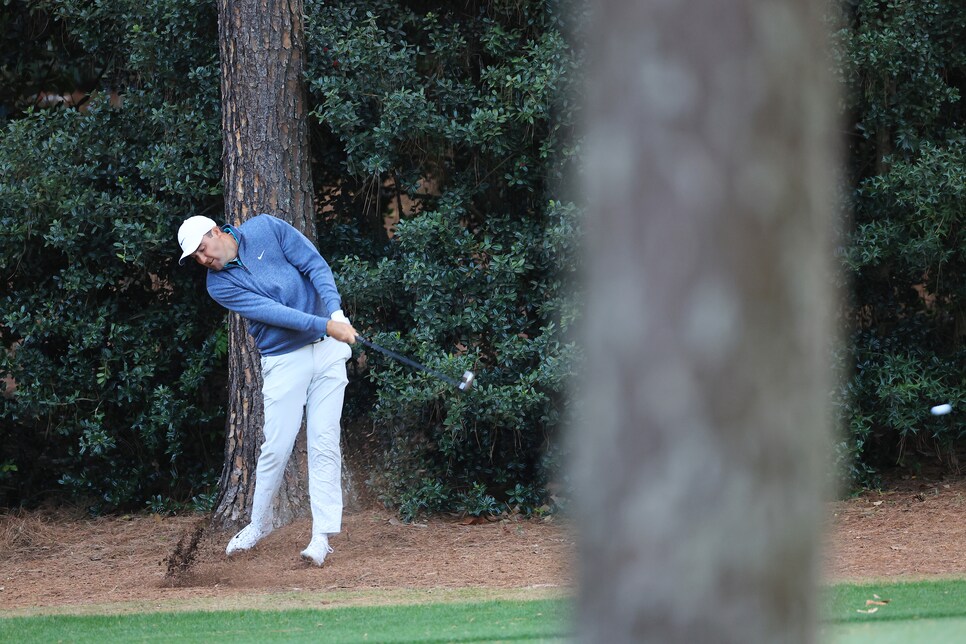 Scottie Scheffler plays his shot on the 18th hole during the third round of the Masters.
David Cannon
Randy Smith has seen Scottie Scheffler hit more balls than anyone alive, so the wayward tee shot Scheffler hit on 18 in the third round of the Masters wasn't particularly surprising or alarming. "Usually when he hits one like that, the next one coming out is something pretty special," says Smith, who has coached Scheffler since the painfully undersized elementary schooler first showed up at the Royal Oaks Country Club range in Dallas at age 7. "The moment never gets too big for him."
The 245-yard 3-iron pine-straw rocket Scheffler hit next could end up being the shot of the tournament. That left tree line off 18 tee is a place where triples are almost always born. Scheffler trickled over the green and made one of the best bogeys you'll ever see to preserve his cushion. "Nobody is talking about that shot, but it showed how comfortable he is in the situation," Smith says. "This week, there's more crowd. More heat. More of what comes from being No. 1 in the world. I think that's feeding him.
"He's been able to draw on what happened [with wins in this year] in Phoenix and Orlando and Austin, but a lot of it was set up by the Ryder Cup," Smith says. "They announced his name on the first hole and it feels like the entire world is going crazy around you and he just roasts it down the first fairway. The crazier it got, the better he got. That November [2020] Masters without the ropes or the gallery? For some players, that took the pressure off. For Scottie? I think he hears three or four of those roars going up around the course and thinks, 'I want to go get some of those for me.'"
The club Scheffler used yesterday on 18 might be different, but the outcome reminded Smith of a shot he hit as a 14-year-old during qualifying for the 2010 Texas Amateur at Royal Oaks. The college players paired with Scheffler hit 5- and 6-irons into the 205-yard par-3 16th. Scheffler—who was so small as a junior he needed a strategically-placed Cool Whip container in the bottom of his bag to get the clubs to stick out of the top—hit a cut driver to 20 feet. "He was just tenacious," Smith says. "You might have a wedge in, but he'd hit his 5-iron inside of you."
Distance isn't a problem anymore—Scheffler is averaging 294 yards off the tee this week—but the relentlessness and short game touch he developed by necessity as an undersized underdog gave Scheffler a shooter's mix of intensity and calm. "He made a couple of bad swings and a tactical mistake [on Saturday], but those things happen. Like Ben Crenshaw said, the course goads you into it," Smith says. "You're going to have days where you aren't feeling it and you might struggle. If he's floating and doing his thing, he might go low. Who knows what will happen, but he's not going to shy away from it."
MORE MASTERS 2022 STORIES FROM GOLF DIGEST