When Tiger Woods won the 1997 Masters, he re-wrote a good portion of the Masters history by breaking 20 records and tying seven others. In the ensuing 26 years, Woods has continued to match or erase marks at Augusta National with remarkable frequency—it's what happens when you win the event five times. Although some of his records from 1997 have since been broken, Woods' name is still attached to 36 records in the tournament's media guide. Oh, and of those 27 records from 1997, 10 still stand.
Here, appearing in chronological order, is a list of all Woods' Masters records, some of which he is likely to hold on to for a long time, if not in perpetuity.
Highest first nine by a champion
Woods' 40 on the opening nine of his first round as a professional at the Masters in 1997 is well documented and one of the few negative blips for him in the tournament's record book.
Woods shot a remarkable 131, going 66-65 in the middle two rounds in 1997. That mark was matched by Woods himself with another 66-65 in 2005.
Youngest leader at 36 holes
Woods was only 21 years, 3 months and 14 days old when holding the 36-hole lead at the 1997 Masters. For those wondering why he also isn't the youngest 54-hole leader, Jordan Spieth was 20 years, 8 months and 17 days when he held a share of the 54-hole lead in 2014.
Woods opened a nine-shot advantage over Costantino Rocca after three rounds in 1997.
Woods made easy work of Augusta National over the final three rounds in 1997, shooting an even 200 with scores of 66-65-69.
Most under par in one Masters, second nine
In 1997, Woods went 16 under par on the incoming nine for the week, going 30-32-33-33.
In his breakthrough 1997 victory, Tiger made 26 3s courtesy of two eagles, 10 birdies and 14 pars. Impressively, he matched his own record in 2005 with a slightly less exciting 13 birdies and 13 pars. Woods demolished the previous mark of 22 held by Horton Smith in 1936 and tied by Tom Watson in 1977.
Woods left Tom Kite a dozen shots in arrears in 1997, breaking the nine-stroke cushion Jack Nicklaus enjoyed with his 1965 win. The next best since then is the five-stroke victory by Dustin Johnson in the November 2020 Masters.
Woods was 21 years, 3 months, 14 days when he won the 1997 Masters, supplanting Seve Ballesteros, who was 23 years, 4 days old when he won in 1980, as the tournament's youngest champion.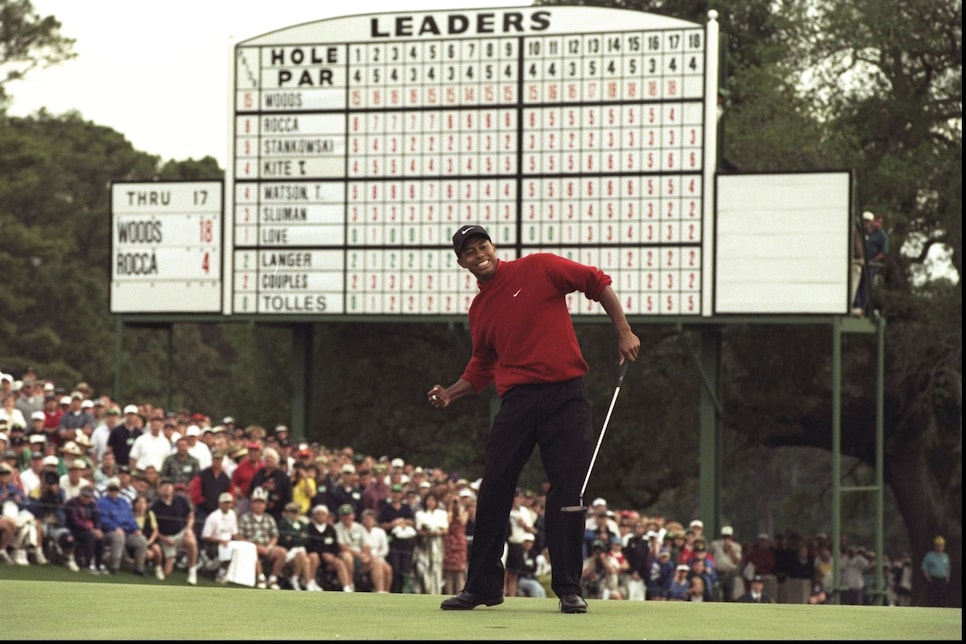 Masters champions who played the tournament as an amateur
Woods appeared in the Masters twice as an amateur in 1995 and 1996 before winning as a professional in 1997. That put Woods in an exclusive club along with 13 others, including Nicklaus, Tommy Aaron, Ben Crenshaw, Craig Stadler and Hideki Matsuyama—all of whom played multiple times as an amateur before winning as a professional.
Champions with the same score in the first two and last two rounds
OK, this one is a bit fugazy but hey, it's in the record book so it counts. Woods shot 136 for the first two rounds and last two rounds in 2001 to join Smith (142-142—284 in 1934); Nicklaus (144-144—288 in 1966); Crenshaw (137-137—274 in 1995) and Vijay Singh (139-139—278 in 2000). As you can see, Woods' total was the lowest of the bunch.
Lowest round by defending champion
Woods shot a third-round 66 in defense of his title in 2002, tying the mark set by Jose Maria Olazabal in 1995's opening round. Woods would shoot another third-round 66 in 2003 after winning in 2002. The only other defender to go as low is Spieth, who opened with a 66 in 2016.
Woods made it a threesome of players to win Masters titles back to back when he joined Nicklaus (1965, 1966) and Nick Faldo (1989, 1990) by following up his 2001 victory with another in 2002.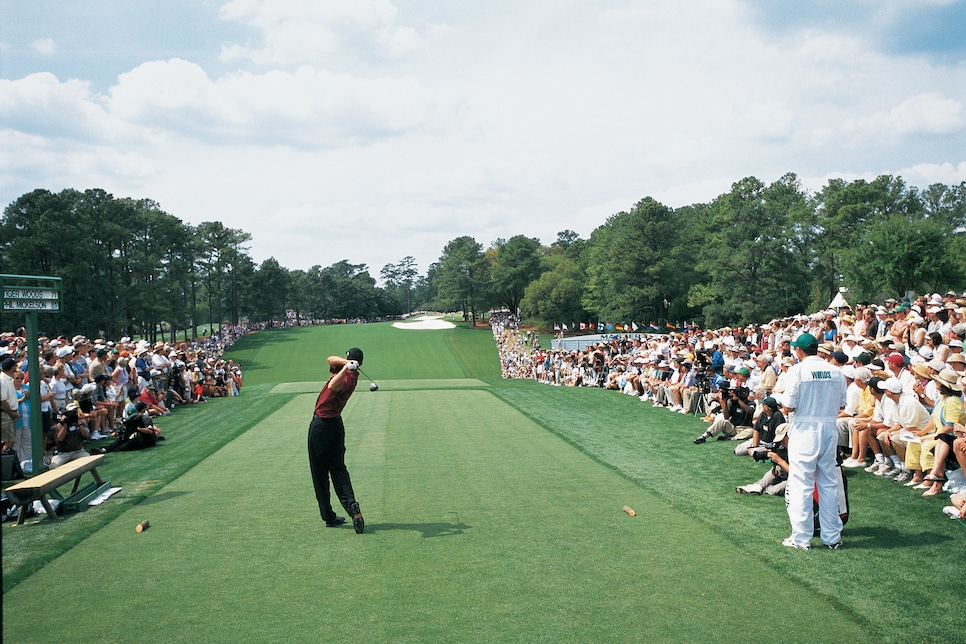 Dom Furore/Golf Digest, Golf World
Champions winning other majors in the same year
Eighteen times a player has won the Masters and another major in the same year. Woods has done it twice, taking the U.S. Open in 2002 and Open Championship in 2005.
Attempts at time of third Masters victory
Three Masters win in a lifetime is a rare feat. Doing so in just eight starts (which Woods did when he won in 2002) ties you with some pretty heady company, namely Arnold Palmer and Nicklaus.
Lowest 72-hole score by defending champion
Woods not only won his second consecutive Masters in 2002, but his 276 total bested the previous low by a defending champion by two shots (278 from Watson in 1978 and Faldo in 1990).
Best comeback after 18 holes
The old saw that you can't win the tournament on Thursday but you can lose it normally applies to those who open with a 74 and stand seven shots behind the leader. But Woods matched the largest comeback after 18 holes in tournament history when he won in 2005 under just that circumstance. Faldo also came from seven back after the opening round in 1990.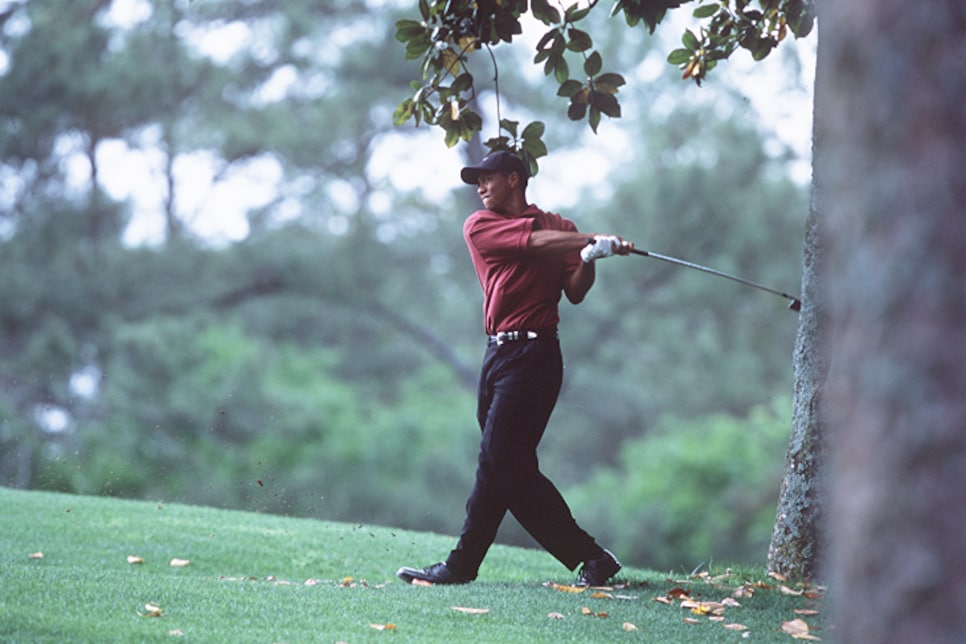 Most birdies two consecutive rounds
Making seven birdies in Round 2 and nine more in Round 3, Woods set the mark for most birdies in consecutive rounds at the Masters at 16 in 2005. Anthony Kim tied the record in 2009, also in the middle two rounds.
Part of Woods' birdie barrage in 2005 was a string of seven straight from holes 7 through 13 in the third round, tying Steve Pate's mark from 1999 that ironically was on the same stretch of holes and also in the third round.
Least number of pars by a champion
Of course, all those birdies in 2005 helped lead to another record—the fewest number of pars by a Masters winner with 36.
Players to win after holding the 54-hole lead
There have been 47 players to lead after three rounds and go on to win. Only three have done it four times: Palmer, Nicklaus and Woods, who joined that group in 2005.
Most eagles in one Masters
Despite the par 5s presenting numerous eagle opportunities for Masters participants, only three players have made four of them in one Masters. In 2010, Woods joined Bruce Crampton (1974) and Dustin Johnson (2009), including a hole out for eagle at the par-4 seventh hole in the final round.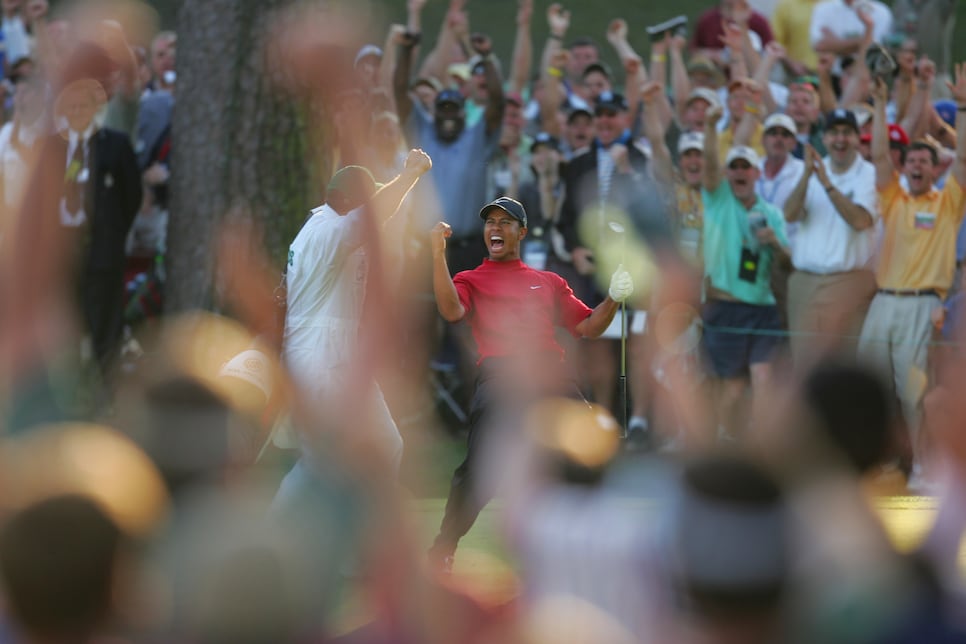 Subpar total, par 5s in one Masters
Woods played the 16 par 5s in 15 under par in 2010, matching Greg Norman from 1995. Since then, Ernie Els in 2013, Phil Mickelson in 2015 and Marc Leishman in 2020 have also done the same.
Woods' eagle-2 in 2010's final round gives him a share of this mark with 16 other players
Most under par, one Masters, hole 15
Bookend eagles sandwiched two birdies in the middle rounds to put Woods six under par on the 15th hole in 2010, currently tied with eight others.
Most consecutive rounds of par or better
Shooting par or better at the Masters is always an accomplishment. But to do it for the equivalent of four straight tournaments? That's what Woods did when he posted 16 consecutive rounds of par or better from 2007's third round through 2011's second round.
Most under par, one Masters, hole 6
Three birdies and a par has Woods tied with 15 others having played the par-3 sixth in three under par for one Masters
Champions trailing after three rounds
When he won by coming from behind after 54 holes in 2019, Woods became the 28th champion to do so.
Under par on the par 3s, 4s, 5s
Fifteen champions have played the par 3s, 4s and 5s all under par for the week. Only two, however, have done it twice. Gary Player in 1961 and 1978, and Woods in 2005 and 2019.
Seeing how only two people have won at least five Masters, there isn't a lot of competition here. Woods, however, at 43 years, 3 months, 15 days when he won in 2019 takes the honor over Nicklaus.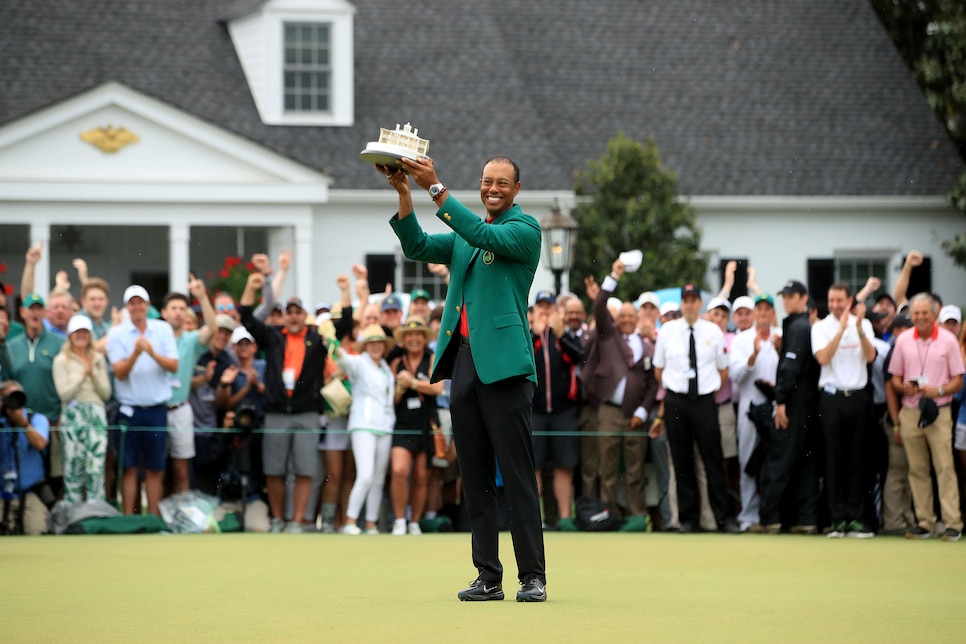 Most 72-hole scores of 280 or lower
Considering a total of 280 would win or get you in a playoff for about half the Masters played to date, it's a pretty good target to shoot for. No one has reached or bettered that total more often than Woods—who last did it in 2019—and Mickelson, who have each done it eight times. Give Woods the tiebreaker here with only one 280 total compared to three for Lefty.
Four subpar rounds, one tournament
Woods has played five Masters in which all four rounds were under par (1997, 2001, 2002, 2010 and 2019), more than anyone else.
Par or better, four rounds, one tournament
Woods also owns this mark, having done it nine times (1997, 1998, 2001, 2002, 2006, 2008, 2009, 2010 and 2019).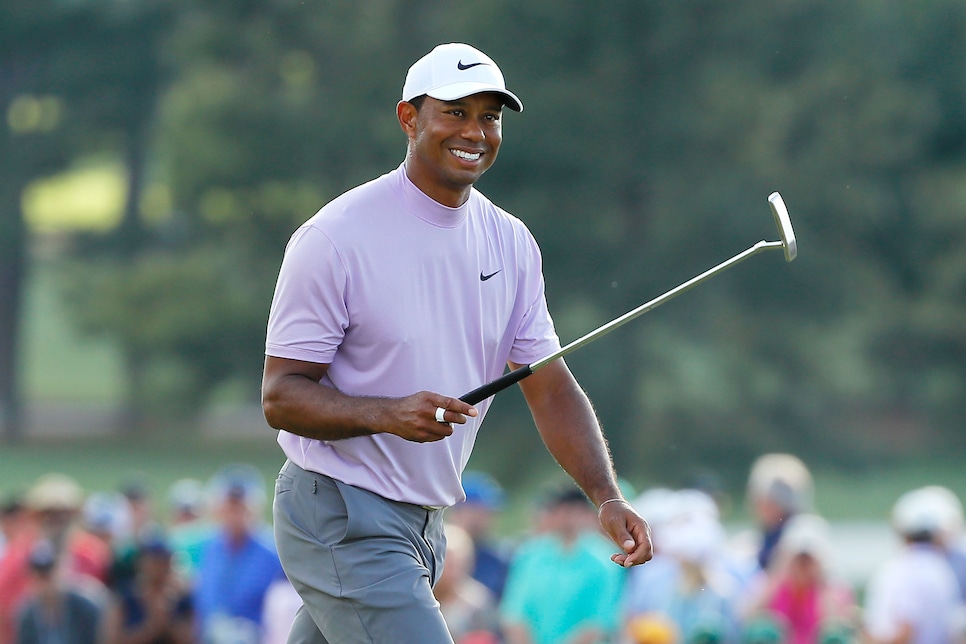 Kevin C. Cox/Getty Images
Longest active cut streak
Although he needs one more to tie Player and Fred Couples for the longest cuts-made streak at 23, Woods does own the longest active streak at 22, having never missed a Masters cut as a professional since his debut in 1997 through his last appearance in 2022.
Lowest scoring average, minimum 50 rounds
Woods' 71.05 scoring average over 94 rounds is almost half a stroke better than Mickelson, who owns the second-lowest mark.
Woods has pocketed a tidy $9,588,236 in Masters earnings in his career, about $1.4 million more than Mickelson and nearly $4.3 million more than Spieth, who ranks third.