End of an Era
Masters 2022: Sadly, it looks like we won't see this Augusta National legend over the weekend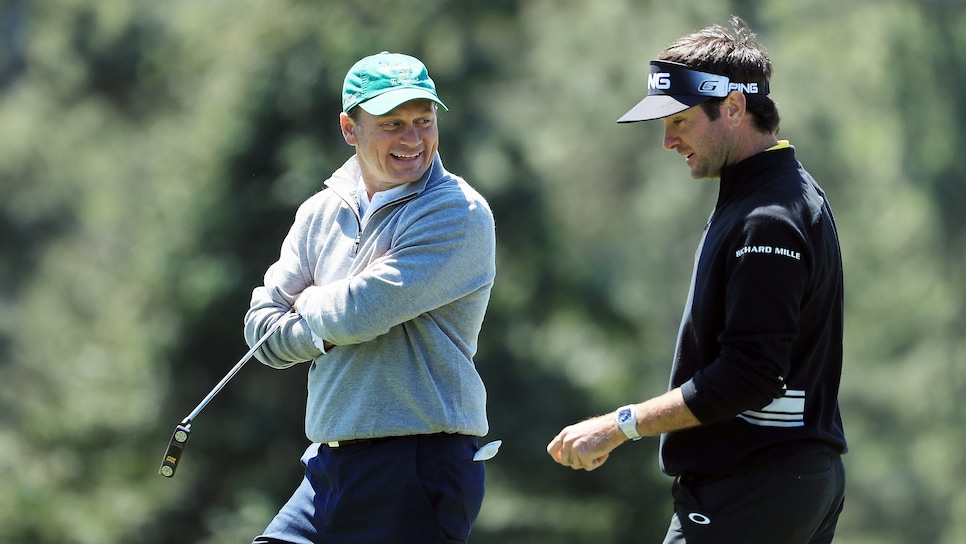 Jeff Knox in action during the 2016 Masters. Oh, and Bubba Watson.
David Cannon
AUGUSTA, Ga. — As a throng of patrons surrounded the 18th green hoping to catch a glimpse of Tiger Woods, another Masters great was engaged in some friendly chit-chat just feet away. He drew no attention and would have completely blended into the scene of predominantly regular golfers following around the best players on the planet except the Augusta National member was wearing his green jacket.
Oh, and if you recognized his face beneath a blue Masters hat, you would know that the unassuming guy is NO regular golfer.
The man, excuse me, legend that I'm referring to is Jeff Knox. He's the guy who has served as a playing marker for the past two decades when an odd number of players make the Masters cut. Or, as was the case in 2020, he filled in for Erik van Rooyen after the South African withdrew following the first round.
In recent years, it was rumored that Knox was set to be replaced by a younger member for the best backup gig in sports, but it appears that is finally the case this year. Well, if they even need a marker. The Augusta Chronicle's David Westin reports the 59-year-old has been relieved of his duties. It's the end of an era.
According to Westin, Michael McDermott is expected to fill Knox's big (golf) shoes. Well, he's actually not a big dude, but he's a giant around these parts. At least, a giant slayer.
Although Knox's score is never officially kept, he's been credited with taking down Rory McIlroy and Sergio Garcia. The club forbids him from talking about his conquests, but in 2016, Golf.com had his record at 6-8-1 in head-to-heads with his playing partners, which is downright absurd. Although, he does hold the course record from the members tees with a 61, and he was inducted into the Georgia Golf Hall of Fame in 2017. So while golf isn't his profession, it also ain't exactly no hobby to him, either.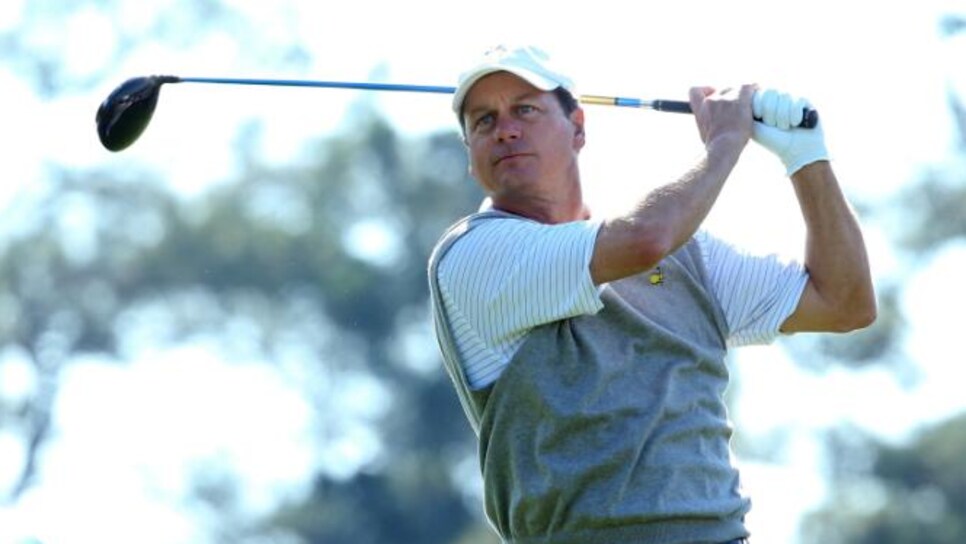 As the years have gone on and the course has only gotten longer, Knox hasn't been quite as competitive. But his exquisite touch—and yes, plenty of local knowledge—still allow him to get around this place in impressive fashion.
"He's the best I've ever seen on Augusta's greens," said McIlroy, who has used Knox to help him prep for the tournament. Hey, if you can't beat 'em, join 'em, right?
As for McDermott, he's a 47-year-old with an impressive golf résumé of his own. According to his USGA media bio sheet, he made it to the round of 16 at the 2003 U.S. Amateur and was a quarterfinalist at the 2016 U.S. Mid-Am, losing to eventual winner Stewart Hagestad, who is playing this week as the after winning the U.S. Mid-Am again in 2021. McDermott also won the prestigious 2012 Crump Cup at Pine Valley, where he also shot a 62 in 2013. Player alert!
So while we'll wait to see if McDermott gets to tee it up inside the ropes at Augusta National for the first time this weekend, just know that no matter what happens, sadly, golf fans won't be getting a glimpse of Jeff Knox. Well, unless you happen to see him walking around in his green jacket.