The Loop
Masters 2017: I walked 18 holes with Jeff Knox, the best Masters player you've never heard of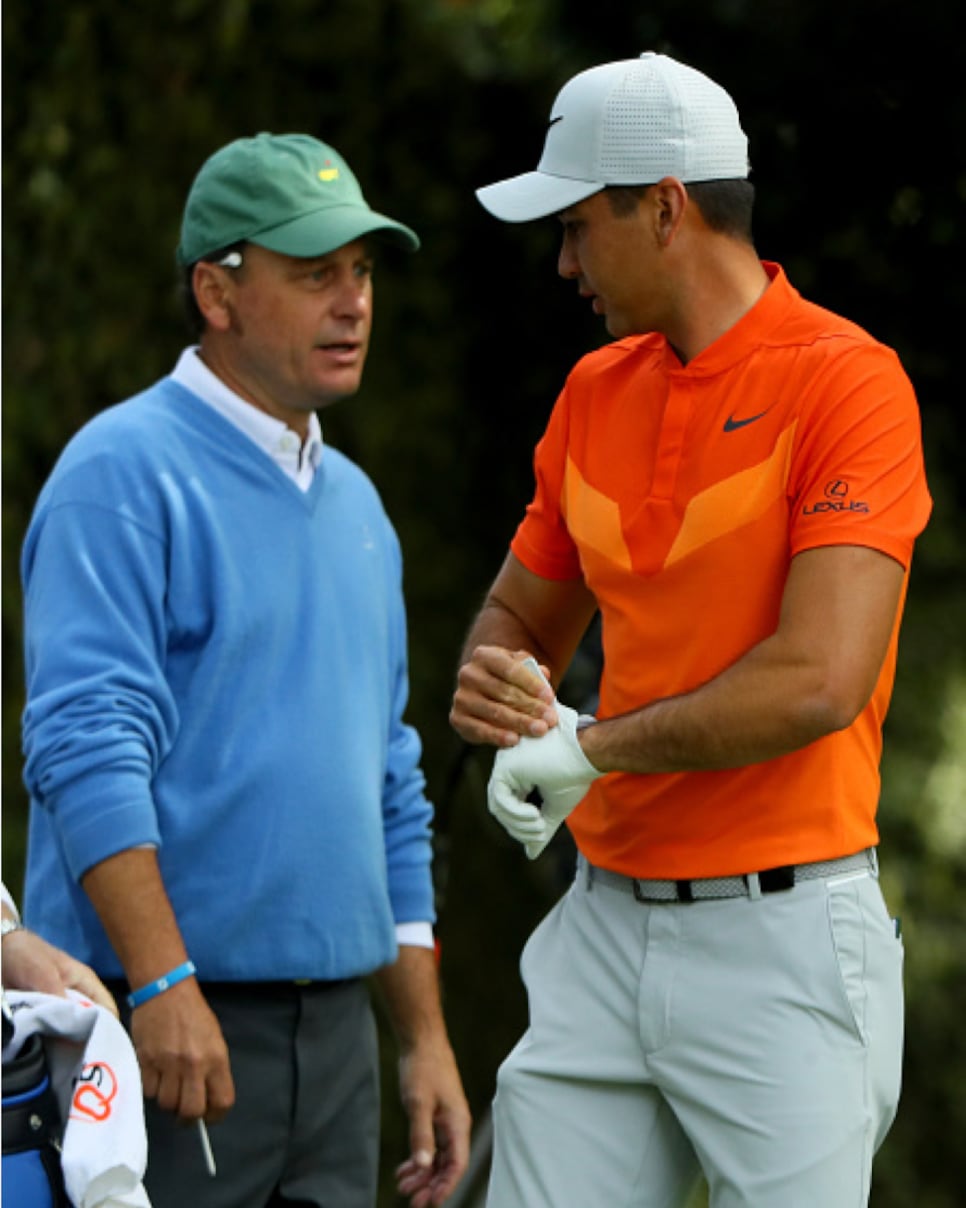 AUGUSTA, Ga. -- "Oh my gosh, he's right there!"
I'm pretty sure the blonde patron standing in the middle of the crosswalk on the fifth hole was talking about Jason Day, but I couldn't be certain. Jeff Knox was walking right behind.
So it's possible that Day got less sleep on Friday night than the tournament's leaders after learning about his Saturday pairing. When I asked him about Knox's reputation as a giant slayer around these parts he laughed. But he knew. Oh, he knew.
"I heard that he beat Rory," Day said. "He said he was nervous on the first tee and I'm like, in my head I'm like, I'm kind of nervous because I don't want to let my marker beat me."
It certainly looked like it might happen again on Saturday. Knox, 54, two-putted for par from 50 feet on the difficult par-4 1st, backhanding in his par putt. "You made that look easy!" Day remarked, before taking his time over a similar two-footer.
Then on No. 2, Day flubbed a pitch shot and made bogey. Knox two-putted for par from long range again to draw first blood. It's no wonder auction houses are getting requests for Jeff Knox memorabilia.
In case you're wondering, when Knox wins a hole, Day still gets the honor on the next tee. Knox's score and name aren't posted anywhere. And the only photos of him posted by Getty Images from the round are really just photos of Jason Day. But there Knox is. . .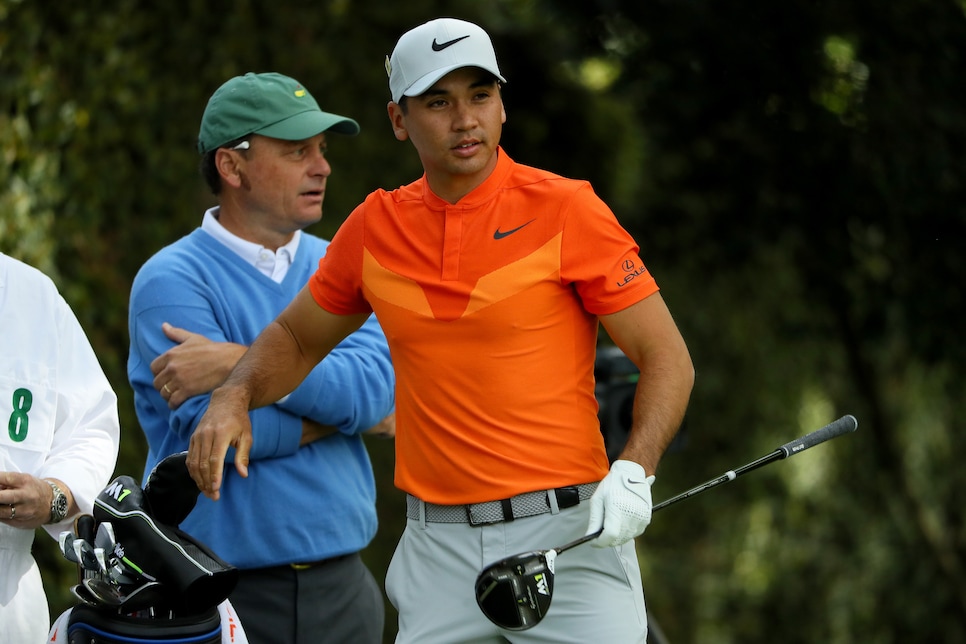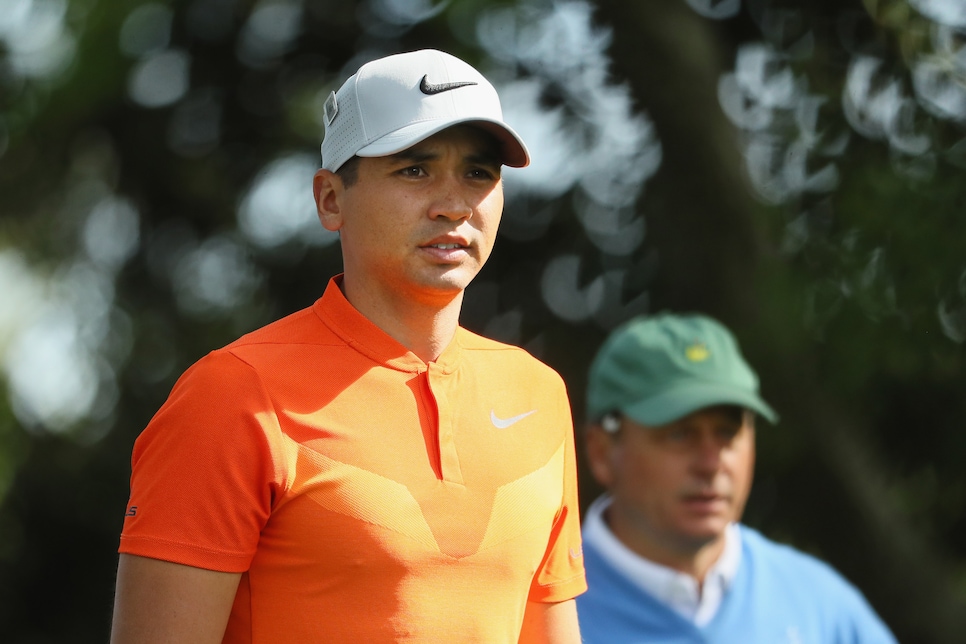 At the Masters, the solo competitor out first on the weekend is required to play with a marker chosen by ANGC. Not that Day seemed to mind. He was as much of a sponge as he was a player on Saturday, chatting constantly with Knox as they walked stride for stride down nearly every fairway -- at least, until Day kept going (and going) to get to his much longer tee shots.
"Oh, he's definitely a local legend, but he's the least boastful person in the world," says friend Stan Tam of Knox, who directs the non-profit Knox Foundation in nearby Thomson, Ga. "He's so down to earth. He blends in anywhere."
Jeff Knox: No. 1 in your heart, not listed in your program.
On No. 9, Day watched his tee shot anxiously, but Knox stepped in and said, "That's perfect." Knox was right. Obviously.
But while his course knowledge was as sharp as ever, his game wasn't. By my count (he scooped up a couple short putts to keep play moving), Knox made the turn in three over, three down to the World No. 3. Still, not bad for someone giving up 50-plus yards on nearly every hole.
Not that we'd get to hear Knox's thoughts on his latest walk with one of the biggest names in golf. Knox doesn't do interviews after his rounds. Although he's become a bit of a tournament spectacle, ANGC prefers he stay out of the limelight. At least, as out of the limelight as someone who Rory McIlroy calls "the best he's ever seen" on Augusta National's greens can.
"It was kind of neck and neck," Day said of the made-up match. "I bogeyed the second hole and he parred it and he was, kind of had a little 1‑up lead there for a bit, so I'm glad I ended up carrying out the back side."
Day didn't become another notch on Knox's green Augusta National belt but Knox had the last highlight, bouncing a long iron to 10 feet of a difficult back-left pin on No. 18. After the two players shared a laugh and an embrace as they walked up to the 18th green, Knox converted the birdie putt and allowed himself his first sign of emotion by giving a tiny fist pump and a thumbs up to his loyal fans. A local legend, indeed.
My final tally put him at 77 -- eight shots worse than Day's 69. Not Knox's best, but also not bad for a plus-1 handicapper against a recent World No. 1 in a major championship from the tips -- even if it is his home club.
"Oh well," one patron said. "He didn't win today."
Nope, but he might have found something on that last hole. Whoever gets paired with Jeff Knox on Sunday could be in trouble.