The Loop
The legend of Jeff Knox grows in Saturday's pairing with Bubba Watson
AUGUSTA, Ga. -- The most amazing thing about following Jeff Knox on Saturday at Augusta National was how many patrons knew who Jeff Knox is.
I take that back. The most amazing thing about Jeff Knox is his short game. It's pure magic. How else can you explain how a 53-year-old amateur can compete with the best players in the world on a 7,435-yard golf course?
"He's no spring chicken," one patron observed.
No, he's not, but for over a decade, the Augusta National member has been keeping up with the game's elite as a Masters marker (Knox plays when an uneven number of players make the cut). As a result, Knox has become somewhat of a tournament legend, which brings me back to my first point. Despite Knox not being listed in Saturday's pairing sheet, or on any leader board, or having his name on his caddie's back, those watching the first group off in the third round were well aware of his presence.
"Let's go up to 1 to see Day tee off," one patron suggested. "Dude, I'm here to see Knox," his friend replied. Yes, this conversation actually happened.
Sure, it helps that Knox lives in Augusta, about two miles from the course, but in general, Masters fans are very knowledgable. Perhaps, they heard about the time Knox beat Sergio Garcia. Or when he shot 70 to take down then World No. 1 Rory McIlroy by a stroke in 2014. All in all, Golf.com reported Knox's unofficial record when playing against pros in the Masters is 6-8-1.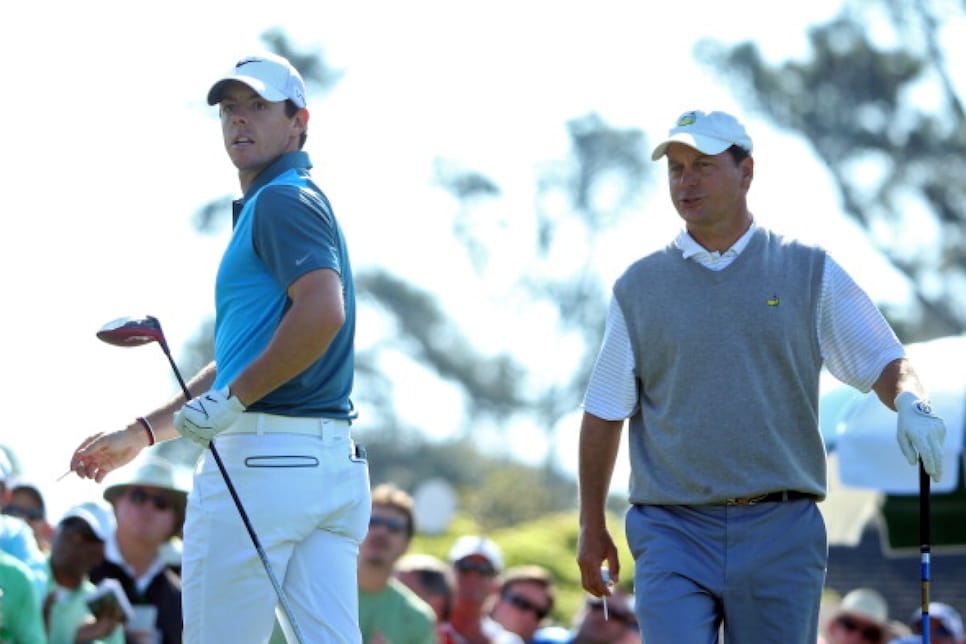 It's unofficial, obviously, because Knox's score doesn't count for the tournament. He also doesn't putt out everything. Then again, he shouldn't have to with a short game like that. On No. 14, he faced a delicate third shot from the back fringe. "He's chipping that?!" a fan wondered. Who is anyone to question the man who holds the course record -- a 61! -- from the members tee. Knox knocked it to about a foot.
On No. 16, Knox short-sided himself with a tricky front-right pin. But this time, he pitched it over the bunker to within gimme range. Could Jordan Spieth have pulled off that shot? Possibly. And a gimme for Knox at Augusta National is about as close to a guarantee as possible.
"He's the best I've ever seen on Augusta's greens," said McIlroy, who is among the players who use Knox as a resource when preparing for the year's first major.
Knox only made one birdie (on the 13th hole) in windy conditions on Saturday, but he played Watson, who shot 76, pretty even. Again, it's tough to know what he shot exactly since he didn't putt out a couple of times to stay out of the two-time Masters champ's way, but it would have been close despite Bubba bombing it 50 yards (or more) past him on every hole. And both Knox and Watson seemed to enjoy themselves during the nearly four hours they spent together, chatting most of the way. Watson waited for Knox on the 14th green after his terrific par save, and Knox gave a big clap to his playing partner on No. 18 when Watson found the green with his approach shot from the left trees. Sounds pretty fun for a Saturday morning round at your home club, huh? And he'll have a game with another tour pro on Sunday morning on one of the world's most storied courses.
Be prepared to be even more jealous if you look up Knox's GHIN profile. In addition to being a member at Augusta National, he's a member at scenic Wade Hampton. He belongs to three clubs. And he's played 19 rounds of golf THIS YEAR. Maybe you'll feel a little better to know that his handicap has slipped from a career-best plus-2.4 to. . . plus-0.8. Never mind.
After he had signed Watson's scorecard, Knox stayed outside the scoring building for several minutes talking to fellow members. When one of them joked it was time for him to go talk to the media (It's club policy for him not to talk to the media), Knox gave a "Noooo," laughed and walked off.
Bubba Watson also left the course without talking to the press despite the gaggle of media members hoping to talk to the man near the bottom of the leader board. Guess he wasn't interested in fielding a bunch of questions about Jeff Knox.