Bubba Golf
Masters 2022: Bubba Watson locks up shot of the year award with this unreal escape on 18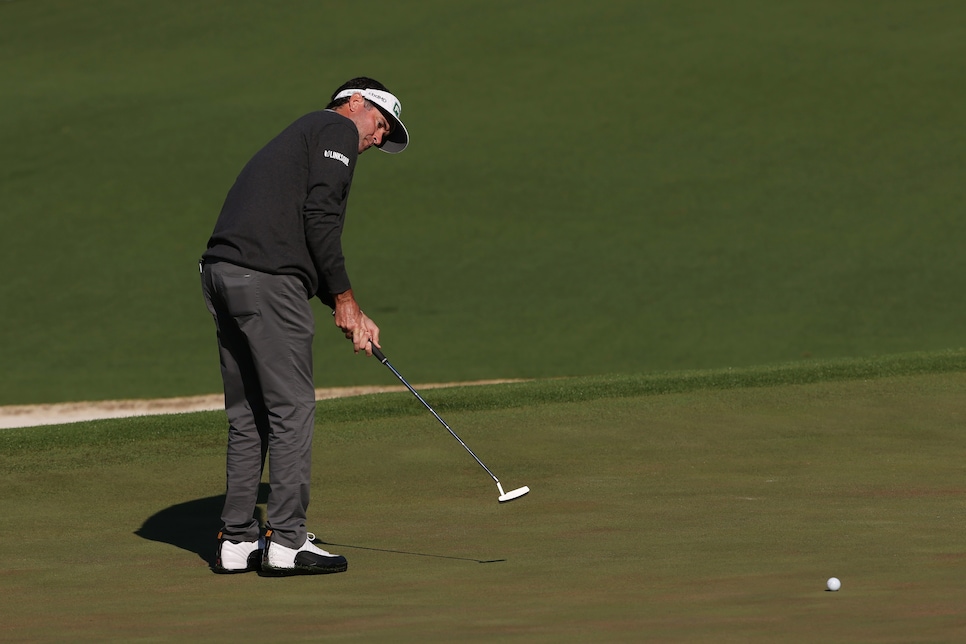 Ten years ago to the day, Bubba Watson hit what is and will forever remain the greatest shot in his professional golf career. A snap hook with a wedge around a tree off the 10th fairway in a sudden death playoff at Augusta National, eventually leading to his first green jacket. No shot he ever hits at Augusta, or any course, for that matter, will top it.
Having said that, Watson came pretty damn close to topping that iconic approach on Friday at the 2022 Masters. This time, it came at the 18th hole, where his drive found the pines right of the fairway and left him with what appeared to be ... absolute nothing. He had nothing.
But, this is Bubba we're talking about, a man who sees, feels and executes shots other players either don't have in the bag or are too scared to even attempt. Bubba, on the other hand, is all about that action:
Scott Van Pelt summed that one up nicely. "Stop it," indeed. It's impossible to tell where that ball even started, which is the most Bubba thing you can possibly imagine. And the camera doesn't capture the awkward lie very well. "It was like a piece of a branch about that big had fell on the ground, and my ball was sitting on top of it, and then leaves were … two leaves behind it I couldn't move, and then two leaves touching that I couldn't move, so I had a gap way up in the trees. I was, like, 'I'm going to hit wedge as hard as I can.' "
Afterward, Watson argued that this was was actually more impressive shot than the one back in 2012. "I'll be honest, not that you want to know, but that was the best shot I've ever hit at Augusta National, that one right there."
Watson had even more to say about the remarkableness of the shot: "Nobody in the world would have tried that shot that I tried. There's nobody on the planet that would have tried it. We can sit here and they can tell me they would try it. There's nobody that would have tried it. I don't believe could have pulled it off."
Watson did, of course, clean up the birdie putt, polishing off a second straight 73 to get into the clubhouse at two over, which is going to look better and better as this second round goes on. For now, it has him in a tie for 28th, firmly inside the cut line, which means we will get another weekend of Watson hitting his epic bends and curves around Augusta National. Blessed.