Family Tradition
Masters 2021: Tyler Strafaci's family history has him thinking positive at Augusta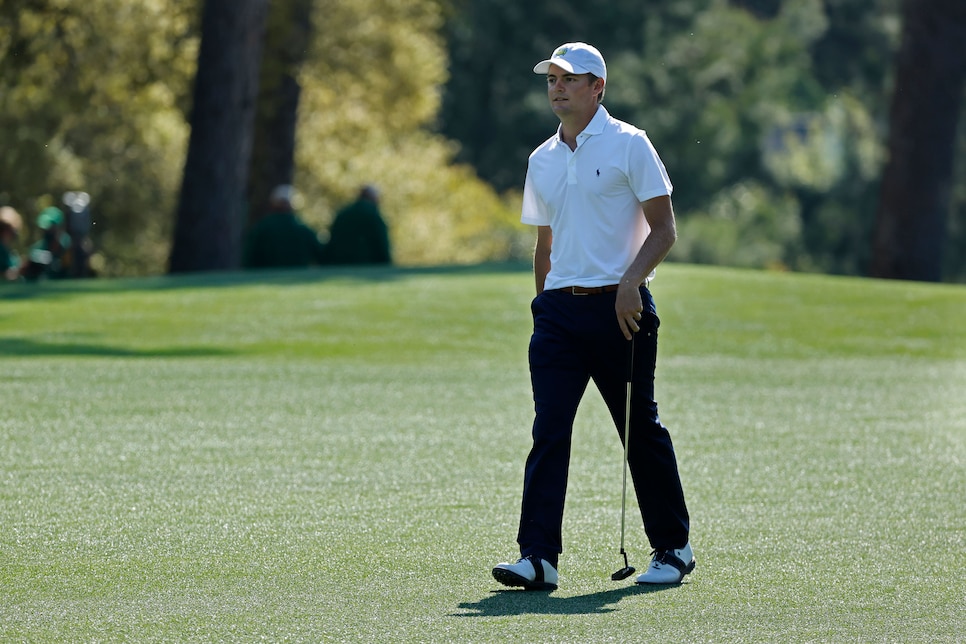 Tyler Strafaci walks down the first fairway during Monday's practice round at Augusta National.
Hunter Martin
Tyler Strafaci never met his grandfather, Frank, who passed away before he was born. But the 22-year-old from Davie, Fla., has enjoyed following in the family patriarch's golf footsteps the past nine months. First, Tyler won the North & South Amateur title last July at Pinehurst No. 2, as did Frank in 1938 and 1939. Then it was winning a USGA championship, Tyler taking the U.S. Amateur title at Bandon Dunes in August after Frank won the U.S. Amateur Public Links in 1935.
And this week, Tyler will be doing it again when he competes in the 85th Masters, a tournament that Frank played in twice, in 1938 and 1950.
In the run-up to this week's event, Tyler learned a bit or two about Frank's Augusta National history, including the fact that his grandfather actually withdrew from the 1938 tournament after three rounds. Frank was 15 shots off the lead and the North & South Amateur was coming up, so he decided instead to head north, where he'd go on to win the title.
"It just shows how different the tournament has changed over the years. If I did that, I don't think I would ever be invited back," Tyler joked. "So, it's changed a lot. It's cool to see how it's gone through history and just the prestige of the event."
No doubt, Strafaci won't be leaving early this week, not with the realistic chance he has at claiming low amateur honors. Ordinarily as many as six amateurs qualify to compete in the Masters. But with the U.S. Mid-Amateur, Asia-Pacific Amateur and Latin America Amateur all canceled in 2020 due to COVID-19, the number in 2021 is down to three—Strafaci, U.S. Amateur runner-up Charles "Ollie" Osborne and British Amateur champion Joe Long. That matches 2008 as the fewest amateurs in the field in any one year.
Should Strafaci pull it out, he'd follow in the footsteps of his college roommate at Georgia Tech, Andy Ogletree, who was the low amateur at last November's Masters. Strafaci wrapped up his college career last year and played in a pair of PGA Tour events this spring in advance of the Masters. He'll admittedly have to overcome his nerves as he begins play on Thursday, teeing it up in the traditional pairing with reigning Masters champion Dustin Johnson. Strafaci sheepishly introduced himself to DJ in the last few days, getting the formal greetings out of the way. "He's a very nice guy, very welcoming," Strafaci said.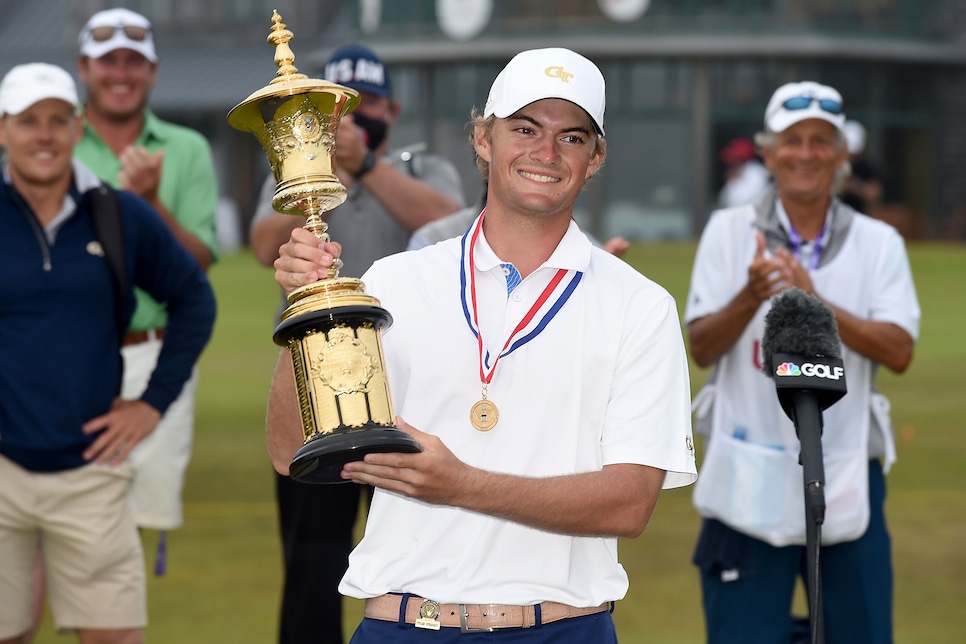 Strafaci poses with the Havemeyer Trophy after winning the U.S. Amateur at Bandon Dunes last August.
Steve Dykes
To handle his emotions, Strafaci will lean on another family member who's been a significant golf influence in his life, his father Frank Jr., who caddied for him in his two big wins last summer and will serve as Tyler's swing coach this week. "I needed support and need him there for me because it's going to be a nerve-wracking week just being in an uncomfortable situation, but I'm looking forward to it," Strafaci said. "I'm glad he's here to be by my side and we're going to have fun."
Part of that is soaking up the amateur experiences at Augusta, including staying at the Crow's Nest, a picture of which Tyler hung in his room when he was around 10.
Having gone to school a little more than two hours away, at the alma mater of Augusta National co-founder Bobby Jones, Strafaci has had the benefit of playing the course a few times before. He thinks that can help, as will the fact he's trying to keep expectations to a minimum.
"I'm an amateur. That's a great thing about the Masters. Me, Joe Long and Ollie, we're going to have a great opportunity to just compete and have fun with nothing to lose." Strafaci said. He hopes a clear mind and healthy body will serve him well this week. "I'm hitting it really good. … So, there's no excuses for playing bad golf this week."
Strafaci knows his amateur career will soon be coming to an end, likely after playing for the U.S. at the Walker Cup in May. (His spot in the U.S. Open for winning the U.S. Amateur is not predicated on remaining an amateur for the championship.) But there's work to do before then.
"I'm looking forward to that." Strafaci said. "That will be a great send-off into professional golf … just have fun with the teams, make friendships, and try to win that thing."