News
A family first at the North & South Amateur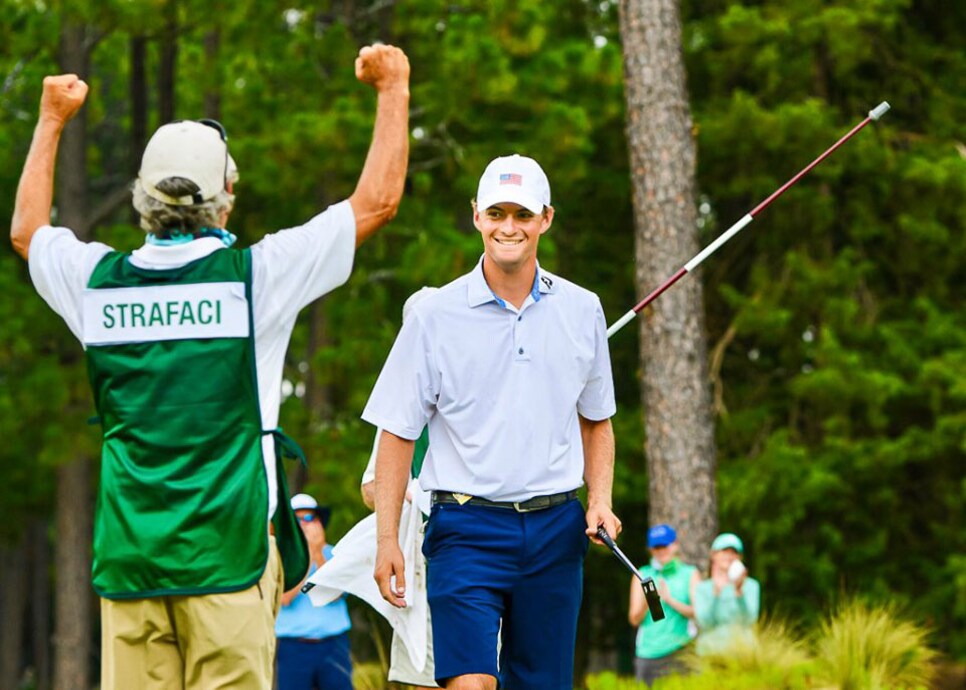 With his father on his bag, Tyler Strafaci takes the title at the North & South Amateur, a tournament his grandfather won in 1938 and 1939. (Photo courtesy of Pinehurst Resort)
There's something about Pinehurst No. 2 that seems to be suiting Georgia Tech golfers of late. That is just one of the ways to digest for Tyler Strafaci's victory in the final of the North & South Amateur. The Yellow Jackets who finished his senior season this past spring defeated William Holcomb V, 3 and 1, in Saturday's 18-hole championship match—less than a year after Strafaci's teammate, Andy Ogletree, won the U.S. Amateur title on Donald Ross' masterpiece.
Strafaci, however, was also carrying on the family tradition with his victory. Back in 1938 and 1939, his grandfather, Frank, has claimed the North & South title (he also won the 1935 U.S. Amateur Public Links). Years later, his father, Frank Jr., had played in the event on several occasions before looping for Tyler this past week. The Strafacis become the first grandfather-grandson tandem to share the title. (Jack and Jackie Nicklaus are the lone father-son duo to both win.)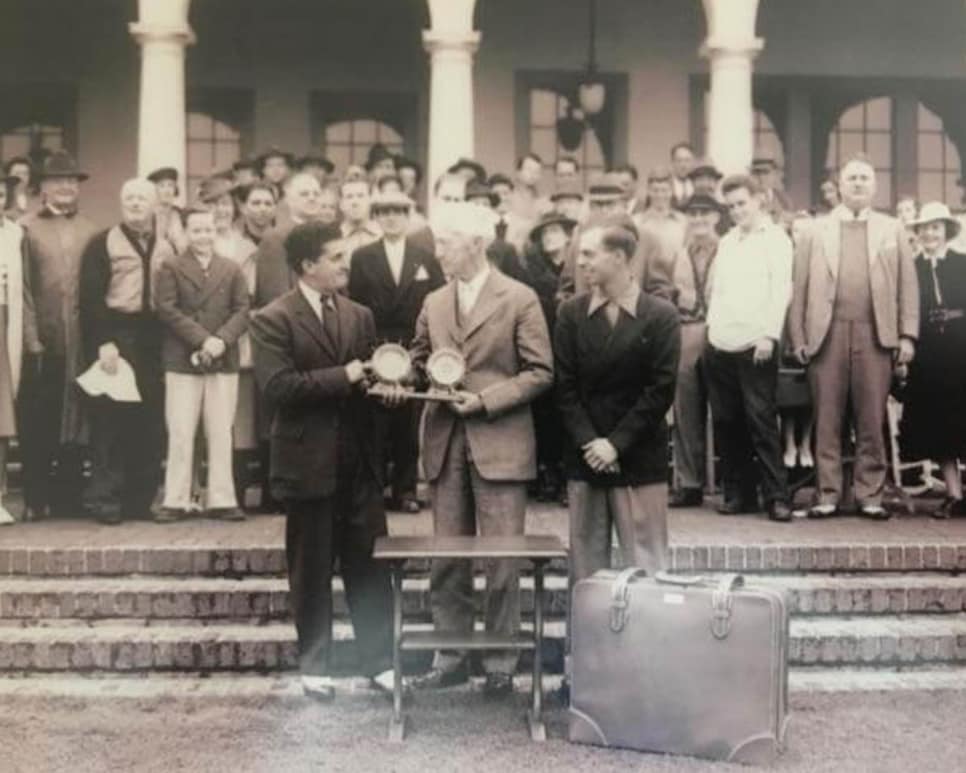 Frank Strafaci, left, after winning the 1938 North & South Amateur, is awarded as the trophy presentation by Kennesaw Mountain Landis. (Photo courtesy of Pinehurst Resort)
"I first came to Pinehurst when I was a little kid, and mom and dad and would always tell me what my grandfather thought of Pinehurst," said Strafaci, whose grandfather had died before he was born. "The first thing we would do, my dad would walk me into the locker room and we'd find Grandpa's locker. We'd sit in there and look at all of the names.
"I never thought that this day would ever come."
Strafaci won six holes with birdies during the championship match, the last three on 13, 14 and 17 to rally from a 1-down deficit. The birdie at 17 was an emphatic finish, after he hit his tee shot on the par 3 to four feet.
Coincindentally, Holcomb was no stranger to Pinehurst, either. Last August he advanced to the semifinals of the U.S. Amateur at Pinehurst, losing to the eventual runner-up, John Augenstein.
"It was a great match, and hats off to Tyler," said Holcomb, who finished his senior season at Sam Houston State in the spring. "I'm pretty frustrated because I feel like I gave away a few shots, but heck, what did Tyler have? Five, six, seven birdies on No. 2, one of the hardest golf courses in the world? He played great."