Rose Goes Low
Masters 2021: Justin Rose lapped the field Thursday, and is as dumbfounded as you are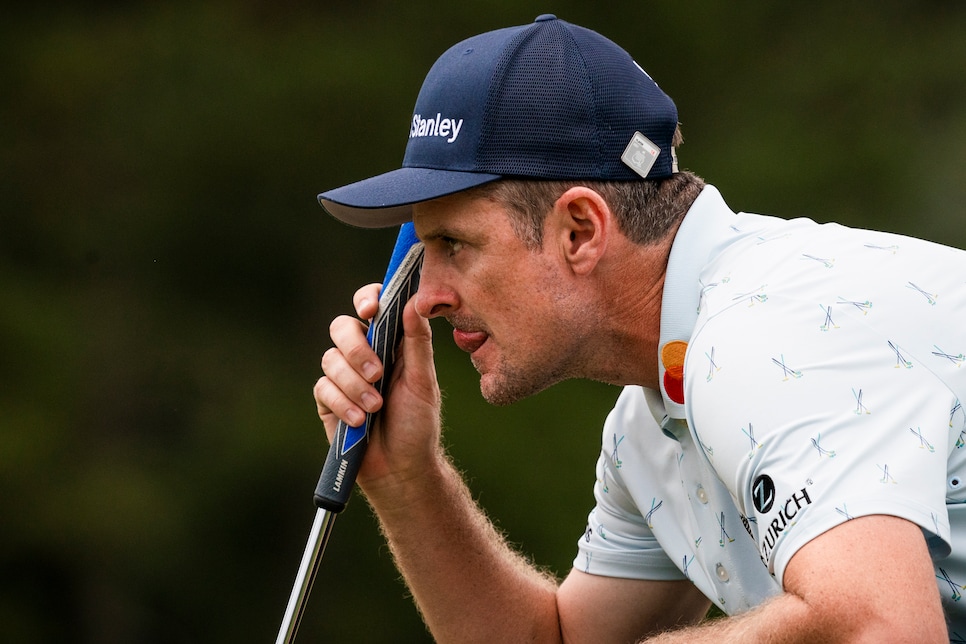 Through seven holes he was just trying to survive. It has been that way for the last seven months, to tell the truth. But over the next three hours, Justin Rose unleashed a cry that could be heard throughout the loblolly pines, and loudly: Azaleas aren't the only ones blooming at Augusta National.
Rose made an eagle and seven birdies in a 10-hole stretch Thursday. Your eyes do not betray you. It was a performance that translated to a seven-under 65 and a four-shot lead as the Englishman grabbed the reins of an opening round at the 85th Masters that threw most of the field, especially those in the afternoon wave, out of the saddle.
"If you had said to me walking up the eighth hole [I'd shoot a 65], I'd have said no chance, this course is playing a little too tricky for that," Rose said. "But it's incredible. It's a good reminder that you just never know what can happen out there."
In a sense this is not a total shock, if such a thing can be said for tearing up Augusta National. This is Rose's fourth time owning at least a share of the Masters' first-round lead. If that sounds impressive, it is: Only Jack Nicklaus can match the feat. Thursday also marked the ninth Thursday Rose has broken par in 16 Masters starts.
The correlation between experience and success at this tournament is unequivocal. But the same can be said for momentum, which is why Rose, despite his track record, was an afterthought heading into the day. He has been dealing with back spasms as of late, withdrawing from the third round of the Arnold Palmer Invitational and dropping out of the Players Championship the following week.
"I don't know what it was or what it was all about, but it was a seven-day bit of a lockup and just struggled to be able to get down into the golf shot," Rose said of his injury. He would go on to admit, "I haven't played competitive golf for a month or so, so I never quite knew what was going to happen exactly."
But the problems for Rose transcend physicality. Ranked No. 1 just two years ago, Rose has fallen outside the top 40 of the World Ranking. He has not posted a finish better than T-17 this season, with a mere two top-10s in the preceding campaign. A glance at his stats in seven starts this year reveal no Achilles' heel, but rather a game systematically out of sync: 179th in strokes gained/off-the-tee, 113th in approach, 133rd SG/around-the-green. Besides, Rose turned 40 last July. That age is no longer a purgatory for tour players, with advances in training and technology stretching their careers longer than ever. Still, it is age when players begin to fade into the abyss, quietly and without fanfare.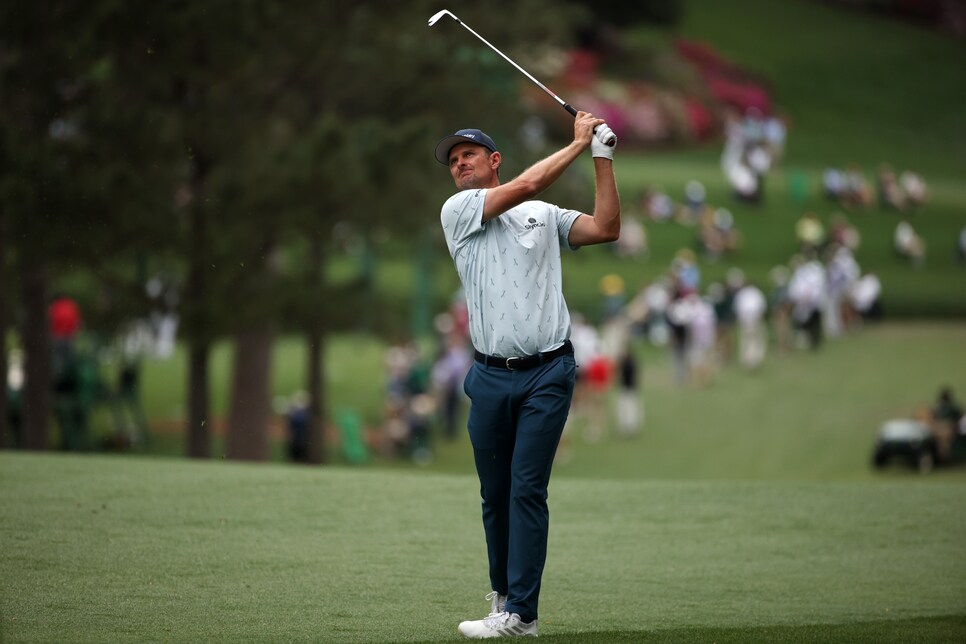 So the signage of a black "2" next to "ROSE" through seven did little to conjure a response. It was not only a continuation of what we've seen from Rose—a bogey at the difficult first, another at the seventh—but what we saw from Augusta National on the day, the course responding in kind to the November field making the Masters score board look like the Mayakoba Classic.
Then a beautiful thing happened, a thing Augusta National, even at its toughest, can facilitate. Fireworks, and lots of 'em.
At the par-5 eighth, Rose went to boomtown, his second shot from 270 yards bouncing off a greenside mound and finishing inside 10 feet. He cleaned up what was left for eagle 3 to get back to even. "I was very aware being a couple over through seven that things weren't … I didn't hit the panic button yet," Rose said. "But I reset just prior to that and thought if I can get myself back around even par, you know, that would be a good day's work."
At the ninth, his second from 146 yards trickled to four feet. It was a slippery four feet, four feet that could turn into 40 for the overzealous, but the ball fell after four. Rose to one under. Then he dropped a 25-footer at the 10th. He parred the 11th from the left pine straw, which not only felt like a birdie but in principle was, the field a course-high +.511 over par at the 11th on the day. Rose rattled a birdie at the 12th off an approach to six feet, and a lay-up at the 13th helped produce another bird from gimme range after an easy approach.
Now, the card says "4" at the par-4 14th, and the card is right. The problem with score cards is they do not convey a story. Rose's approach went deep, way deep, leaving the type of up-and-down where bogey is your friend. He played the shot as well as he could, but an uphill, tilting 12 feet remain. But a confident Rose didn't blink, holing that putt, too. Spurred by the par save, Rose ran off three consecutive birdies—an up-and-down at the 15th, a rolled-in 14 footer at the 16th, a darn-near jarred approach at the 17th—leaving onlookers amazed and Rose himself curiously delighted.
"Sounds easy when you just put it together like that," Rose said.
A sentiment that was foreign to his competitors. The field average was 74.5 Thursday and higher than 75 for the afternoon group, with firm putting surfaces and the occasional gust keeping low numbers at bay.
"I've played this course many, many times, and my best to date is 67. I felt like the conditions today were not the day to go hit them and have your personal best out there," Rose said. "It was pretty windy, windy enough to be tricky, and obviously the greens are incredibly firm and fast. The pin placements were fair, certainly not easy, but fair, and if you did hit the right shot at the right time, you could take advantage.
"I didn't feel like today was the day for a 65 if I'm honest."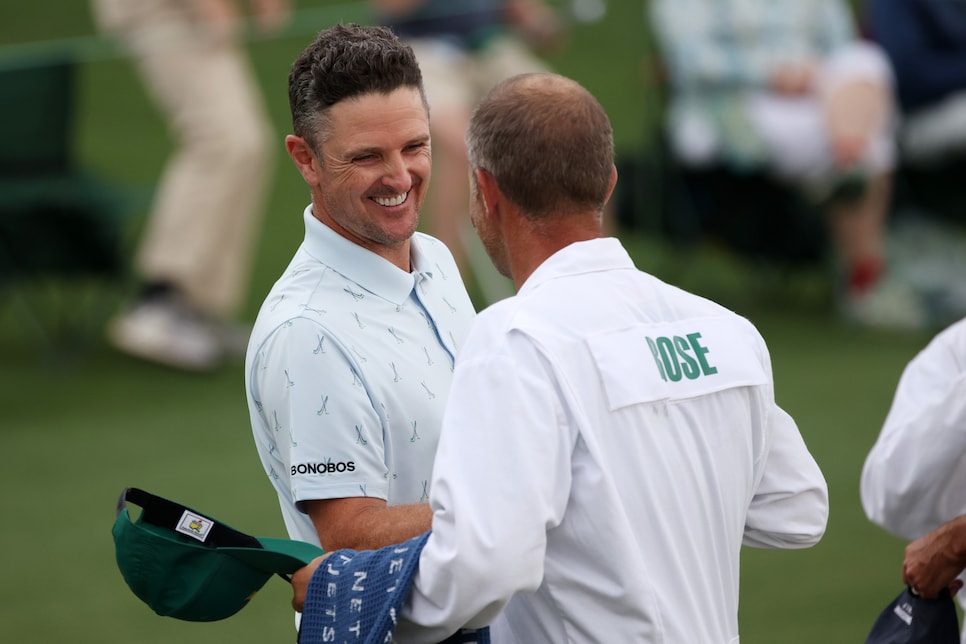 Rose's four-shot advantage is only second to Craig Wood's five-stroke lead at the 1941 tournament for largest after Day 1 in Masters history. And with green conditions drawing U.S. Open comparisons, it's fitting a former U.S. Open champ is atop. However, while Rose has a major and an Olympic gold medal, he is also a man with a number of Masters misses.
There was a playoff loss to Sergio Garcia in 2017, a distant second to Jordan Spieth in 2015. He began the final round in 2007 one back of 54-hole leader Stuart Appleby but doubled the first and third, and a back-nine rally was undone by another double at the 17th to finish three behind Zach Johnson. Thursday's 65 gave Rose the dubious distinction of most total rounds leading or co-leading the Masters without winning a green jacket.
Rose will have more than history to battle as he faces one of golf's tallest tasks: Following up a lights-out round. "That's going to be the trick the rest of the week," Rose said. "Hopefully you can just run off instinct a little bit. Obviously I've competed in these big tournaments quite a few times, and I've got one of them to my name, but we're looking for more."
But while history is very much alive at the Masters, it never comes at the expense of the present. Like his performance on Thursday, Rose doesn't sound like he's glancing in the past, instead savoring what lies ahead.
"I've had some situations in my career that should stand me in good stead, but listen, I think to keep the expectations relatively low even in this situation is not a bad thing for me for the remainder of the week and just keep it one shot at a time, keep committing on this golf course, you can never get ahead of yourself on, we've seen it many times around here," Rose said. "It's all about commitment, and I think it's about enjoying it."