Tough Test
Masters 2021: How hard was Augusta National on Thursday? 'I feel like I just came out of the ring with Evander Holyfield'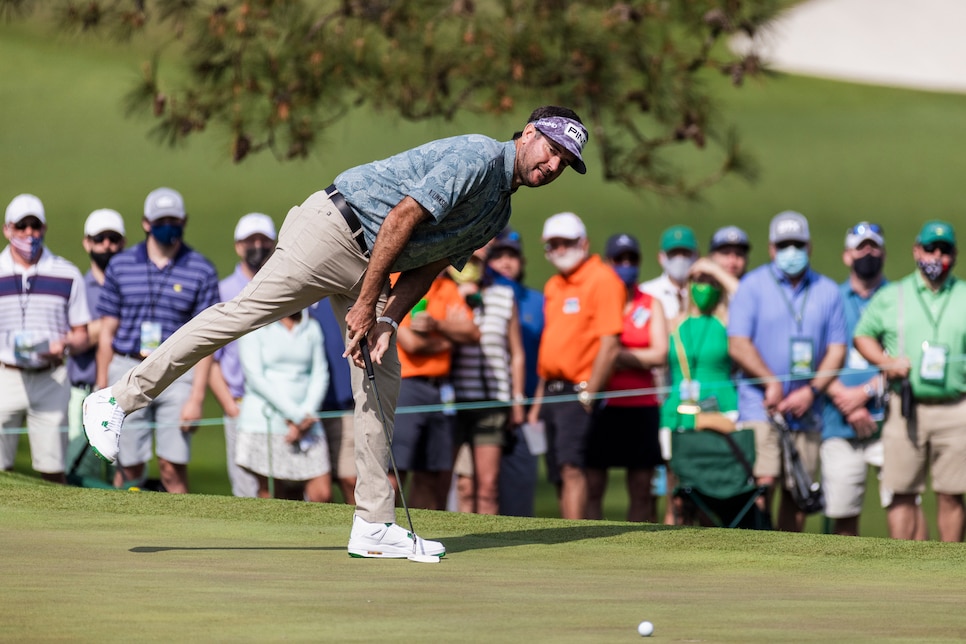 AUGUSTA, Ga. — From right of the ninth green, Zach Johnson couldn't have hit a better flop shot. Or so it seemed. His golf ball landing in the middle of the green and rolling a few feet before making a hard left turn. A little too hard as it turned out.
Johnson's ball appeared to stop about six feet below the hole, leading to a smattering of applause. But then there were several gasps as it continued to trickle. The 2007 Masters champ didn't even look as he began a solemn march toward the green. He knew where his ball was going. And it wasn't good.
There were plenty of scenes like that at Augusta National on Thursday—unless your name was Justin Rose—as the course played to a stroke average of 74.5, the highest opening round since 2017 and more than three shots worse than what it was in November. It wasn't quite a U.S. Open at Oakmont, but it wasn't your typical Masters, either.
"I fought hard, but I don't know, I feel like just came out of the ring with Evander Holyfield, like a 12-round match," Sergio Garcia, the 2017 Masters champ, said after shooting a four-over 76. "I need to go home and rest."
Augusta National clearly won Round 1 of this heavyweight fight with the world's best golfers. Only 12 golfers broke par, outrageously led by Rose with his 65, four strokes better than the next best score. Many had spoken about how firm the course was on the eve of the tournament, but add swirling wind and players found themselves in situations they're not used to being in. Listen to Webb Simpson.
"A hole like 14, I haven't had this feeling in a while, but I had a 9-iron in the middle of the fairway, and I did not think I could hit the green," said, Simpson who managed to break par with a two-under 70 and sits in a tie for fourth after Day 1. "Straight downwind, and you obviously can't land a short there, and I landed it two yards short of the hole, and sure enough, it went over the green."
Don't feel bad, Webb. Shane Lowry and Sungjae Im both missed the green and found the water on No. 15—with a chip. And Bernd Wiesberger did them one better worse on the same hole, rolling an eagle putt into the pond.
"We're going to see more of that, I think, unless we get rain tomorrow," Simpson said of some of the craziness. "But there's certainly—you guys can see it, especially 9 and 18 up here on the hill. The greens are starting to brown out a lot."
Indeed, the most visible sign of the course increasing in difficulty for viewers at home and patrons walking the course was the brown (and even purplish) hues that could be seen on several of the greens.
Despite the added difficulty, many players like Simpson and Garcia said they enjoyed the test—and that they even preferred it like this.
"I think it's the way it should be played," Garcia said. "I'm not going to come here and I'm going to say, 'Oh, the greens were too fast or too firm or something like that.' No, I think the Masters with good weather should be played like that."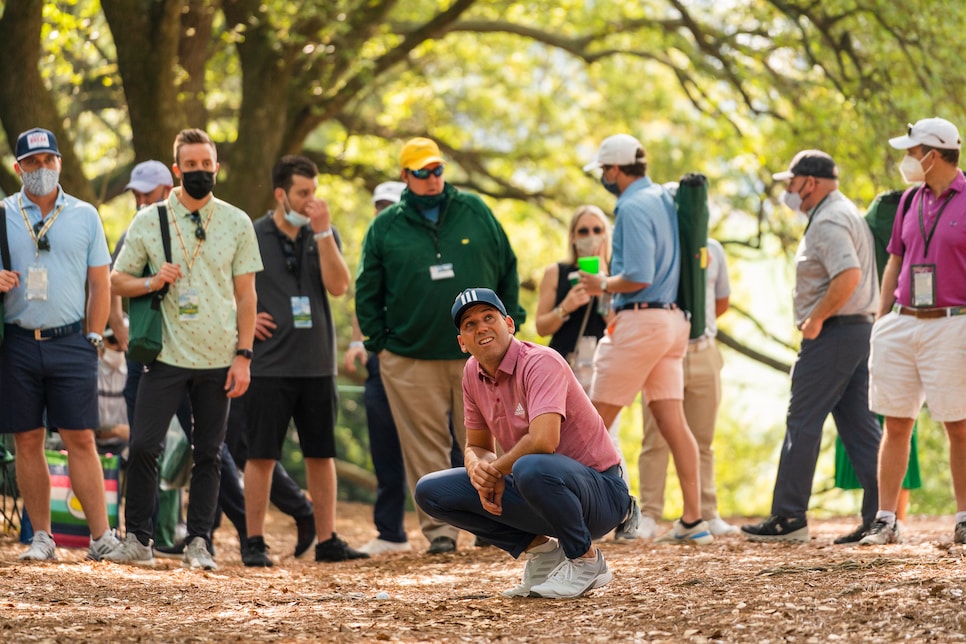 It's possible that also could just be a personal pep talk. Regardless, despite just five months between this week and the last Masters, it's only taken one day to show the course is going to produce much different results—especially if the possible thunderstorms in the forecast over the next few days don't materialize.
"The course setup is pretty tricky right now with weather," said Xander Schauffele, who grinded to a 72. "It was supposed to be today, got pushed to tomorrow. Twenty under being the score last year, you can definitely tell if it stays like this, it won't be that number."
Then there was Jon Rahm, who was asked if any particular shots scared him.
"Pretty much all of them," the World No. 3 responded.
"It's not easy," Rahm, who shot and opening 72, added. "Even wedges into par 5s, you know. You have to be cautious. If you land it one step too far or too short, you can end up in a bad spot really quickly. If it's a tough course to get distance control right in a normal year, this year it's even more so. So there's not one shot out there I could say you could just be relaxed. All of them were pretty tense."
Get a good night's rest, guys. The bell for Round 2 rings bright and early on Friday.