News
Masters 2020: The practice-round conversations heard at a quiet Augusta National are all sorts of entertaining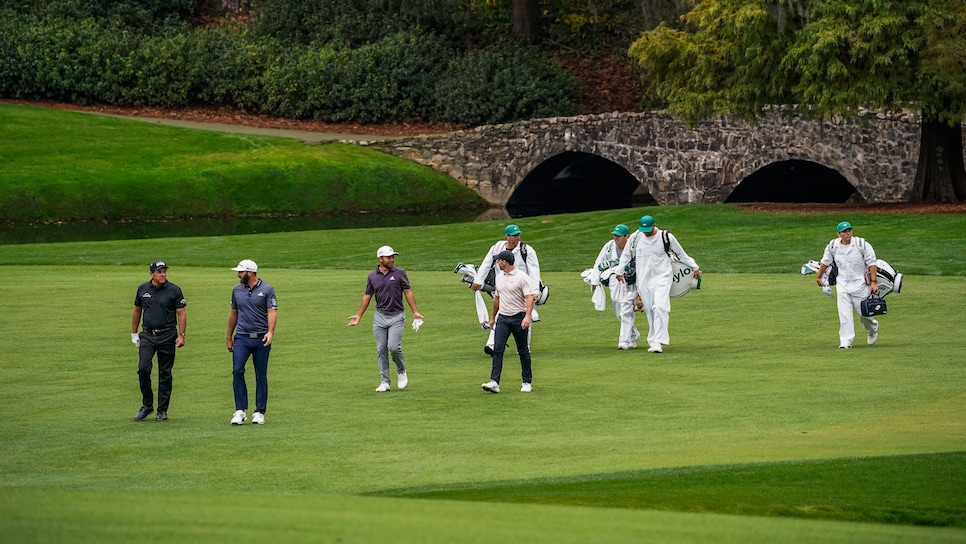 Phil Mickelson, Dustin Johnson, Xander Schauffele and Rory McIlroy were a talkative bunch during their Tuesday practice round.
JD Cuban
AUGUSTA, Ga. — If you've watched a Masters broadcast, or been lucky enough to attend the tournament in person, you know how the roars echo through the pines at Augusta National Golf Club. So what happens when there are no roars to echo?
Turns out, the conversations echo as well.
There are no patrons at this year's Masters, an unfortunate reality of this strange COVID-19 world we're living in. And while the grounds at Augusta always feel have a cathedral-like feel, the tranquility, well, it's on a new level this week. It's quiet. Really quiet. But because the acoustics are so good, and because so many of the holes run parallel to each other, even "inside voice" chats can be heard from hundreds of yards away. It's an eavesdropper's dream.
You could hear Tony Finau's caddie, Mark Urbanek, remark to his boss on the first tee that it smells like bacon. (Fact check: true.) It was 9:10 a.m., so breakfast wasn't far from anyone's mind. As the two waited for the group ahead to clear, Finau told Urbanek that when you come to Augusta with a member, you often stay in one of the cabins to the left of the 10th hole. "It's the greatest thing ever."
On the others side of the golf course, members of a power foursome were all hitting the same chip onto the 11th green. Dustin Johnson, Rory McIlroy, Xander Schauffele and Phil Mickelson all appeared to be guarding against missing the green right at least one of the days. Mickelson's efforts had a bit more bite than the other three, so Schauffele approached the short-game master as they moved toward the 12th tee and asked how he varies the height of his chips.
"With ball position," Mickelson said, happy to disclose some trade non-secrets with a fellow San Diego guy. "I'll put it off my back foot or a little behind my back foot. If I put it in between my feet, it's too hard to get my weight forward." At the Masters, there seems to be an unwritten rule that the older guys are open books, and the younger guys know it.
The scene on 12 tee was rather remarkable—four of the game's biggest starts, hitting into one of the game's most famous greens, with a more colorful background than you ever see at the Masters. (This November stuff, it does have some perks). After his brother Dustin hit, Austin Johnson crouched directly behind McIlroy and took a video of his swing. You could hardly blame him for wanting to capture the moment.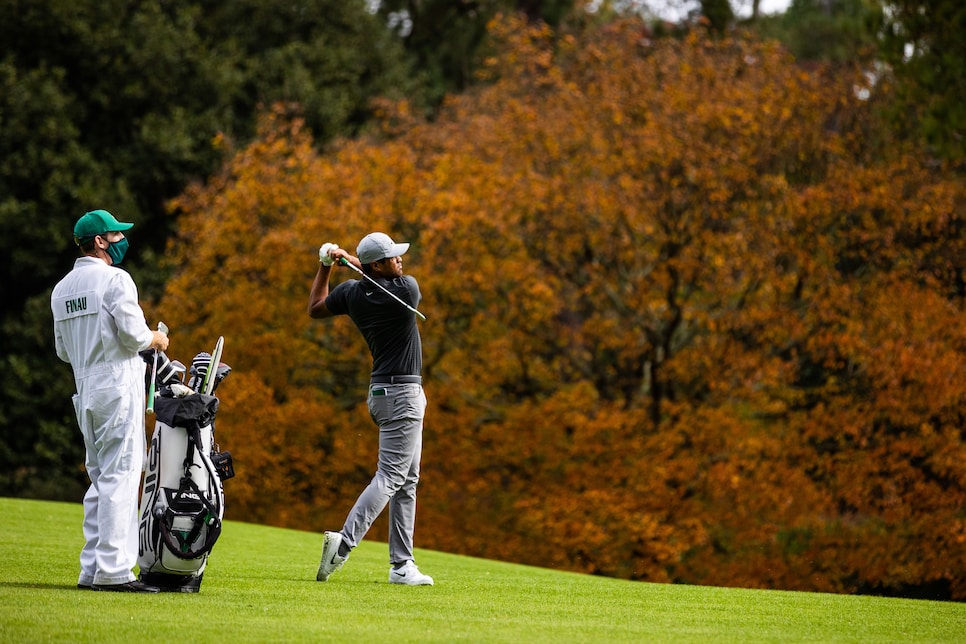 Tony Finau and his caddie, Mark Urbanek, make their way around Augusta.
Ben Walton
A few groups ahead on 14 tee, the always garrulous Billy Foster, current caddie for Matthew Fitzpatrick, was telling the story of how he was fired by his former boss, Seve Ballesteros. The details were a bit murky—the Yorkshire accent can be a bit jarring to the untrained ear—but clearly Seve yelled quite loudly at Mr. Foster. And, credit where credit is due: Foster's rendition of an angry Spaniard was spot-on.
Up by the green, Fred Couples and Patrick Cantlay were chatting as they waited for 15 tee to clear. Couples looked back at Fitzpatrick and Jason Day in the fairway, whistled to wave them up, and could not have looked cooler doing so. Fitzpatrick missed the green to the left.
"I've been there before," Couples said. "It's not a pretty picture. Just have to take your 5." He then lavished praise on Fitzpatrick, reminiscing on how they played together when the Brit was 18 at the Open Championship.
Back on 10, two Masters rookies were plotting their way around one of Augusta's toughest holes. Max Homa missed the green in the right bunker, always a popular spot, then played a terrific spinner that finished about five feet above the hole.
"Awesome, beautiful," his caddie, Joe Greiner, said. Greiner shaved his beard after his beloved Dodgers won the world series. He is unrecognizable, but the white jumpsuit with HOMA on the back is a solid context clue.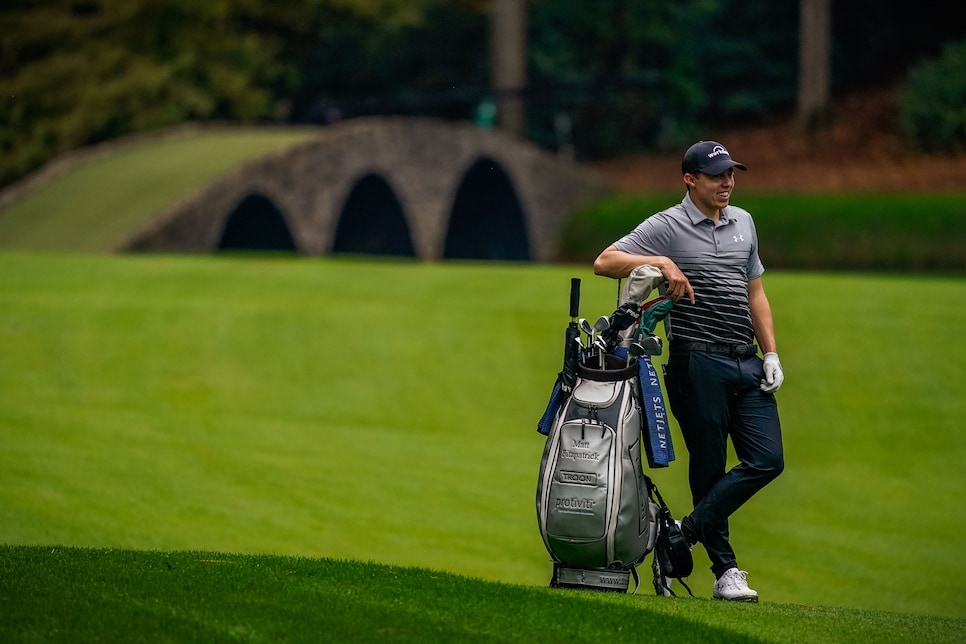 Matthew Fitzpatrick was all smiles on Tuesday.
JD Cuban
"Great shot, but good luck with the putt."
Homa's par effort caught the right lip and fell. This Augusta stuff, it's not that hard.
The 10th green is pretty close to the 15th tee, and the rumble of journalists, coaches, photographers and volunteers following (20 or so?) prefaced that marquee foursome approaching the tee. Mickelson was walking ahead of the younger guys, and after asking McIlroy if he could take his honor on the tee—at Augusta, even the practice rounds are decorous—he launched a high bomb down the center.
"Oooo," McIlroy said. "That had to be high 170s."
Mickelson checked his launch monitor and confirmed: 179. Trevor Immelman, walking alongside the group, made a quip, to which Mickelson replied, "Hey, I'm still out here. I'm still trying to compete with these guys."
Bubba Watson's strut was unmistakable as he walked down the ninth fairway, but it took a little longer to identify the other three in the group: Rickie Fowler, Webb Simpson and Kevin Kisner. With his approach, Simpson came dangerously close to hitting a hozzle rocket. It missed some 30 yards right of the green, so he grabbed another ball out of his bag and stuck it inside 10 feet.
"You're the best second-ball player ever!" Kisner yelled. Pros—they're just like us!
Up on the practice green, Fitzpatrick dropped three balls down to get in some putting work after his nine-hole stroll. He immediately poured in a 30-footer, his ball falling just before Louis Oosthuizen's missed six-footer passed by the hole.
"Hey," Oosthuizen said, "that's not very nice when I'm struggling to make this one!"
The Canadian foursome of Mike Weir, Corey Conners, Nick Taylor and Adam Hadwin came through a few minutes later—the South Africans and the Koreans also played together on Tuesday—and made their way to the 10th tee. After hitting two snappy hooks well left, Conners reacted in the most Canadian way possible: by gently tapping his club on the ground and saying, "I would love to not do that."
Meanwhile, a few media types were congregating around the practice green. That's what happened when Tiger Woods is around. As Woods and his friend/golf consultant/business manager Rob McNamara walked by, this writer commented on their matching shirts. Both seemed confused. Turns out McNamara was wearing green and Woods was wearing salmon. And, as you may have guessed, this writer is hopelessly colorblind.
But his hearing is pretty good.