News
Masters 2020: Jack Nicklaus and Gary Player say they've never seen Tiger as emotional as he was at the Champions Dinner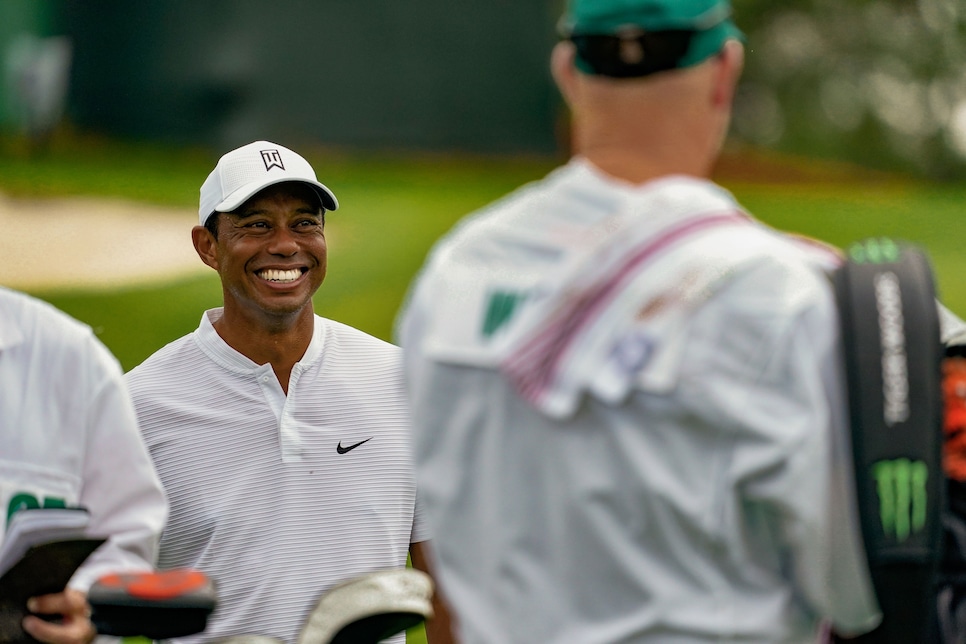 Tiger Woods was all smiles while practicing Wednesday ahead of defending his Masters title.
JD Cuban
AUGUSTA, Ga. — At his pre-tournament press conference on Tuesday, Tiger Woods held back tears as he reminisced on his remarkable 2019 Masters victory—especially so when recalling the hug with his son, Charlie, who was standing just off the 18th green. It was almost a mirror image of Woods' embrace with his father, Earl, after he won his first Masters in 1997.
According to two attendees from the Champions Dinner on Tuesday night—none other than Jack Nicklaus and Gary Player—Woods was equally emotional at golf's most exclusive gathering.
"Tiger was really remarkable at the dinner this year as a host," Player said, speaking with media after hitting the ceremonial first tee shot on Thursday to kick off this year's Masters. "It was very heartwarming listening to him speak. He said he was on the way to the golf course and had to stop because he had tears in his eyes and paused for a little while on the road because a lot of memories were going through his mind very quickly."
Nicklaus, who also participated in the opening tee shot ceremony, concurred.
"Tiger was very emotional—I've never seen him that way. But it was good. It was good. It's always good. You always walk away with some feeling of something you hadn't had before."
Nicklaus' comments underscore a shift in Woods' demeanor as he moves into his mid-40s. No longer is he a stoic, single-minded competitor. He has spoken more honestly and more vulnerably since his comeback from the back injuries that nearly ended his career.
"To see my family there, and my mom and my kids and all of the people that helped support me or were there for me in the tough times," Woods said Tuesday of the 2019 scene on the 18th hole. "I was walking up there trying not to lose it and still saying, hey, I've still got to two-putt his.
"Then I walked off the back of the green to see Charlie there. Just opened up our arms. It meant a lot to me and still does. It just reminded me so much of me and my dad, to come full circle like that, it still gives me—you know, a little teary."
Woods, 44, is seeking a sixth Masters title and a 16th major championship this week at Augusta National.