News
Masters 2020: A photographer's favorites from Augusta National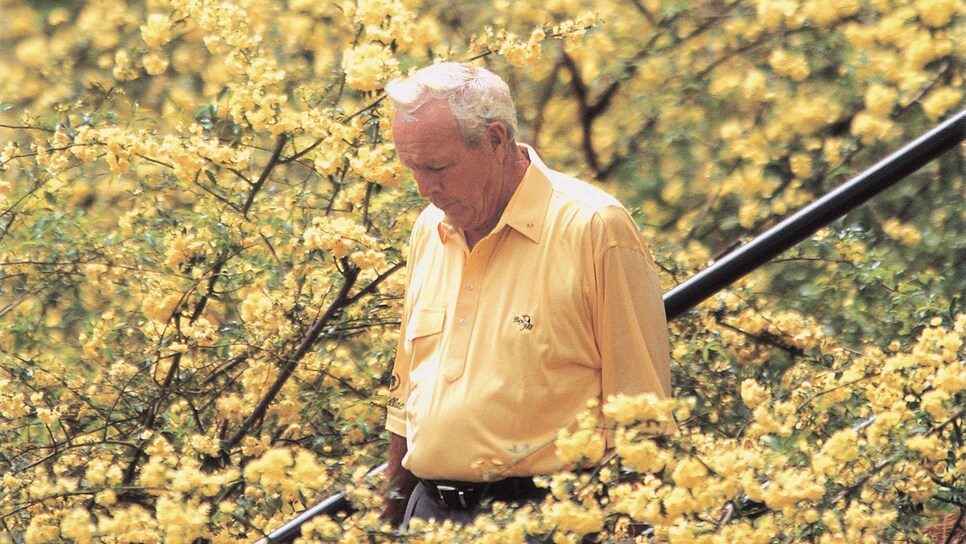 The first Masters that photographer Dom Furore worked for Golf Digest was a memorable one. It was 1986, and he was assisting staff photographer Stephen Szurlej as Jack Nicklaus stunned the golf world by winning his sixth green jacket at age 46. Furore had started at the magazine the previous year, fresh out of college, and coworkers playfully told him that he picked a good one for his maiden trip.
"First day, I lost my [press] badge," Furore recalls. "I didn't tape the back of the badge [to keep it secure]. I never made that mistake again."
The 27th and most recent Masters that Furore worked was memorable, too. It was 2019, and he was shooting as Tiger Woods stunned the golf world by winning a fifth green jacket at age 43. This time nobody needed to explain that he picked a fun one to perhaps be his last visit.
"Good bookends," Furore says.
In between, Furore has taken thousands of photos for the magazine along with its sister publication, Golf World, and for GolfDigest.com from Augusta National Golf Club. With his long history covering the tournament, we asked him to look back through his images from the tournament and pick out some of those that he liked best from the course of his career. Furore selected these 11 and shared the stories behind the pictures. —Ryan Herrington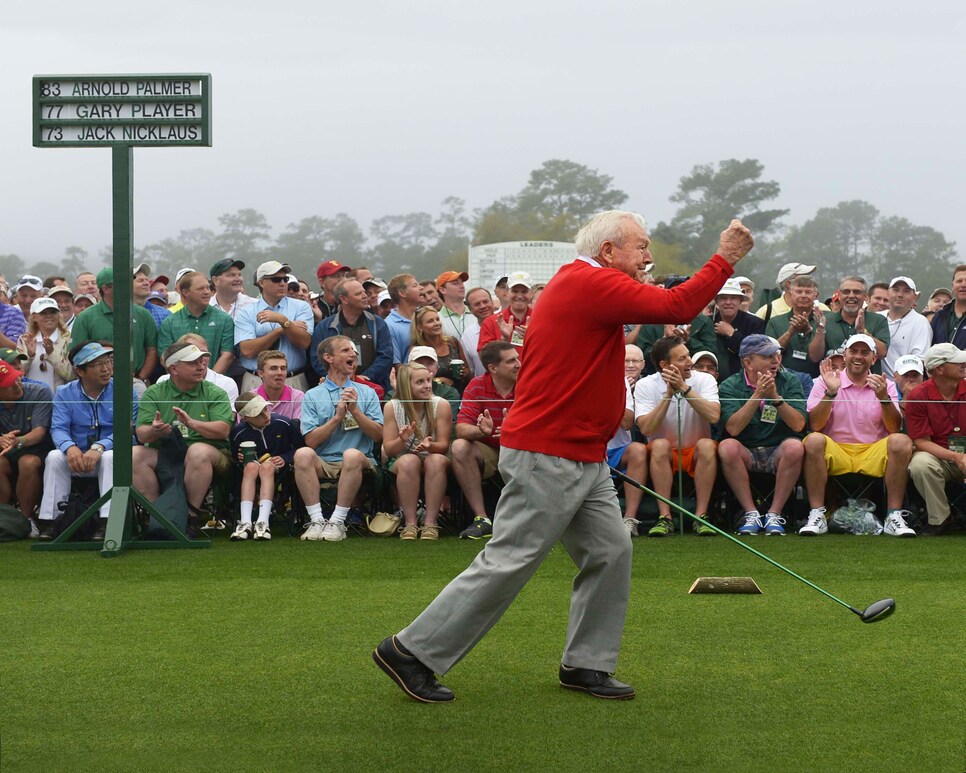 ARNOLD PALMER, 2013
When Arnie hit a good shot, he still got really excited. And you could tell he was really nervous that he wanted to hit a good shot here while serving as an honorary starter. I had a couple of good photos from that angle, of him laughing or walking away from the ball. But that one … it shows how competitive he was, even at that age.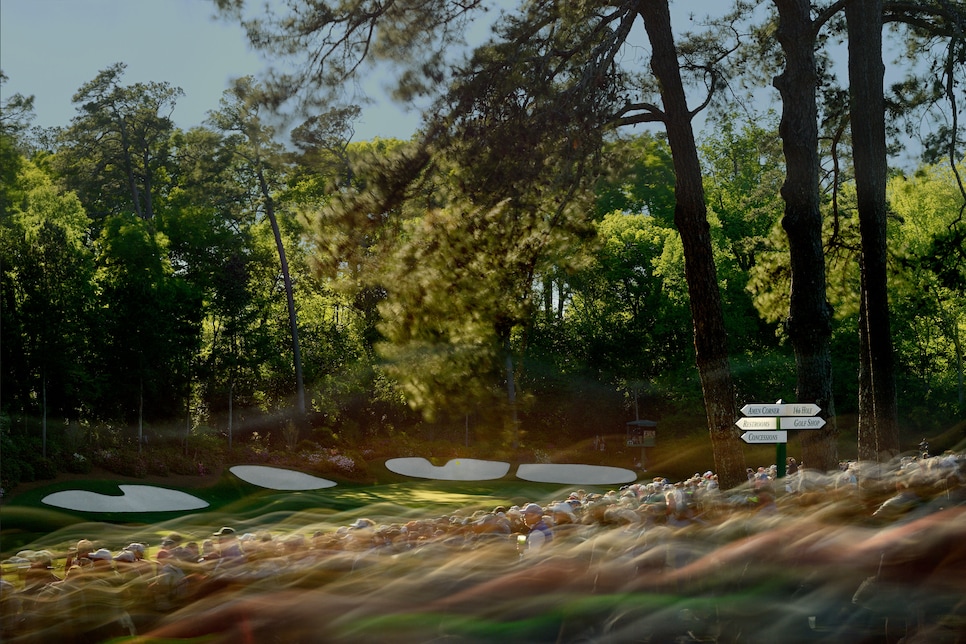 FANS WALKING NEAR THE 13TH GREEN, 2016
I originally wanted to do a black and white like this at St. Andrews [at the 2015 Open Championship], but it didn't work out. So then I was trying to figure out where else can I do it. You can't really do it at Augusta because they won't let you use a tripod and there's no way you can do a 15-second exposure without a tripod. So there was my challenge. I made this thing I called it a "treepod." I took my monopod and pulled it up and it had a little notch on it and I could lean it against a tree. So as long as I was leaning against a tree, I could do really long exposures, opening the shutter for several seconds. And this spot looking back at the 13th from the crosswalk on 14 worked because it had the signs on the side, which I knew would be sharp. You could see the green, and I knew there would be a whole bunch of the crowd passing in front of me and below me. And I got lucky with the guy with the beer, which made the picture to me.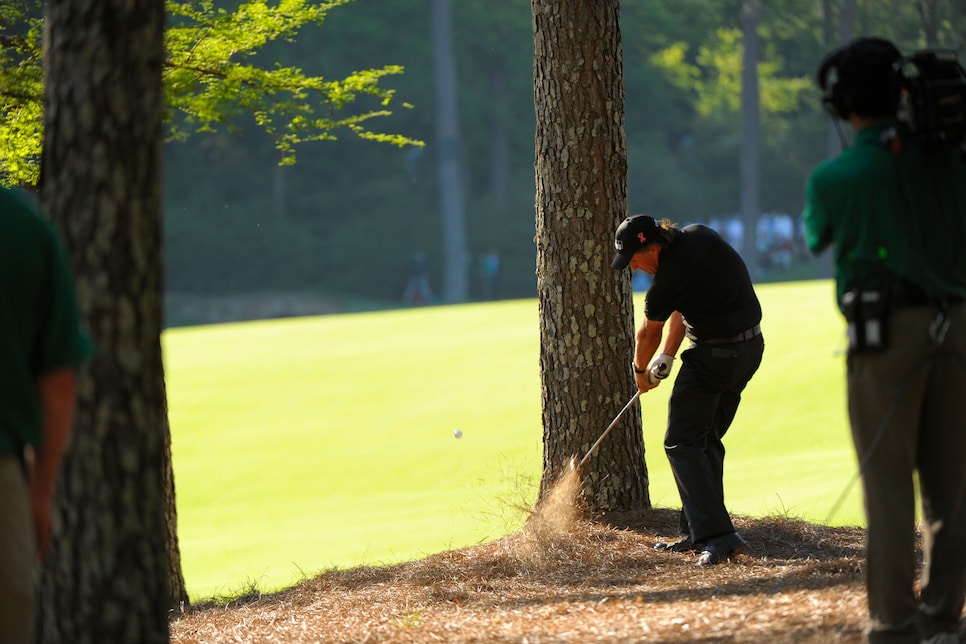 PHIL MICKELSON, 2010
Of course, this turned out to be big moment from Phil's third Masters win, going for the green in two from the pine straw on the 13th hole. You know I thought I was the only person there. And I couldn't believe it. That never happens. And then all of sudden, I hear somebody and it's [Getty photographer] Dave Cannon and he's saying, "Can I get in?" He's a good friend so I let him in, but I still can't believe there was only two of us there. And then I included the camera guy in the frame because at the last minute I had to shift just a little bit because the camera guy shifted a little bit.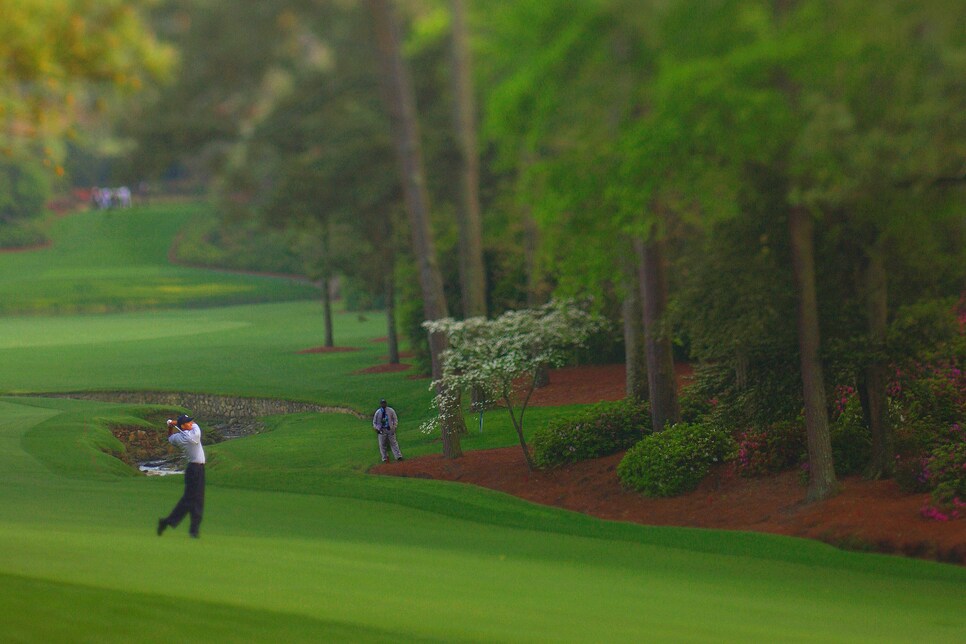 TIGER WOODS, 2004
There are lenses called perspective correction lenses. It's something you used to have to do with a large-format camera. And Nikon had come out with a new one. I put something called a teleconverter on it to make it into a telephoto lens. Now it's really common to see that look, but at the time I don't know anybody who had used a lens like that at a sporting event. And then I knew where I wanted to do it, I knew the spot I wanted to do it and I knew who I wanted: Tiger Woods. I shot it with other players earlier in the week, but I knew I wanted Tiger. So I kept looking at tee times, figuring out when Tiger might be coming. And hopefully he'd be in a good spot on the fairway, and hopefully you wouldn't have people hanging out around him or camera guys. And, once again, I got lucky.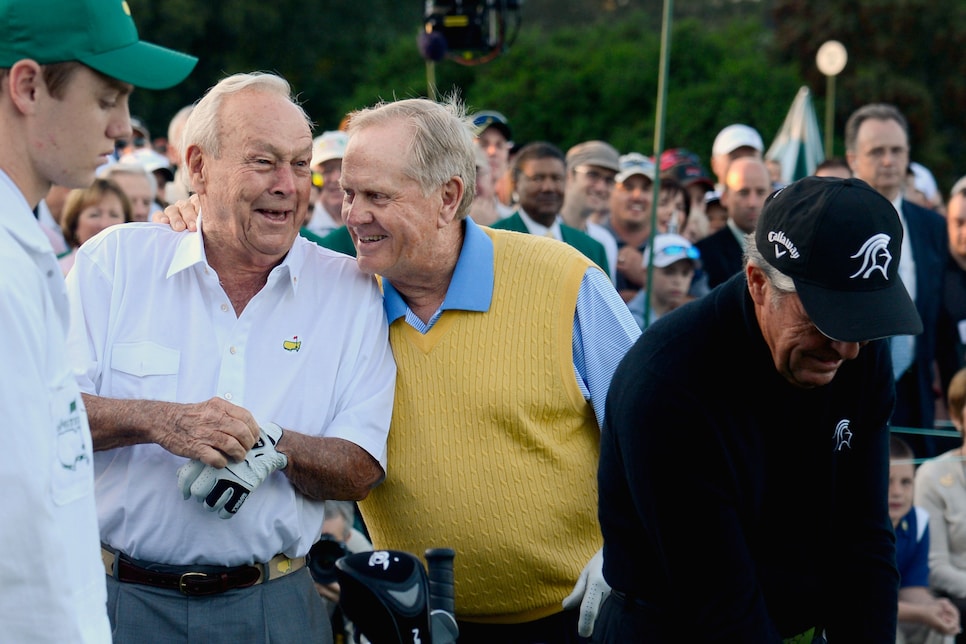 HONORARY STARTERS, 2012
There's nothing remarkable about the image itself, but when I look at the faces of Arnie and Jack here, those guys are obviously really good friends. I debated putting that one in, but it looked so genuine. Those guys looked so happy and having fun.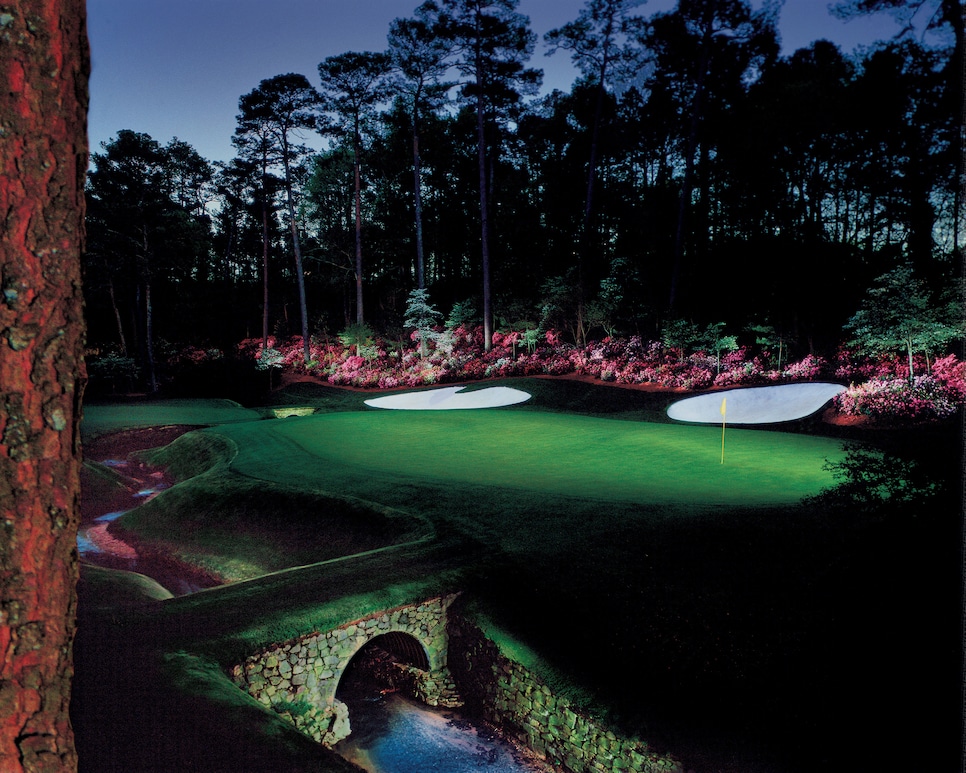 13TH GREEN AT NIGHT, 1999
That was part of a series of night images that ran in the magazine. They let me shoot the week before the tournament, with the flowers in bloom. And this was pre-digital, so it was hard. I would set up my camera, open my shutter and I had a crazy black outfit with a ski mask and everything. I would walk around with a strobe and I would pop off the strobe. So it's literally hundreds of flashes to get that look.
It was actually a double exposure. I would do an exposure at dusk to get the sky to show up. I shot four sheets at dusk so I would have four attempts with the strobe. So then I put the film in when it got dark, walk out there with the strobe and pop them all off and climb back up and close the shutter.
The first one I messed up. And the second one, I'm doing everything and I'm almost done and all of sudden this security guard comes flying up on a golf cart. Turns on his lights at the last minute and starts yelling at me. Well, when he turned on the lights on the golf cart, he ruined my picture. I was so mad. So I had to do it again. But the third one I got it right.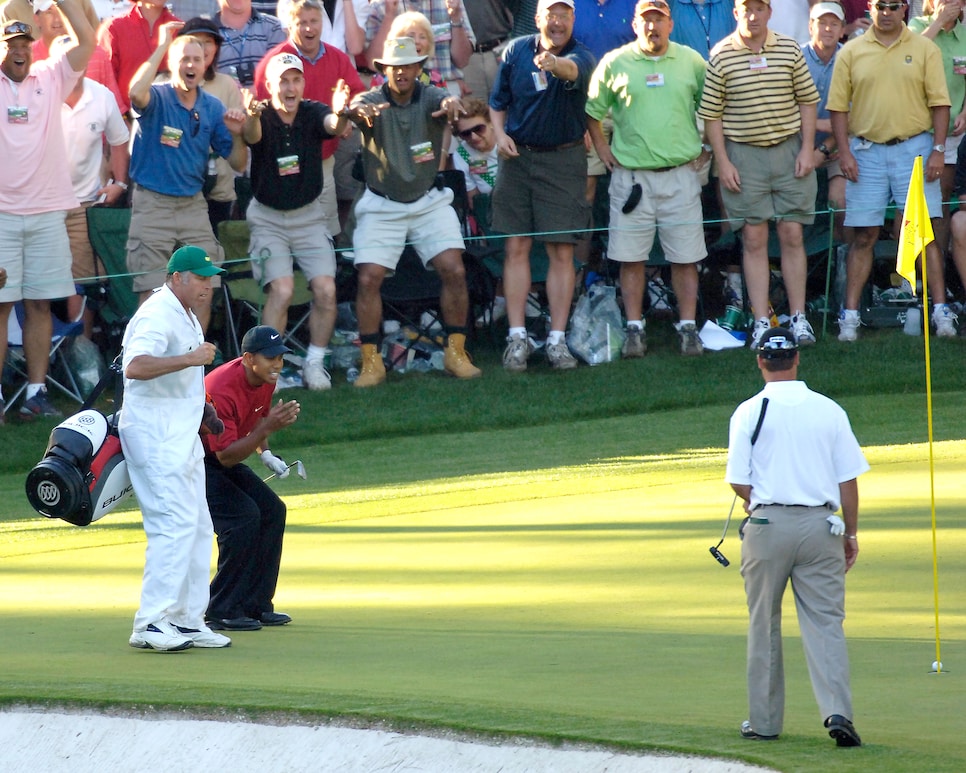 TIGER WOODS, 2005
Another moment that everyone remembers from the Masters is Tiger's chip-in on 16. I was at 15. There is a photographer spot up on the bleacher on 15. And you can see 16 green from there, but it's pretty far away. So at that point, everything is getting pretty crazy. And you know I want to get up to 17. Usually I go from 15 to 17 and somebody else picks up 16. But I thought, I'm staying up here. I never stay up here, but I'm staying up here. All the photographers cleared the bleachers. So I'm the only one except for my friend Al Tielemans from Sports Illustrated. Al's kind of hesitating, and he looks at me and I look at him and he goes, "Are you staying?" and I say, "Yeah." And he kind of looks at me and says, "Yeah, me too." So we're the only ones there.
It's not the most famous angle, but I just like it. You know exactly what's going on, the crowd reaction. But I was so far away I literally couldn't see the ball. I knew it was on the edge and must be close because I could see what he was doing, but it was with a really long lens from really far away and he was pretty small in the frame. I knew something was going on but I didn't know what. And I couldn't believe how long it took. I couldn't fathom that the ball was on the lip that long.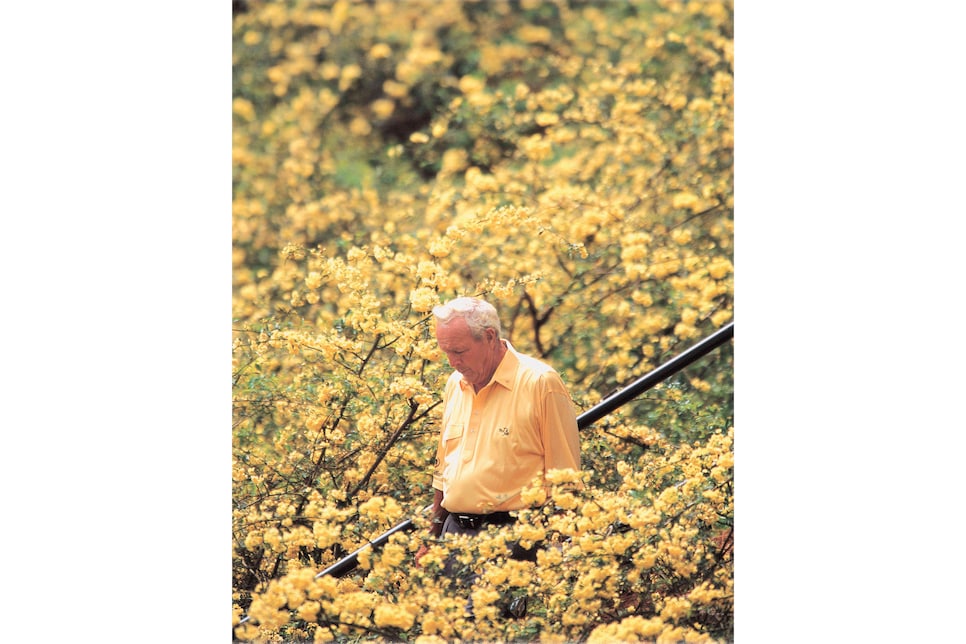 ARNOLD PALMER, 2002
This was at the Par-3 Contest the first time Arnie was making his Masters farewell. I saw him a couple of holes before, and I realized he had a yellow shirt on. So I went over to that spot on a hill, because I knew if you could get him coming down there it would look really good. But the problem is you almost always have a caddie or somebody else in the frame, somebody blocking him that messes it up. But there was a gap, and he came down by himself and I just really liked it. At one point he looked down and I kind of went with it.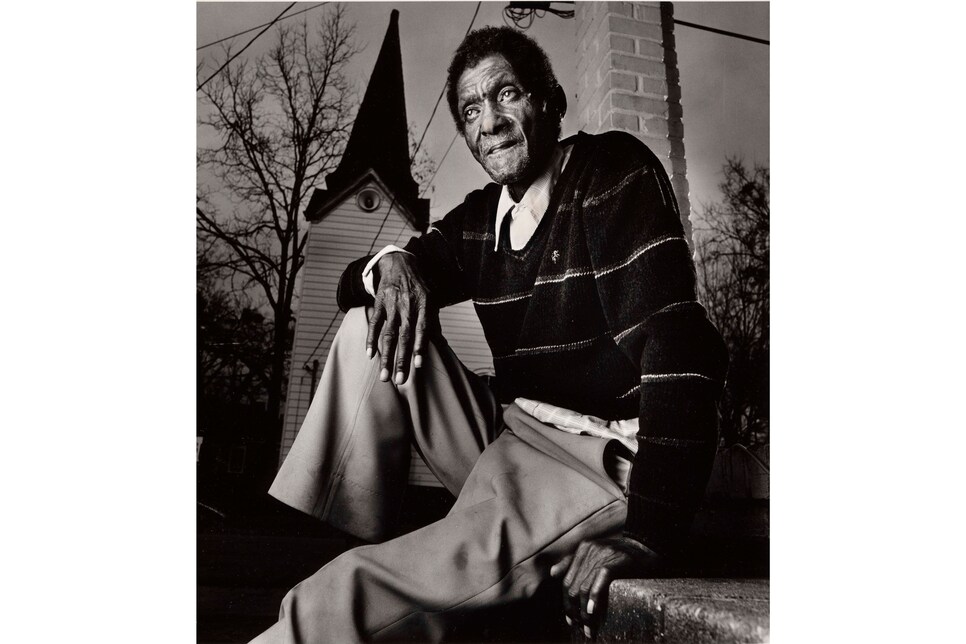 WILLIAM (PAPPY) STOKES, 1992
I read that Pappy was known to many as the "grandfather of caddies" at Augusta National. He won five Masters titles working for four different players (Henry Picard, Claude Harmon, Ben Hogan and Jack Burke, Jr.) during his career. Jaime Diaz wrote a profile for the magazine on the longtime Augusta caddies, and I stayed and hung out with those guys for a couple days. Just some amazing men.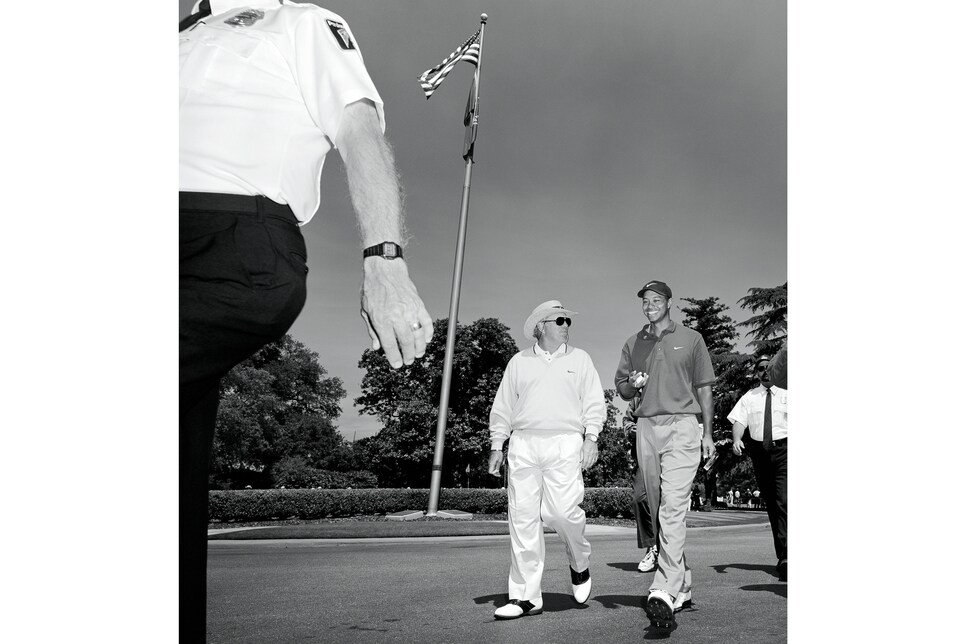 BUTCH HARMON/TIGER WOODS, 1997
This was early in the week. I was trying to get the speed-graphic flashbulb look like the old-time newspaper photographers would do. I used a really powerful strobe that I had modified so the reflector was very similar. But because of that, you shot one frame at a time. You had to get it. And I knew I wanted a shot of him walking in. So I figured out about when he was coming in. And I just remember he's coming and there is a security guard in front of him and in back and of him and I'm like, Please God, give me a little gap. Give me a little gap. And sure enough, my timing couldn't have been better ... the way the security guard's shoulder is in it and his hand hangs down, but it's not touching the flag pole, and Butch hasn't gotten to the flag pole yet. I remember consciously trying to time that.
You know what you want and you plan for it and you do everything you can to make it happen, but at the end of the day if that security guard would have been one foot back from where he was at the moment, it wouldn't have been as good a picture.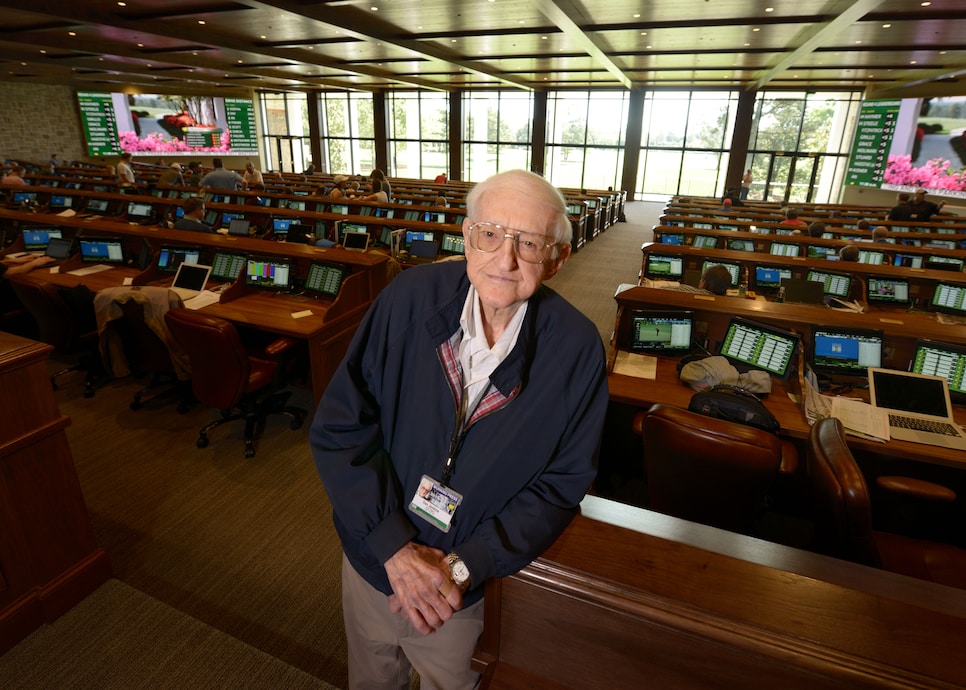 DAN JENKINS, 2017
This was Dan's next-to-last Masters. I considered him a good friend. He and I stayed in the same house each year at the Masters forever. He covered the tournament 68 times and for a certain-era golf fan, he was their connection to the tournament. I know when I think of the Masters, I think of Dan.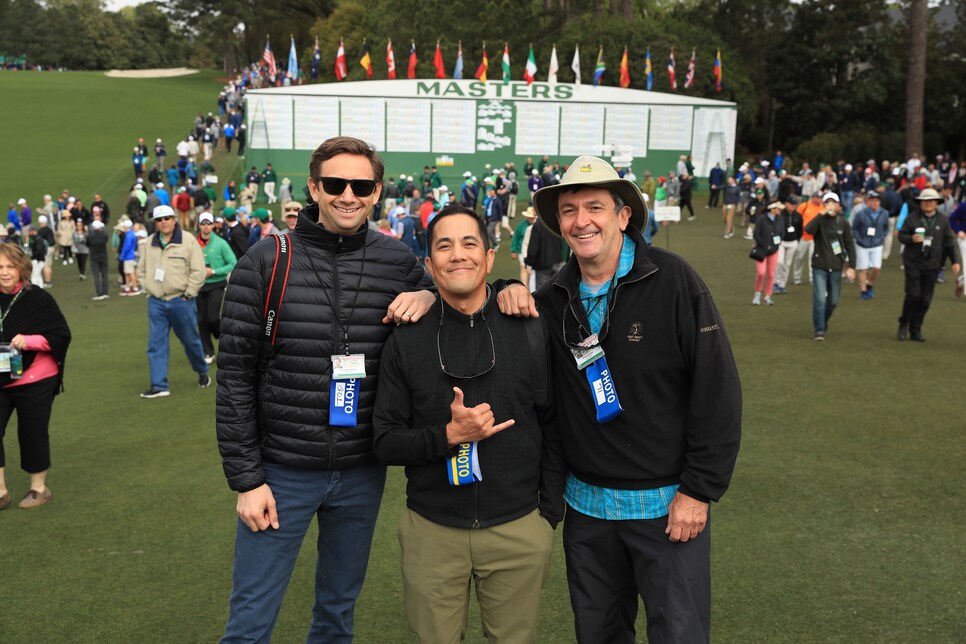 CHRISTIAN IOOSS/JD CUBAN/DOM FURORE, 2019
Furore (right) poses with fellow Golf Digest Executive Producer Christian Iooss (left) and fellow Golf Digest photographer JD Cuban.