Genesis Invitational
Marcus Byrd has no home or car, but the pro golf prospect will compete alongside Tiger Woods and the world's best at Riviera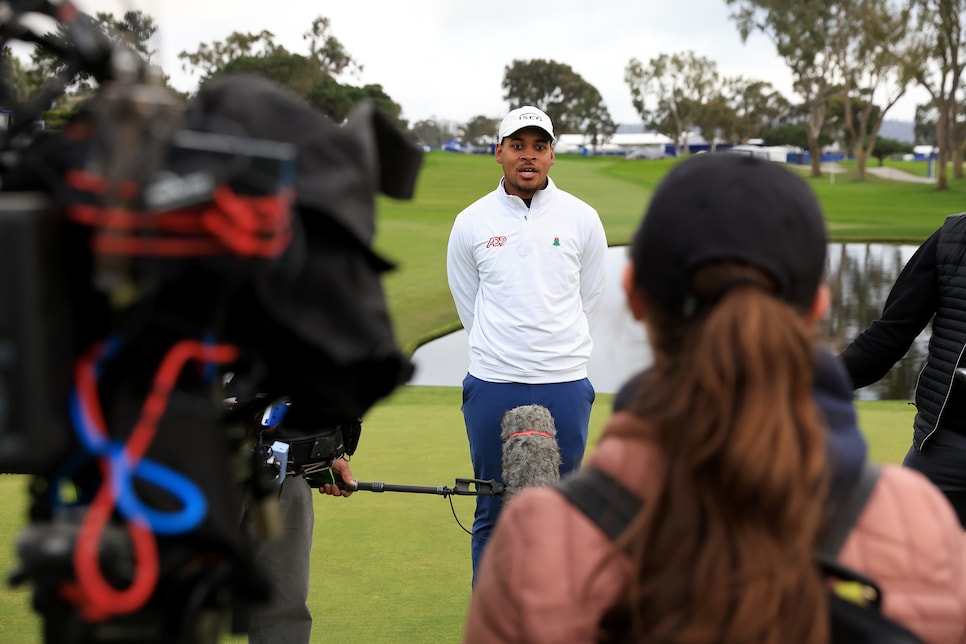 The reality gap for Marcus Byrd is almost too wild to grasp at this moment. On Thursday, the 25-year-old mini-tour pro will tee it up in the Genesis Invitational at Riviera Country Club outside Los Angeles. It's one of the new "designated" events on the PGA Tour that features most of the best players in the world and a $20 million purse. It's also hosted by Tiger Woods, whom Byrd will meet for the first time after being selected for the Charlie Sifford Memorial Exemption that goes each year to a golfer of color.
It doesn't get any dreamier for a man who desperately wants to someday compete alongside these guys every week.
Yet, after these wondrous two weeks are over, with Byrd also exempt into the Honda Classic next week, he will be back to the hardscrabble life he's had on the road for the last two years. He doesn't have a home or a car. He spends some time and stores his belongings with his grandmother in Washington, D.C, and with his mom and sister in Atlanta. But for much of the year, as he's playing on the Advocates Pro Golf Association (APGA) Tour and in any other tournaments that work into his schedule, Byrd relies on the kindness of his friends and fellow players to make it all work. Someone's couch is as good as a hotel bed to him. He hitches rides to some events and shares the cost of a rental car at others. He eats as healthy as he can on a shoestring budget. All this, and he plays a game that requires the utmost in fitness and focus.
"I feel like it's whatever makes sense at the time," Byrd explained in an interview last week. "There are so many different things in trying to live this dream.
"It's definitely been hard," he added. "Some weeks are better than others. It's just the sacrifice I have to make. I knew what it was going to be like starting out, that my back was going to be up against the wall. But this was something I believed in fighting for, and that I was going to take the punches on the chin when they come."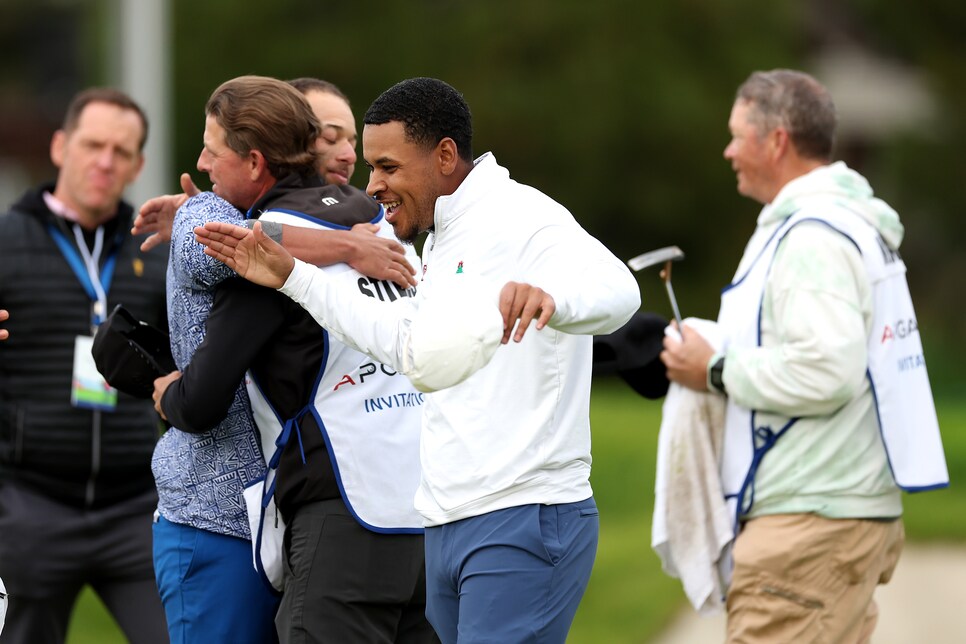 Marcus Byrd celebrates after winning the 2023 APGA Tour Farmers Insurance Invitational at Torrey Pines.
Sean M. Haffey
Byrd is among countless players in golf's minor leagues who live paycheck to paycheck; with no guaranteed contracts, or even assured pay for a week's worth of work if they don't make the cut, the pressure on mini-tour golfers is enormous. It's basically thrive or disappear. None of us have a real idea of how many talented golfers never made it simply because they didn't have the cash to keep grinding toward that one big break.
That's where Byrd has been. At the same time he turned professional in late 2020, the man who started him in the game at age 3 and was his biggest supporter, his father Larry Byrd, died of complications of COVID-19 after suffering for years from COPD. Marcus' mother, Karen Jefferson, has been disabled since suffering severe injuries in a car accident when her son was 9. "What keeps me going is seeing what she's been through," Byrd said.
"You have to make the decision not to take the easy way out, and to take advantage of every opportunity you've been given. Some people spend their last dollar on food and paying rent. I would spend my last dollar on playing golf."
—Marcus Byrd
Ryan Alford, a fellow APGA player and one of Byrd's closest friends, said, "I feel like Marcus has used that lack of a support system in a more powerful way. It's motivated him to drive harder."
Alford, a Louisiana Tech alum who grew up comfortably in Shreveport, La., and played often at home with current PGA Tour player Sam Burns, is among those who have hosted Byrd at his house. Sometimes, it's been for weeks at a time. "That's about as stable as it gets for me," Byrd said.
The two became close when they were among the few Black golfers at college events. "I'm living the same dream as him," said Alford, who played in the 2022 Farmers Insurance Open on a sponsor's exemption. "I'm trying to apply as much as I can for Marcus. He's a good human being."
That will be his third PGA Tour start (his first came at the Corales Puntacana last year, where he missed the cut). And as Byrd's stature rises with the Genesis invite, so too is the interest from companies to back him, opening up the possibility that he may be able to stop living out of a suitcase.
Last week it was announced that Stout, an investment bank and advisory firm, signed a deal with Byrd; he'll wear its logo for the first time at Riviera. Callaway also recently signed Byrd and has fit him with new clubs. He already is wearing the logo of ADP on his shirt and Kentucky-based piping company Isco on his hat. And in another extremely valuable get, Byrd is now associated with Invited Clubs (formerly ClubCorp), which is giving him full access to all of its more than 200 golf courses around the country. For a guy who is literally always on the road, being welcome at places to practice is invaluable.
"It's a pretty special feeling," Byrd said, "to be able to live my dream and have some of that pressure taken off."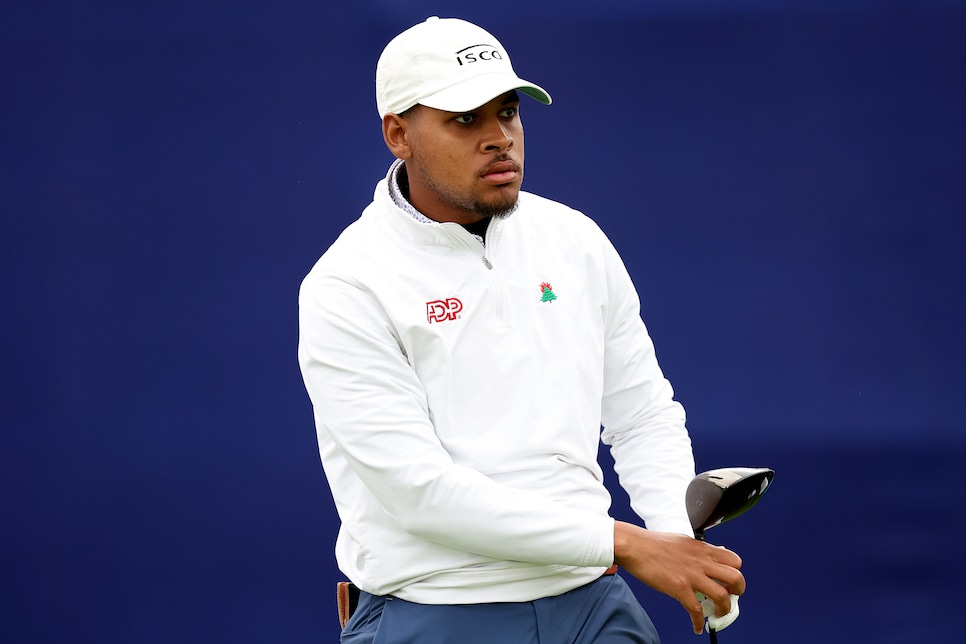 Marcus Byrd will play the next two weeks on the PGA Tour with exemptions into the Genesis Invitational and Honda Classic.
Sean M. Haffey
Other players from the APGA Tour have seen similar bumps in their financial prospects once they are invited into a PGA Tour event, and the APGA itself has grown enormously in the last couple of years, thanks to increased corporate support. For the first time in 2022 the circuit awarded more than $1 million in prize money and three players made more than $100,000.
David Pillsbury, the CEO of Invited since 2018, came to admire Byrd when the golfer attended one of Invited's junior events in Atlanta. The timing couldn't have been better. Invited had started its Gateway program, which was providing kids from First Tee programs in Texas and Georgia with opportunities to play at and be mentored by members of private courses in their area. The program has grown to 85 kids at 22 clubs, with more to come.
Byrd came to an event, played with some of the sponsored kids and was no doubt reminded of the support he received as a junior golfer at the historically Black Langston Golf Course in Washington, D.C. In his agreement with Invited, Byrd will serve as a role model for others.
"What they've been trying to do for the game is really aligned with what I believe in," Byrd said.
Pillsbury speaks with eloquence and passion about how his company's perspective on community support and the need to better understand race relations changed with the murder of George Floyd by Minneapolis police officer Derek Chauvin in May 2020. In the emotionally charged aftermath, Pillsbury and his team interviewed numerous people of color who worked for the company, and one woman spoke of being a child at a bus stop staring at the gates of a country club. She asked her mother what was there. "The other side of the gate is not for us," came the reply.
Thus, the Gateway program was born. "It's difficult to misunderstand hate when you see it up close," Pillsbury said. "To bridge two different communities, we're proud of that. Marcus is proud of it. He's got an amazing and inspirational story. The fact that he's going to be on the first tee with Tiger Woods at Riviera, are you kidding me? It's a fairytale."
The experience will no doubt motivate Byrd even more to one day reach the PGA Tour. What it won't change is his willingness to exert every last bit of energy and every last dime to get there.
"You have to make the decision not to take the easy way out, and to take advantage of every opportunity you've been given," Byrd said. "Some people spend their last dollar on food and paying rent. I would spend my last dollar on playing golf. I'll pay an entry fee not knowing where I'll sleep that night. My passion is to play on the PGA Tour and I don't care what route I have to take to get there."