APGA Tour
Ahead of a fateful meeting with Tiger Woods, Marcus Byrd scores his biggest pro golf victory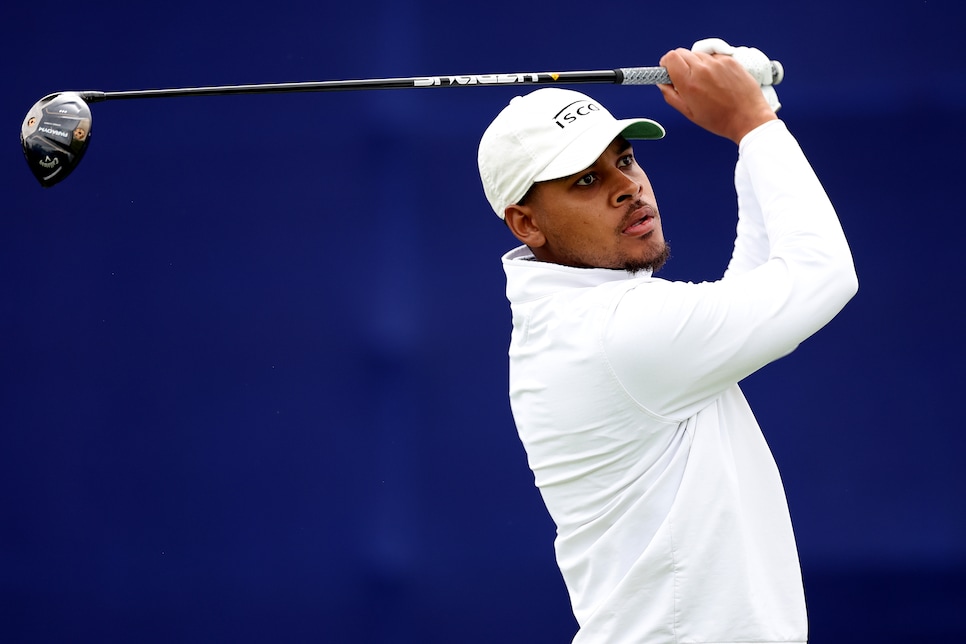 Marcus Byrd watches his drive on the seventh hole during the final round of the APGA Tour Farmers Insurance Invitational.
Sean M. Haffey
SAN DIEGO — Marcus Byrd was like a bunch of other kids who played golf and idolized Tiger Woods in his prime. When the superstar was competing at Congressional Country Club outside Byrd's hometown of Washington, D.C., he attended with his father, decked out in Tiger's signature red and black. At the rope line, young Marcus held a picture of Woods that he hoped to have signed. But as he did most of the time back when a frenzied mob surrounded him, Tiger rushed past the boy without a glance.
Marcus could have been crushed, but instead he had a different reaction: "I told my dad that I'm going to work hard enough that one day he's going to sign my scorecard."
That determination is a reflection of Byrd's life and golf journey, and earlier this week the 25-year-old learned that he had received the Charlie Sifford Memorial Exemption from the Genesis Invitational. In three weeks' time, Bryd will stand on the first tee at Riviera Country Club in Los Angeles with Tiger, the tournament's host.
"To be able to come full circle and pick his brain in a couple of weeks," Byrd said, "it just shows you that if you work hard at what you want to do, and if you have a passion for whatever it is, keep grinding and it will happen."
Byrd spoke those words on Sunday while standing on the 18th green of the Torrey Pines South Course after he had just posed for pictures with his latest trophy that earned him another exemption on the PGA Tour beyond Riviera Byrd had just battled cold, wet and windy conditions—not to mention the longest rough he had ever played in—on a course that hosted the PGA Tour's Farmers Insurance Open the previous four days. The occasion was the final round of the Advocates Professional Golf Association Tour's Farmers Insurance Invitational, and Byrd birdied the last two holes to grind out a three-over-par 75 for a 36-hole total of four over that was five shots better than runner-up Joey Stills.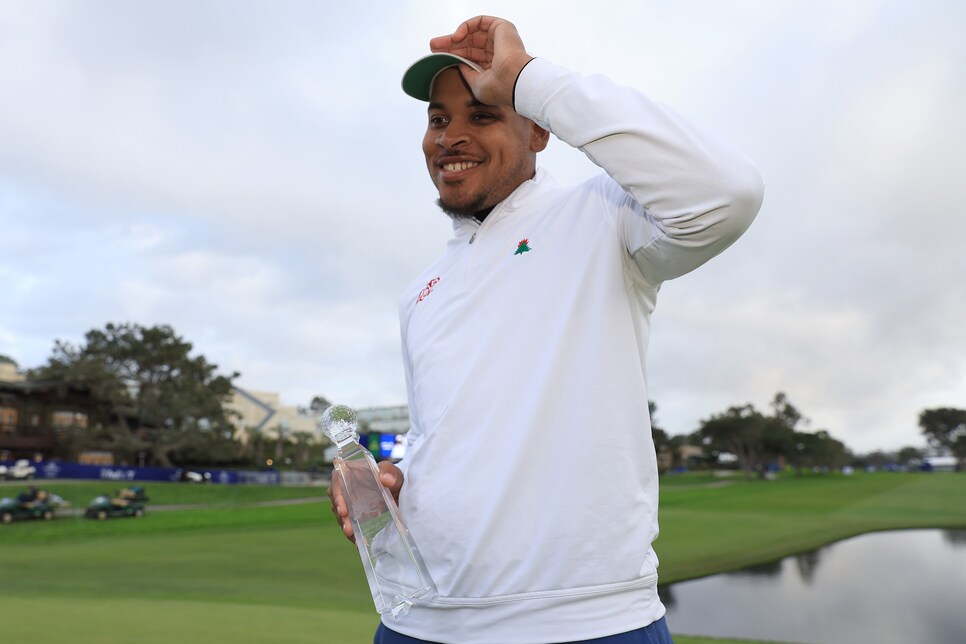 Marcus Byrd celebrates with the trophy after winning the APGA Tour Farmers Insurance Invitational.
Sean M. Haffey
This was the second straight year that the APGA, a tour founded to promote the play of minorities pros, hosted an event at Torrey Pines with a $100,000 purse and $30,000 first-place prize while the round was televised on Golf Channel. And this year's victory came with another important perk: an exemption into the Honda Classic in late February.
Thrilled with his win, Byrd already was looking forward to the big-league opportunities. "A goal of mine is to be a sponge," he said. "I'm going to be around the best players in the world to pick their brains, to see how I can improve and make the most of the opportunity."
Byrd, who moved to Atlanta as a child and was among the area's top junior golfers, has played in one previous PGA Tour event and didn't make the cut in last March's Corales Puntacana Championship. He won once on the APGA Tour last season and was the points leader in the Farmers Fall Series, but he also dealt with several close calls, finishing second five times.
Those occasions included last year's Farmers Invitational, when Byrd trailed the leaders by only one shot, but hooked his drive into the canyon on the 17th and, showing his frustration, faded. This Sunday, Byrd made four birdies—one of which came after a beautiful second shot onto the green at the par-5 13th—but he also pulled his tee shot left and into the hazard at the par-3 16th and made a double bogey to see his lead drop to three shots.
"It just goes to show you that I didn't let what happened to me last year get to me," said Byrd, a Middle Tennessee State grad and former Conference USA Player of the Year. "I didn't stay stagnant. I wanted to improve and learn from it. … You have to learn from the good and the bad. I was fortunate to have that happen last year because it prepared me for this moment."
Sadly, Byrd's father, Larry, who started him in golf at the age of 3 at the predominantly Black Langston Golf Course outside of D.C., died just as his son was turning professional. As he did this week, Marcus pointed to the sky to acknowledge his dad before he teed off, and in his yardage book are written two words of encouragement from his father: "Just smile."
"I'm thinking about him all day," Byrd said. "It keeps me away from the mental blocks on the golf course. It's a lot bigger than me. It's about my family; it's about the people who have paved the way for me to have the opportunity to be there."
Those around Byrd might tell you that the weight of that burden has maybe held him back at times. It now seems to be lifting him to new heights, and it won't get much loftier than when Tiger Woods finally looks him in the eye and shakes his hand.