APGA Tour
The APGA is back on TV at Torrey Pines and will celebrate a minority golfer's victory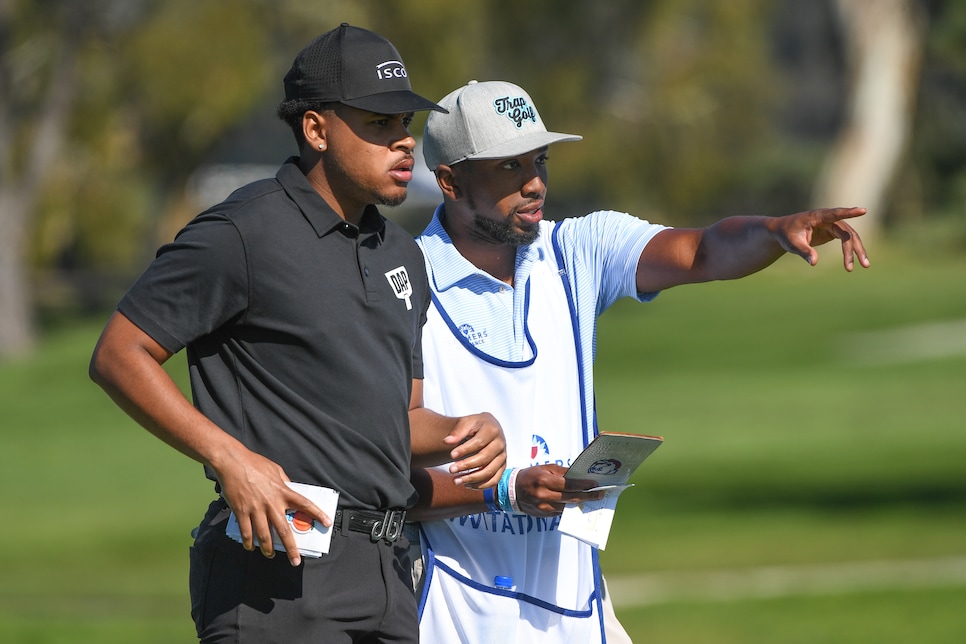 In last year's APGA Farmers Invitational, Marcus Byrd played while Ryan Alford caddied after he competed in the PGA Tour's Farmers Insurance Open. This year, they'll both be in the Invitational's field.
Ben Jared
SAN DIEGO — By nearly every measure, the Advocates Professional Golf Association Tour's Farmers Insurance Invitational played last January at Torrey Pines was a rousing success. The circuit, founded to give minority pro golfers more access to top-level competition, celebrated a watershed moment when the Sunday final round of the 36-hole event was played on the South Course and nationally televised by Golf Channel. In that 2½-hour time slot, the tour got to tell its story of men whose successes and hardships in the game serve as an inspiration for anyone who wants to play.
There was, however, one out-of-the-blue surprise that didn't sit well with some who watched. Just as it appeared that an icon in the Black golf community, Tim O'Neal, might win the tournament with a birdie chance on the final hole, Patrick Newcomb snatched the victory with his own impressive birdie, as O'Neal made par, to capture the title and the $30,000 first-place check.
Newcomb, a 31-year-old pro-golf journeyman with a membership at the time on the Korn Ferry Tour, earned his place in the invitational field off the strength of the APGA's points standings the previous year. But he also is white, and that caused some disgruntlement and confusion among viewers excited by the tour's storyline they saw on the broadcast, only to watch a non-minority win.
No one was thrilled about it. Not the APGA. Not the PGA Tour. Not the players. Not the sponsors. Ultimately, even Newcomb reached out to his friend, O'Neal, to share his dismay at the unkind response he got from social-media trolls simply for doing his job. Ken Bentley, the founder and executive director of the APGA, handed Newcomb the trophy and smiled, but there was some deflation in his eyes. Bentley, a former executive at Nestle and a member of the Farmers Insurance board, has been a champion for giving all golfers an opportunity on the tour, but he knew a backlash would probably come. He also offered the most cogent point in the whole matter: "It's golf. Anything can happen."
The APGA likely experienced another watershed vision that day: The tour's mission needed to be more focused than ever on its primary goal of nurturing minority golfers to give them the best opportunity to get to the next level. And as evidence of that effort, the Farmers Insurance Invitational will look different this weekend, and there is one guarantee: A minority player will be the winner on Sunday afternoon.
"We looked at it and thought about all of it," Bentley said. "How should be approach our mission to get more African-American and other minorities onto the PGA Tour. Our goal is to get you to the Korn Ferry Tour, and once you get there, it's not fair to have you come back and play the APGA. We're here to get you there, but we don't want you to come back just to win a check. That's not what we're all about."
There are 18 players who either earned their way to Torrey Pines or were invited to compete this week, and they all reflect the APGA's updated criteria for its 18-event 2023 season. The new requirements limit the circuit's handful of invitational fields to only minorities, and there are restrictions on who can be a tour member and compete: only those 45 and younger can play, while players with PGA Tour or Korn Ferry status are ineligible.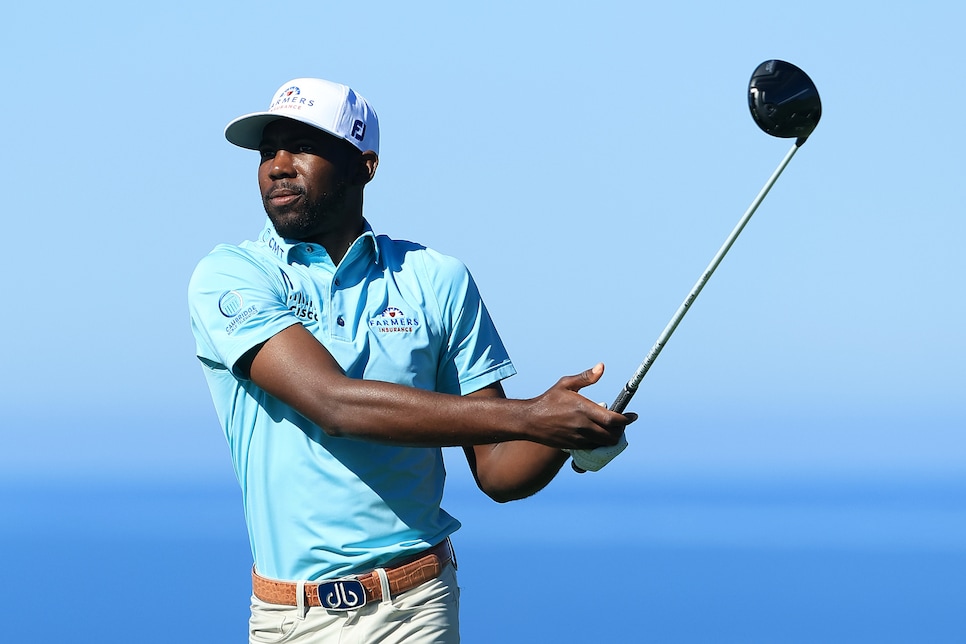 In leading the APGA Tour's money iist in 2022, Kamaiu Johnson earned more than the top player on PGA Tour Latinoamerica.
Sam Greenwood
The new rules eliminate, for example, a player such as Brad Adamonis, a 50-year-old white former PGA Tour player who won twice on the APGA in '22, and O'Neal, also a two-time winner, who turned 50 last year and advanced out of Q School to get full status on PGA Tour Champions. Also ineligible is Willie Mack III, the APGA's biggest star, who made two cuts last year on the PGA Tour and earned his KFT card through Q School.
Mack won two APGA events last year, so that's six wins among three players who will not be on the APGA in 2023.
Mack and O'Neal dominated the APGA in its first 13 years of existence, winning 21 titles between them. They are the circuit's greatest success stories, but they are also Bentley's examples of how the APGA needs to evolve.
"I don't want us to ever have again where guys play on the APGA Tour like Tim did for 13 years and Willie did for 10. I don't want that mindset," he said. "I want guys to feel like this is a developmental tour and they want to leave after three to four years. We want to focus on the fact that we want to get you out.
"This is just the right thing to do. We have to stay focused on what we're doing."
That task has become more challenging as the APGA experienced tremendous growth in the last few years. When Farmers Insurance upped the purses for last year's Fall Series, the tour reached a milestone of offering $1 million in total prize money for 2022. For the players in the 70-member tour, it was a windfall, with three making more than $100,000 in prize money. Kamaiu Johnson led the way by topping the Lexus Cup standings with $130,000 in earnings (before bonuses), and as Bentley points out, that's considerably more than the $94,500 that Mitchell Meissner made in leading the Latinoamerica Tour's 2022 money list. Johnson's take would have put him at 52nd on last year's Korn Ferry money standings.
"That's great," Bentley said, "but it's also a bit of a red flag, too. You don't want guys getting too comfortable out here. We don't want guys making $200,000 and $300,000."
With more investment than ever from its sponsors, which include Farmers, Cisco and World Wide Technology, the APGA continues to offer support to young and up-and-coming players. It has a player development program that gives 12 golfers $30,000 each for a season to use for numerous areas that support advancing their golf. This year, those same players will be required to compete in five Monday qualifiers on either the PGA Tour or KFT to gain experience in pressure situations. The APGA also identifies five minority players coming out of college to financially support and provide tournament exemptions.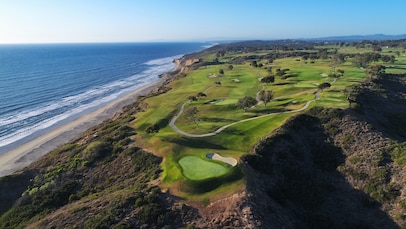 Torrey Pines sits on one of the prettiest golf course sites in America, atop coastal bluffs north of San Diego with eye-dazzling views of the Pacific. Rees Jones' remodeling of the South Course in the early 2000s not only made the course competitive for the 2008 U.S. Open (won by Tiger Woods in a playoff over Rocco Mediate), it also brought several coastal canyons into play for everyday play, especially on the par-3 third and par-4 14th. An annual PGA Tour stop, Torrey Pines hosted its second U.S. Open in 2021.
View Course
This weekend's Farmers Invitational, which will be contested on the Torrey Pines North Course on Saturday and the South Course on Sunday (thanks to the PGA Tour's Farmers Insurance Open ending on Saturday for a second straight year), will put into the spotlight a number of APGA standouts. Among them:
• Johnson, who missed this event last year while competing in the Farmers Open, has made three starts this season on Latinoamerica, with a best finish of T-26.
• Marcus Byrd topped the APGA Fall Series standings and was announced this week as the recipient of the Charlie Sifford Memorial Exemption at the PGA Tour's upcoming Genesis Invitational at Riviera that is hosted by Tiger Woods.
• Andrew Walker, a Michigan State alum who earned his PGA Tour Canada card in 2021, but didn't retain it and played well on the APGA in '22, including grabbing his first victory.
• Kevin Hall, a former Big Ten Championship winner out of Ohio State who finished sixth in the APGA's '22 Lexus Cup standings and is an inspirational figure in the deaf community after losing his hearing as a young child.
The purse for the APGA's Farmers event is the same as last year, $100,000, while there will be one more milestone achieved: The Golf Channel's coverage (4:30 p.m.-7 p.m. ET) will feature for the first time an all-Black broadcast team, led by host Damon Hack. Last year's telecast featured all minority commentators, with former tour player Notah Begay III representing the Native American community.