form tackle
Dodgers wedding proposal goes horribly wrong, tackled man loses hat and dignity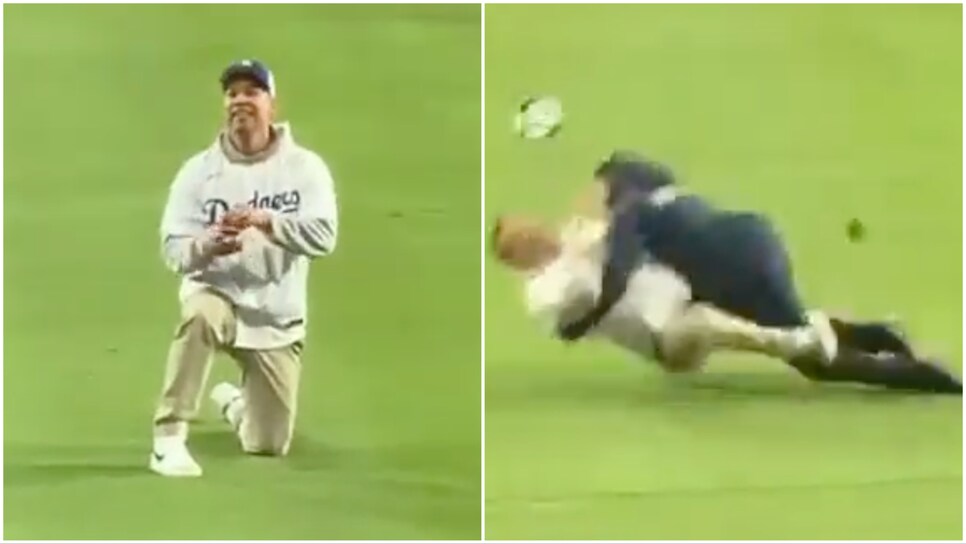 It's springtime. Get your baseball caps out of the closet. Dust off your jerseys. Buy a hot dog and a beer. And watch this man attempting to propose at a Dodgers game get steamrolled so badly that his hat flies up into the air as if he's a Looney Tunes character.
Oh, wow. That's incredible. Do you have another angle? Pretty please.
You're damn right we do. Thanks for asking so kindly.
Show us another one. Now.
Yeah, of course. Calm down. Here you go.
Blasting DMX's "Ruff Ryder's Anthem" is a perfect end-cap to this video/proposal as well. You couldn't dream of scripting it better than that.
Now, this is a hell of a way to start a season. The MLB added a pitch clock, which is being roundly applauded, but few knew that the game was also going to become a contact sport a la football or the Running of the Bulls.
Did the couple end up together? Will there be a wedding? Was there a concussion? The answer to the first few questions is the same: Yes. The third is also probably a yes, but we'll most likely never know for sure.
The moral here is probably … don't run onto the field and propose. There are many better ways to do it without getting pulverized and embarrassing yourself so badly that the internet has a field day with your misery.
The backup lesson here for anyone out there reading is, don't listen to what we just said. Go propose at a major-league stadium, out in centerfield for all to see, mostly so we can enjoy the Ray Lewis-esque annihilation.
That's just good clean fun. For everyone but the proposer.