AUGUSTA, Ga. — The Masters could have been the mortal blow for LIV Golf. Its members considered personas non grata by both players and patrons, the tournament closing avenues for future entry, the formidable players on its roster ejected so quick and hard that Greg Norman's proclamation of a LIV celebration on the 72nd green would have joined a long and distinguished class of Masters stumbles by the Great White Shark. The facade of relevancy the league desperately clings to would be demolished, allowing the game to finally move on from this year-long circus because unserious things do not warrant serious attention.
Yet it is Saturday evening at Augusta National and the sport is 30 holes away from donning a green jacket on a black hat, which would loudly and incontrovertibly state the circus remains in town and it's here to establish residency.
Dramatic as that sounds it is fastened in truth. Brooks Koepka holds a four-shot lead over Jon Rahm entering the (hopefully) final day of the Masters. This time last year Koepka was referred to as a four-time major winner. Now he's captain of something called the Smash, which sounds like a terrible JupeLife clique of bleach-haired bachelor bros but is really the name of a team Koepka leads on a Saudi-backed circuit. The Koepka of now looks like the Koepka of old, a Koepka many thought was done, including Koepka himself, turning a once-distressed asset into a superstar acquisition for LIV.
If that was all, this conversation is not happening. Koepka has done his best to distance himself from LIV. He seems to know it's a trainwreck, that it is incapable of taking a step forward without stepping on its other foot, and wants us to know he knows. Koepka wears no LIV apparel, he was not part of its lawsuit against the PGA Tour and he refuses to speak ill of his past comrades. He made his deal, one that many find morally indefensible, and that decision makes him among them … but he is not one of them.
Only that's not all. Koepka is joined on the board by Joaquin Niemann, the young Chilean who said of the Masters "I think it's going to be more fun knowing that they hate us." Also there: One Philip Alfred Mickelson, a three-time Masters winner whose name brandished a lawsuit that alleged Augusta National and its chairman were guilty of collusion with the PGA Tour. Mickelson may be excommunicated from the establishment—that the notorious raconteur didn't say a word at the Champions Dinner is a testament to that—but in the protected confines of the course Mickelson, at 52, continues to matter when the golf matters the most.
In fact of the 18 players that teed it up at Augusta National, 12 made the cut. That's an important number to note. Technically this is the third major contested since LIV Golf launched, but the U.S. Open was held just days after LIV's debut and the Open Championship was a few weeks later, making any signs of competitive atrophy impossible to delineate. The Masters, however, would deliver a true referendum to the conflict and opposition and rivalry that LIV lacks, underlining that often-said criticism that LIV is an exhibition and nothing more. Yes, there are 30 holes to go, and should the LIV boys falter get ready for a stream of "I guess they couldn't handle 72" jokes. But how LIV has performed as a whole is no laughing matter. These guys are, and remain, good.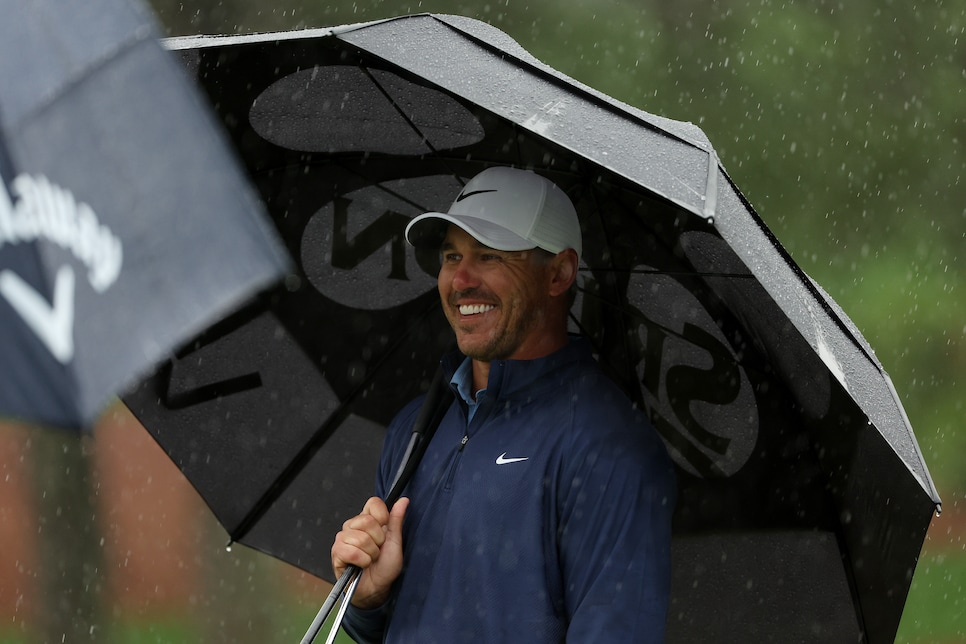 Which begs the question, how do the major championships handle LIV Golf going forward? They are supposed to be independent of the PGA Tour, their competitions ostensibly wanting to feature the best the sport has to offer no matter who the players are or who they represent. To exclude LIV Golf from the proceedings would make these events weaker and that's not good for business. And what about the Official World Golf Ranking? If LIV's top players are capable of beating the game's marquee attractions, don't they and their league merit point consideration of some kind?
It's not just inside the ropes where LIV is excelling. Many LIV players played practice rounds with their former tour counterparts, and while tour players aren't jazzed about getting sued and the ramifications that could have, most of the individual relationships remain intact. There may be a civil war at the professional level but professional golf remains that, civil. Whatever drama thought could take place hasn't and shows no signs of manifesting anytime soon.
Moreover, early in the week Augusta National updated criteria to its field selection, criteria that still allows LIV golfers to participate. That wasn't unexpected, considering Augusta National is part of a Department of Justice probe investigating antitrust practices between the tour and the governing bodies. Conversely, this is Augusta National, a club that's illustrated no qualms in doing the hard thing if it believes it is the right thing, or the thing they want to do. Again, it's hard to overstate the tentacles of the lawsuit and probe, and perhaps the club sees OWGR issue solving itself … but it's notable that given the chance to push LIV out, Augusta National kept them in. That in itself is a victory for LIV.
The week was not without its pitfalls. LIV lost its appeal to the DP World Tour's suspensions and fines in a European court, and the PGA Tour won another battle in its ongoing litigious clash in the United States. Though its players have been mostly welcome the league itself is not; representatives and leaders of other tours and organizations are on property but LIV's chief, Norman, remains a pariah, and as long as he's in charge it's unlikely LIV will be formally welcomed. While Norman may get a LIV player in the green jacket, it's highly doubtful the other 17 players will be there to greet the winner off the 18th green.
But it may happen. In spite of its trappings—perhaps in spite of itself—LIV Golf has backed up its bombastic claims at Augusta National. It doesn't mean LIV is now winning the war, only that the war will continue. Which, for the rest of golf, seems like a loss.