LIV GOLF AT MASTERS
Masters 2023: Greg Norman says all LIV players will celebrate on 18 if one of their own wins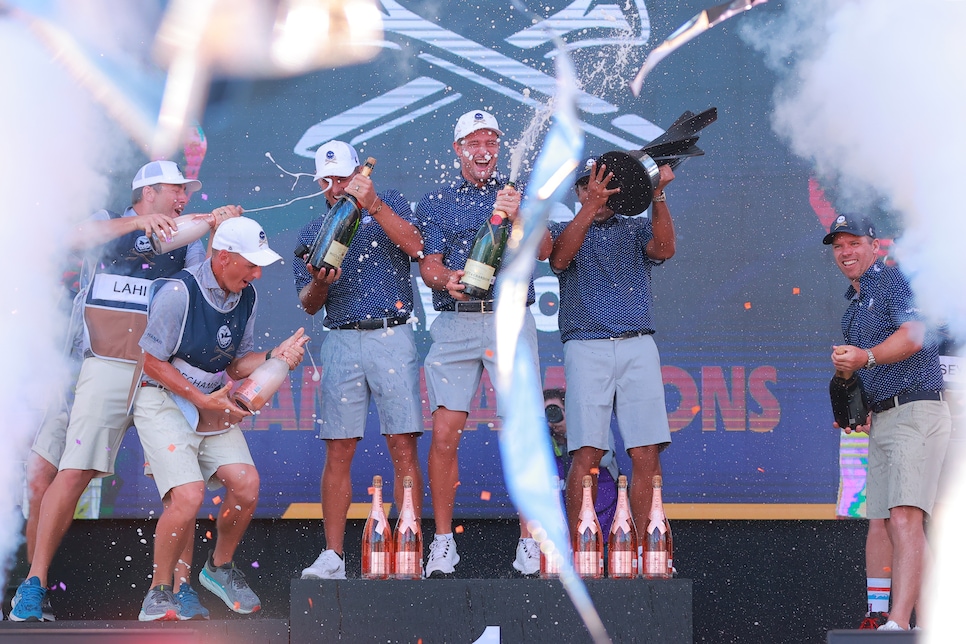 The Masters, but louder? The later part of that sentence is what LIV Golf has used in most of its marketing over the past year, insisting that it's Saudi-backed series will be known for "golf, but louder."
It's a nod to its overall philosophy where its events often are accompanied by music, big flashy signage and champagne team celebrations for the winners at the end of the week. According to LIV Golf CEO Greg Norman, it may not be all that different next week at the Masters if a LIV player wins.
Norman told NewsCorp on Saturday that if one of the 18 LIV players invited to the Masters happens to win late Sunday, the other 17 will meet the victor for a celebration near Augusta National's 18th green.
"If one of the guys, no matter who it is, they are all going to be there on the 18th green, they are all going to be there, and that just gives me goosebumps to think about," Norman said. "When you walk up 18, your caddie hugs you then you see your wife or your mum and dad. Now, to have those 17 other guys there, that's the spirit we want."
Four-time major winner Brooks Koepka won the LIV Golf event this week at Orange County National outside Orlando, where Norman says green speeds were fast to help players prepare for what they may see next week. Koepka, fresh off his victory, will be part of the LIV contingent heading north, along with the likes of 2020 Masters champion Dustin Johnson, three-time Masters winner Phil Mickelson and Cam Smith, winner of last summer's Open Championship at the Old Course.
Aside from the thought of one of his players winning a green jacket, Norman is excited about seeing some of his men play against the top players on the PGA Tour for the first time this year.
"I compliment the Masters on letting the players play because now they have got the best field and they are actually now the true Super Bowl," Norman said. "But if I'm the Masters right now, I would want, on Sunday, DJ or Brooks or Cam, any of those guys against Rory [McIlroy] and Jon Rahm. Can you imagine what the TV ratings would be like?
"It's what the people want. It's what TV wants. The ratings will be far higher than any other ratings if you've got Rory playing any one of our top guys."
MORE GOLF DIGEST MASTERS PREVIEW STORIES: