The Grind
Lee Hodges gets a VIP phone call, a new 'Brooks Koepka' emerges and one of the greatest golf stories ever told
Welcome to another edition of The Grind, where we are one of the few people on the planet who haven't seen "Barbie" or "Oppenheimer." I thought about it when my wife and I actually went out to celebrate our eighth anniversary, but then I cringed at the thought of how much the babysitter would be for dinner AND a movie and, well, that was that. But I hope everyone else is enjoying these flicks, especially (COMPANY PLUG ALERT!) "Barbie" since it's a Warner Bros. Discovery joint. I'll be sure to check it out on Max someday. In the meantime, here's what's happening in golf that has us talking.
Lee Hodges: Talk about a blockbuster performance. Not only did the 28-year-old pick up his first PGA Tour title at the 3M Open, he won by SEVEN shots and shattered the tournament scoring record.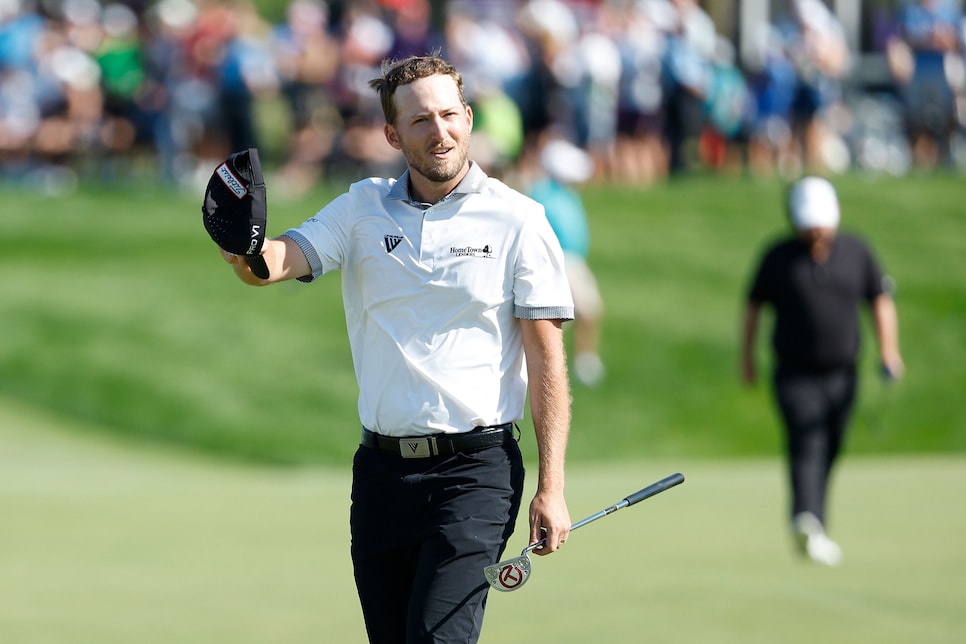 Hodges earned $1.4 million and his first Masters invite for his efforts. But as an Alabama product, he may have been even more excited to receive a congratulatory phone call from Nick Saban:
And if you thought he played it cool with the legendary coach, it was just an act. "Guys I apologize for the dude, pal and bud," Hodges wrote in the comments section. "I was more nervous there than I was all week what can I say." All good, Lee. We get it.
Celine Boutier: It's been quite the year for fitting winners with Canada's Nick Taylor winning the Canadian Open and Scotland's Robert MacIntyre winning the Scottish Open. (Wait, whoops. Keep forgetting Rory McIlroy broke the heart of an entire country in that one.) But now we've got another in Boutier, a native of France, capturing her first career major in her home country at the Amundi Evian Championship: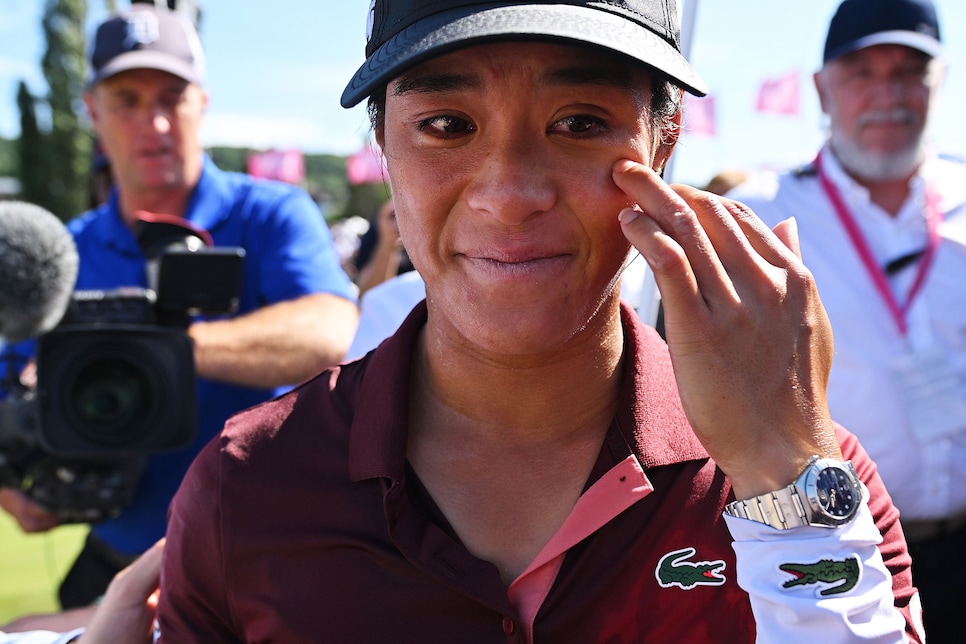 "Honestly, it has been my biggest dream ever since I started watching golf," Boutier said. Good stuff, Celine. You can crack open all the celebratory bottles of Evian you could ever want now.
Alex Cejka: Shout-out to this fellow Alex for not only winning the Senior Open Championship, but doing so—and surviving—in some of the worst weather conditions we've ever seen at a golf tournament. I played (for a bit) in some torrential rain on Saturday, and I could barely swing the club.
What a gamer. Even more amazing is Alex's record on the senior tour. He now has three majors and ZERO regular PGA Tour Champions wins. This guy is the new Brooks Koepka!

That is wild. And how about winning two of them in playoffs over Steve Stricker and Padraig Harrington? All hail Alex the Giant Slayer. And all hail …
This Guy: This might be the most dedicated—and most bold—golfer on the planet:
Bringing a putting mat to the hospital when your wife is in labor? I know you don't want to miss a day of practice during the season, but wow, that's a whole other level. And it sounds like his wife doesn't mind! Good for you, sir. Good for you.
Dirt bike vandals: More like dirtbag vandals, am I right? Look at what these hooligans did to the green of a Delaware golf course that was just minding its business:
And in broad daylight! Sick stuff. Throw the book at these people.
Beating your brother: Monday qualifiers always provide so many great stories, but this was a real doozy as Wesley and George Bryan both shot 66 to get into a six-for-three playoff. Wesley, a past PGA Tour winner made it through to this week's Wyndham Championship, and you could see his bittersweet reaction to big brother not qualifying:
Wesley also said he would let his brother have his spot if he could. Aww.
This breaking news alert: We've seen similar instances of this before, like when the Palm Beach Post ran the headline "No-Name Champion" after Keith Mitchell's 2019 Honda Classic win, but this push from the Star Tribune following Lee Hodges' win at the 3M Open is something else:
Talk about a slap in the face. And to the entire field. A field that happened to be pretty darn good by the way. You're better than that, Star Tribune.
The PGA Tour heads to the Wyndham Championship, AKA that one in Greensboro, AKA that last one before the FedEx Cup Playoffs start. And this year it's harder than ever to qualify for the postseason with the number of spots being sliced from 125 to 70. Just ask Justin Thomas and a few other big names who need big finishes this week just to extend their seasons.
Random tournament fact: It was a year ago here where a potential legend was born. Tom Kim shot a Sunday 61 to win by five strokes despite the fact he started the tournament with a quadruple bogey. Unfortunately, Tommy the Kid is not back this week due to the ankle injury he suffered at the Open Championship (while finishing runner-up … again, legend).
RANDOM PROP BETS OF THE WEEK
—This year's Wyndham winner will open with a quad: 1 MILLION-to-1 odds
—Nick Saban liked being called "dude": 10 MILLION-to-1 odds
—Nick Saban hasn't seen "Barbie" yet: LOCK
Good for J.T. Poston. In the immortal words of Herm Edwards, "YOU PLAY TO WIN THE GAME!"
CLUB PRO GUY TWEET OF THE WEEK
We mentioned the bad weather at the Senior Open, and here's some evidence other than the crazy-high scores:
Also, shout-out to Alistair Scott for never missing a beat with his first-tee announcing job:
That's true grit right there. I couldn't have lasted three groups.
VIRAL VIDEO OF THE WEEK (STORY DIVISION)
I've always been a big fan of Jeev Milkha Singh (Well, ever since happening upon him and his family at the 2009 Masters), but this is a story everyone can enjoy:
Sleeping in the streets of Paris to play in a tournament?! Talk about doing something for the love of the game. What a tale! And what a great guy. By the way, he finished T-14 at the Senior Open in his return to Royal Porthcawl nearly four decades later. Jeev!
VIRAL VIDEO OF THE WEEK (GREAT SHOT ADULT DIVISION)
This is why you always video your buddy if he's facing an impossible shot:
Amazing. And even better? No one looked to get hurt during the celebration.
VIRAL VIDEO OF THE WEEK (GREAT SHOT KID DIVISION)
Justin Thomas let an 11-year-old hit a shot with one of his clubs during a practice round and was amazed by the result:
Unfortunately for JT, he didn't quite get the good karma Emiliano Grillo did at Colonial earlier this year.
VIRAL VIDEO OF THE WEEK (DAGGER DIVISION)
I've watched this missed tap-in by Tom Whitney about 50 times and still can't believe it:
That is absolutely brutal.
THIS WEEK IN PUBLIC DISPLAYS OF AFFECTION (MOMS DIVISION)
Frankie Capan III made his first PGA Tour cut in his hometown event—thanks to his mom and caddie keeping him well-hydrated and well-fed:
THIS WEEK IN PUBLIC DISPLAYS OF AFFECTION (WAGS DIVISION)
Lee Hodges and his wife had a dream Sunday, but we liked hearing the story of how they first met even better (second slide):
Guy sees girl. Guy falls in love with girl. Girl takes a lot longer to feel the same. Tale as old as time.
THIS WEEK IN PUBLIC DISPLAYS OF AFFECTION (COACHES DIVISION)
You already saw Nick Saban call Lee Hodges, but his college golf coach was actually there to witness his breakthrough win. And not only that, he had a celebratory milkshake handy:
Love that tradition. And LOVE milkshakes.
"I'm just really grateful to be from Alabama, especially Ardmore. They announced me on the first tee from Athens, but if anybody asks, I'm from Ardmore, Alabama. So I'm super proud to be from there and represent those people. Man, I'm sure there is a party going on in north Alabama right now." —Lee Hodges. Sounds like fun—especially if milkshakes are involved.
Congrats to Trace Crowe on winning the NV5 Invitational for his first Korn Ferry Tour title. As an Auburn alum, we're guessing he didn't get a congratulatory call from Nick Saban. … Congrats to Barstool Sports and former Golf Digest co-worker Dan Rapaport as well for covering their first tournament at the NV5 Invitational. Although, admittedly, I didn't get to see any because I was trying to win a first tournament of a different kind. … Speaking of, congrats to Jason Gutman for winning the inaugural Pelham Buddies Golf Trip at Turning Stone. But since he was the only one of eight people in our group not from Pelham (N.Y.), we decided to give the championship belt (a la the original Open Championship prize) to the Pelham player with the most points. That would be Steve McDermott, a 26 handicap who just started playing last year at age 40 and only needed to make eight (checks notes) bogeys to win: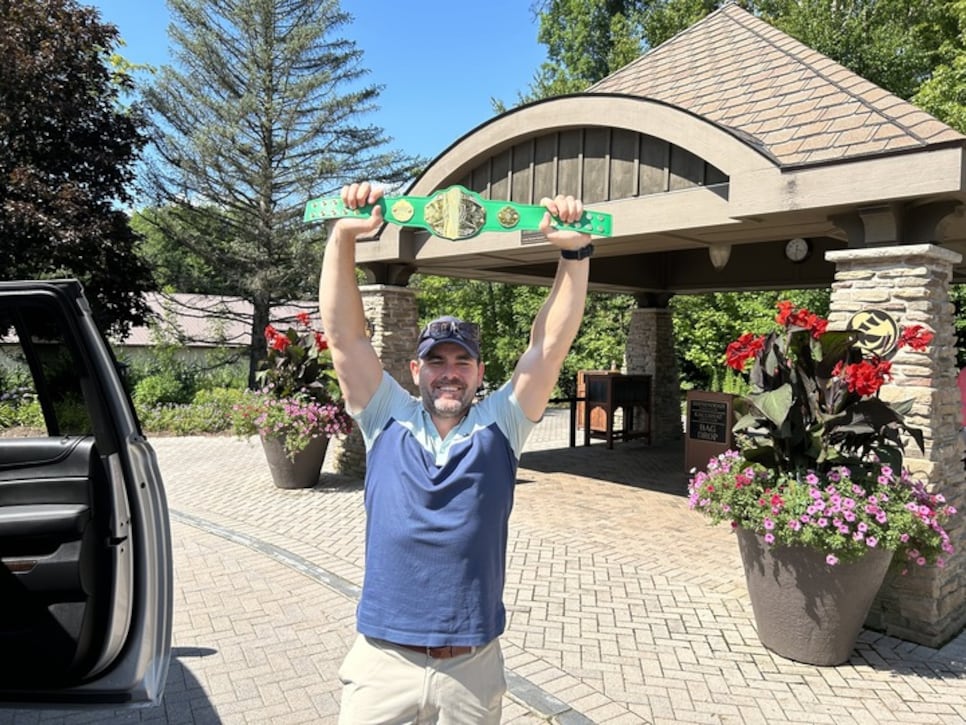 Hey, like I said, it was torrential rain for one of the days so points were scarce. Anyway, what a great underdog story! And talk about growing the game! Steve is now hooked for life. Well, the rest of his life, at least.
RANDOM QUESTIONS TO PONDER
Why did (most) of my high school friends take so long to get into golf?
Does this mean I have (fingers crossed) two annual golf trips now?
Where can I get a good milkshake around my office?