'I'm glad it's over'
Sideways rain! 40 mph gales! Alex Cejka emerges as Senior British Open's weathered winner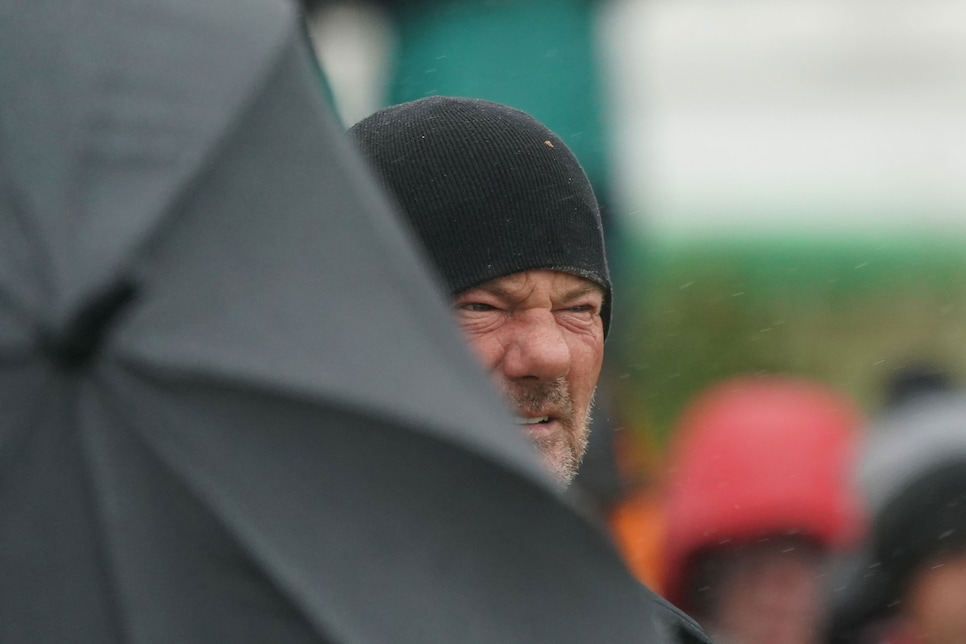 It is one of British golf's hoariest clichés, tritely trotted out whenever meteorological conditions veer into something substantially worse than ideal: "The winner this week was the golf course."
But it is a cliché for a reason. And the reason is Senior British Open weeks like this one at cold, wet and windy (gusts up to 40 miles per hour) Royal Porthcawl on the shores of an endlessly choppy Bristol Channel. In short, this wonderful but often wild Welsh links, aided and abetted by mother nature, kicked some experienced butt.
The winning score is revealing of a tortuous four days. At the end of a final round that began with only one player, Alex Cejka, not already over par, the German eventually emerged as the new champion after closing with a five-over 76 that included a lost ball off the first tee and only three birdies. Cejka's five-over-par 289 total was matched Padraig Harrington, who somehow got himself around in 75. Four over par after only four holes, the Irishman played the last 14 holes in a remarkable even par.
It took two playoff holes (both the par-5 18th) to separate the pair. The first was halved in birdies before Harrington failed to match Cejka's second two-putt 4. Ironically, the owner of one of the best short games in golf, no matter the age, ended what had been a brave effort to secure the title by duffing a chip from a "cuppy" lie just behind the putting surface.
It was a sore one for the ever-persistent Harrington, who lost by a shot to Darren Clarke in this event at Gleneagles last year and was bidding to become only the fifth player, after Bob Charles, Gary Player, Tom Watson and Clarke, to win both the Open Championship and the Senior Open.
All of which was no concern for Cejka, who led for most of the final round and now owns three senior majors. It was somehow appropriate—and eminently predictable—that the destination of the title be decided more by a mistake than a decisive thrust. Indeed, the playoff was an appropriate postscript to what was, for all concerned, a test of survival as much as golfing skill.
All but two holes (the downwind sixth a par 5, and the 18th) averaged over par. The average 18-hole score was just over 78.5 and only two men, former PGA champion Y.E. Yang and American Rob LaBritz, matched the par of 71. Yang, tied for 55th place after 54 holes, eventually rose as high as T-11. Another American, Mario Tiziani, had the distinction of making the day's lone eagle.
It was carnage really. Or at least something not far short of it. Former PGA champion, Rich Beem, needed 84 shots to get around. Eight-time European Order of Merit winner Colin Montgomerie shot 88, six strokes more than former U.S. Senior Open and Senior PGA champion Roger Chapman. Even renowned foul weather expert, former Open champion Paul Lawrie, took 81, as did last year's Schwab Cup winner, Steven Alker, who played the last six holes in seven over par. In all, 26 members of the 70-strong field failed to break 80, with Swede Patrik Sjoland's 89 the worst example.
Amidst that plethora of sizable statistics, lower numbers were just about possible to achieve, especially during those brief periods when the almost horizontal rain abated and the relentless wind assumed the role of primary hazard.
Cejka, armed with a short game that time and again turned three shots into two, proved to be the best of a bedraggled bunch. That said, Harrington will surely rue, as well as that foozled chip shot, the short putt he missed on the 16th green. Had that three-footer fallen, the gap between the two protagonists would have shrunk to a single shot.
"What a week," said Cejka at a prize presentation conducted during yet another heavy downpour. "What a day. I still can't believe I am here and have beaten Padraig in a playoff. He is such a great player. It's been a really tough two days. I can't believe I'm standing with the trophy here. Seeing all those great names on the trophy, coming in here with all the pictures and everything, all the guys who won it before me, now holding it myself, it's surreal.
"I tried to make good shots, but it was almost impossible in conditions like today," he continued. "In the end, I lost it a little bit. I didn't really make good shots coming in, but I made some beautiful par saves. I didn't want a playoff, especially against Padraig, but I'm glad it's over and I'm just super happy."
He should be. For those keeping score, Germany now has 15 senior major wins to its name, 12 of those attributable to Bernhard Langer. Ever consistent, the two-time Masters champion pulled up T-7 this week. But the spoils, of course, always go to the winner.
Congratulations Royal Porthcawl.