Lee Hodges played so impeccably for four days at the 3M Open that he seemed destined to win easily, and, sure enough, in closing out his wire-to-wire victory Sunday, his margin of victory was seven strokes. That's the most of any winner on the PGA Tour in nearly three years. Impressive stuff. Especially in notching his maiden tour title. But we promise you, it's unlikely there has ever been a more nerve-racking seven-shot win in tour history.
Despite holding a five-stroke lead entering the final round, Hodges promised to stay aggressive. And it was a good thing he did. Thanks to a pair of eagles, Hodges was able to weather a wobbly putter down the stretch and finish off a record-setting performance at TPC Twin Cities. With a final-round 67, capped by a tap-in birdie on the 72nd hole, Hodges set the tournament record with a 24-under 260 total to register the event's first wire-to-wire win.
"It's just a dream week, the whole thing," said Hodges, a second-year tour player who won in his 65th career tour start. "I mean, I played … honestly, from Monday to Sunday I played really good golf, even in practice rounds. The pro-am I made a bunch of birdies and then I made a bunch of birdies in the tournament with not many bogeys, so it was just one of those weeks."
The 28-year-old Alabama native began the week 74th in the FedEx Cup standings with the goal of simply improving his chances of moving into the top 70 for a playoff berth when the regular season ends after next week's Wyndham Championship. Instead, Hodges catapulted himself 41 spots to 33rd with one event remaining in the regular season. In the process, he earned $1.404 million and became the 11th first-time winner in the 2022-23 tour season. His is the largest winning margin since Dustin Johnson lapped the field by 11 shots at the 2020 Northern Trust at TPC Boston.
Though he led the field with 25 birdies, it was those pair of eagles that saved Hodges considerable angst on a sunny afternoon in Blaine, Minn. Both were set up by 3-wood second shots from the exact same distance, 257 yards. The first, at the par-5 sixth, yielded an 11-footer that he rolled in to extend his advantage over his nearest pursuer, J.T. Poston, to seven strokes. Then at the par-5 12th, he executed even better, nestling the approach to less than three feet.
"Those were two of the greatest shots I ever hit," Hodges said. "Wish I maybe would have been a little less aggressive with my putter; I ran a couple by there late, but whatever, it all worked out."
He's referring to three-putt bogeys at the 15th and 17th holes that, combined with birdies by Poston at 15 and 16, suddenly made the proceedings far from a done deal as Hodges' lead dwindled to three.
And then, just like that, sweaty palms time was over.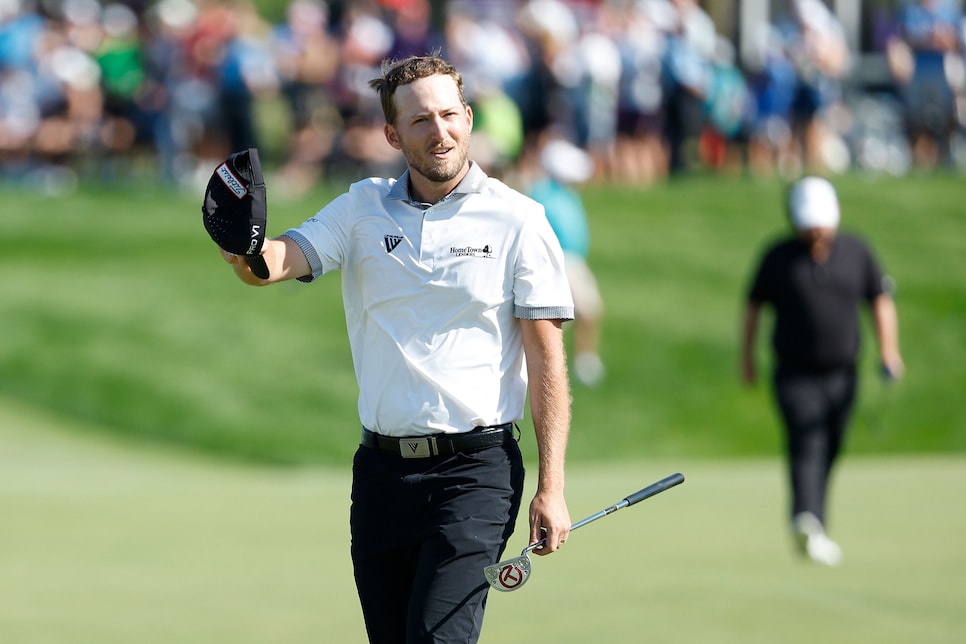 Poston sure helped in that regard at the par-5 home hole by leaving himself a tricky lie with the ball below his feet after pushing his tee shot to the edge of the water right of the fairway. He thought he had enough to cover the hazard with his approach, but the ball came out on a low trajectory and ricocheted off the rocks and into the penalty area.
No doubt breathing easier, Hodges, after laying up, stuffed his approach from 115 yards to 16 inches for a closing birdie.
A nightmare ensued for Poston, who decided to lay up with his fourth shot. He came up short-left of the green with his fifth and then needed three more strokes, all with his putter, to find the hole. His triple-bogey 8 dropped him into a tie for second place at 17-under 267, costing him $260,000 (the difference between solo second and a three-way tie). He closed with a 69.
"We're not coming here to finish second. At the end of the day we were trying to do something special and try and win," Poston said. "I wouldn't want to be sleeping tonight wondering "what if" if I had just laid it up instead of trying to go for it. No regrets on the decision. You know, tried to do what we could to win."
Martin Laird and Kevin Streelman were the beneficiaries of Poston's stumble to gain a share of second—and also improve their prospects for keeping their tour cards. Laird fired a 64 and moved up 46 places from outside the top 150 to 111th in the standings. Streelman, meanwhile, went from a precarious 120th to 84th.
Finishing in the top 125 after a series of seven fall events still earns a full exemption for the following season that begins in January.
Several other players improved their lot heading into the Wyndham Championship, perhaps none more so than Cam Davis. The Australian shot a closing 65 and got himself inside the all-important top 70. He is 69th after finishing T-10 at 14-under 270. Meanwhile, Poston, Keith Mitchell (T-5) and Sam Ryder (T-7), who all were lurking in the 60s in the standings, moved farther from the bubble. Poston went from 60th to 49th, Mitchell, after 67-268, climbed from 66 to 57, and Ryder, thanks to a 68-269, moved seven places to 62nd.
Of course, no one enjoyed a more fulfilling week than Hodges. He's securely in the playoffs, has set himself up to finish in the top 50—which qualifies for all of the designated events next year—and can think about chasing a spot in the Tour Championship. Oh, and he also earned invitations to next year's Masters, PGA Championship and the Players Championship.
First things first, however. "Just get ready for the playoffs. I think we're as ready as we can be," he said when asked about what comes next on his agenda. "I'm playing some really good golf. I'm excited to have the opportunity to do some special things in the playoffs now. I mean, anytime you win, you really set yourself up for some special stuff.
"My caddie was telling me on 18, I honestly didn't even think about it, we get to play Augusta next year. That's something else. That was probably the coolest thing I heard all day. Yeah, I'm just really thankful. Everything that comes with a win is unbelievable."