Payday in the Twin Cities
Here's the prize money payout for each golfer at the 2023 3M Open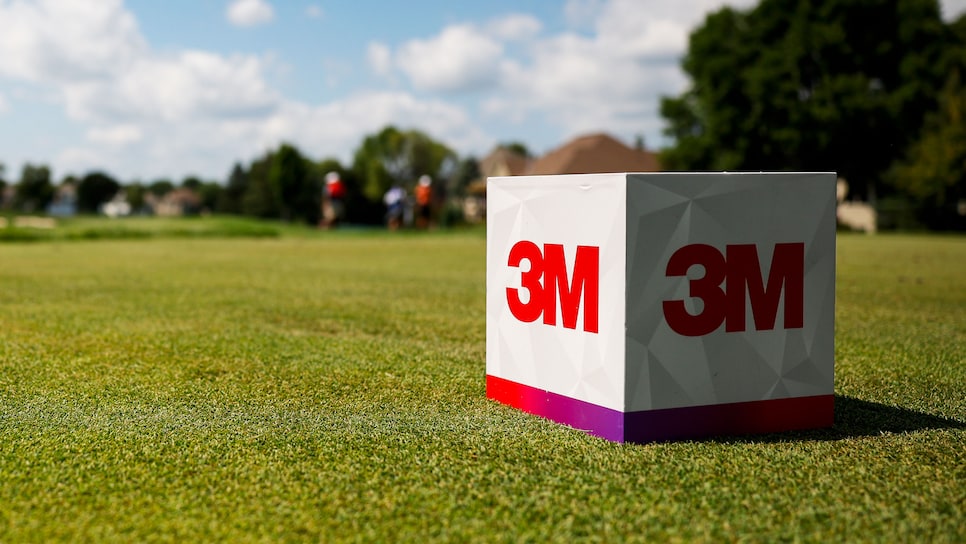 Happy, but not content. Or complacent. That had to be the mindset for Lee Hodges heading into Sunday's final round of the 3M Open. Happy, of course, to hold a five-stroke 54-hole lead at TPC Twin Cities in Blaine, Minn. But aware that despite how easy Brian Harman made it look last week at the Open Championship, closing out a win while holding a big lead was still hard work. And maybe even harder when you're a 28-year-old in your second full season on the PGA Tour trying to win your first career title.
If Hodges didn't believe us, all he had to do is look at what happened a year ago at this very event, where tour veteran Scott Piercy was up four shots with 18 holes left. But the wheels fell off on the back nine, and Tony Finau stepped up to make six birdies over his first 16 holes and cruise to a three-shot win.
To his credit, Hodges didn't let his wheels come off. He made a pair of eagles while stretching his lead to as much as seven shots at one point, eventually posting a four-under 67 and a 24-under 260 total to win by seven over J.T. Poston, Martin Laird and Kevin Streelman.
"That was my goal, to be aggressive. I thought I was too aggressive with my putter, kept knocking them by the hole," Hodges said. But that was my gameplan, to be aggressive. I was not trying to lag it up there and just give it a chance."
In converting his second career 54-hole lead on tour (the other coming at the 2022 American Express, where he finished third), Hodges also helped solve another issue he was facing. The former college golfer at Alabama started this week 74th in the FedEx Cup points standings, 15 points out of the 70th spot that's the cutoff for making the Playoffs in two weeks. The win moved him to 33rd, not only comfortable inside the top 70 but with a great chance of finishing inside the top 50 that could earn him spots into 2024's designated events and in position to get to the top 30 and find himself playing in the Tour Championship in a few weeks.
Oh, and then there's the prize money payout that could come with victory: $1.404 million from the overall purse of $7.8 million. Hodges' biggest career payday to date was a $410,000 check for finishing T-12 at Memorial in June. Having made $3.6 million in his 64 previous starts on tour, a victory would be a big deal in the wallet as well.
Here's the prize money payout for each golfer who made the cut this week at the 3M Open.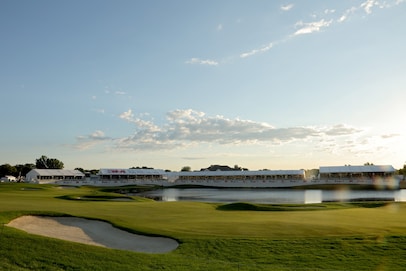 As if destined to be a golf course, TPC Twin Cities was built on the site of a former sod farm. The Arnold Palmer design 15 miles north of Minneapolis/St. Paul has hosted the PGA Tour's 3M Open since 2019. A past member of our Best in Minnesota list, TPC Twin Cities plays among native prairie grasses and includes 27 bodies of water, notably at the par-5 18th, where a large lake guards the right side of the fairway and the front of the green.
View Course
Win: Lee Hodges, 260/-24, $1,404,000
T-2: Martin Laird, 267/-17, $590,200
T-2: J.T. Poston, 267/-17, $590,200
T-2: Kevin Streelman, 267/-17, $590,200
T-5: Keith Mitchell, 268/-16, $301,275
T-5: Dylan Wu, 268/-16, $301,275
T-7: Aaron Baddeley, 269/-15, $245,050
T-7: Tony Finau, 269/-15, $245,050
T-7: Sam Ryder, 269/-15, $245,050
T-10: Cam Davis, 270/-14, $196,950
T-10: Emiliano Grillo, 270/-14, $196,950
T-10: Sam Stevens, 270/-14, $196,950
T-13: Zac Blair, 271/-13, $135,664.29
T-13: Garrick Higgo, 271/-13, $135,664.29
T-13: Beau Hossler, 271/-13, $135,664.29
T-13: Alex Noren, 271/-13, $135,664.29
T-13: Nick Hardy, 271/-13, $135,664.28
T-13: Billy Horschel, 271/-13, $135,664.28
T-13: Callum Tarren, 271/-13, $135,664.28
T-20: Jason Dufner, 272/-12, $82,178.58
T-20: Tyson Alexander, 272/-12, $82,178.57
T-20: Tyler Duncan, 272/-12, $82,178.57
T-20: Ben Griffin, 272/-12, $82,178.57
T-20: Tom Hoge, 272/-12, $82,178.57
T-20: Aaron Rai, 272/-12, $82,178.57
T-20: Matti Schmid, 272/-12, $82,178.57
T-27: Doug Ghim, 273/-11, $58,110
T-27: Chesson Hadley, 273/-11, $58,110
T-27: S.H. Kim, 273/-11, $58,110
T-30: Kramer Hickok, 274/-10, $46,744.29
T-30: Stephan Jaeger, 274/-10, $46,744.29
T-30: Hideki Matsuyama, 274/-10, $46,744.29
T-30: Doc Redman, 274/-10, $46,744.29
T-30: Eric Cole, 274/-10, $46,744.28
T-30: Mackenzie Hughes, 274/-10, $46,744.28
T-30: Max McGreevy, 274/-10, $46,744.28
T-37: Stewart Cink, 275/-9, $34,710
T-37: Adam Long, 275/-9, $34,710
T-37: Patrick Rodgers, 275/-9, $34,710
T-37: J.J. Spaun, 275/-9, $34,710
T-37: Adam Svensson, 275/-9, $34,710
T-37: Kevin Yu, 275/-9, $34,710
T-43: MJ Daffue, 276/-8, $24,726
T-43: Paul Haley II, 276/-8, $24,726
T-43: Matt Kuchar, 276/-8, $24,726
T-43: David Lipsky, 276/-8, $24,726
T-43: Justin Lower, 276/-8, $24,726
T-43: Justin Suh, 276/-8, $24,726
T-43: Matt Wallace, 276/-8, $24,726
T-50: Peter Kuest, 277/-7, $19,578
T-50: Trey Mullinax, 277/-7, $19,578
T-50: Vincent Norrman, 277/-7, $19,578
T-53: Brice Garnett, 278/-6, $18,447
T-53: Russell Knox, 278/-6, $18,447
T-53: Chad Ramey, 278/-6, $18,447
T-53: Brandt Snedeker, 278/-6, $18,447
T-57: Ryan Gerard, 279/-5, $17,706
T-57: Nate Lashley, 279/-5, $17,706
T-57: Grayson Murray, 279/-5, $17,706
T-57: Henrik Norlander, 279/-5, $17,706
T-57: Brandon Wu, 279/-5, $17,706
T-62: Frankie Capan III, 280/-4, $17,160
T-62: James Hahn, 280/-4, $17,160
T-64: Ludvig Aberg, 281/-3, $16,614
T-64: Kevin Chappell, 281/-3, $16,614
T-64: Trevor Cone, 281/-3, $16,614
T-64: Kaito Onishi, 281/-3, $16,614
T-64: Matthias Schwab, 281/-3, $16,614
69: S.Y. Noh, 282/-2, $16,146
70: C.T. Pan, 284/E, $15,990
71: Ben Taylor, 285/+1, $15,834
T-72: Jim Herman, 291/+7, $15,600
T-72: Augusto Núñez, 291/+7, $15,600