PGA Tour
Lee Hodges smashes scoring record while taking big lead in 3M Open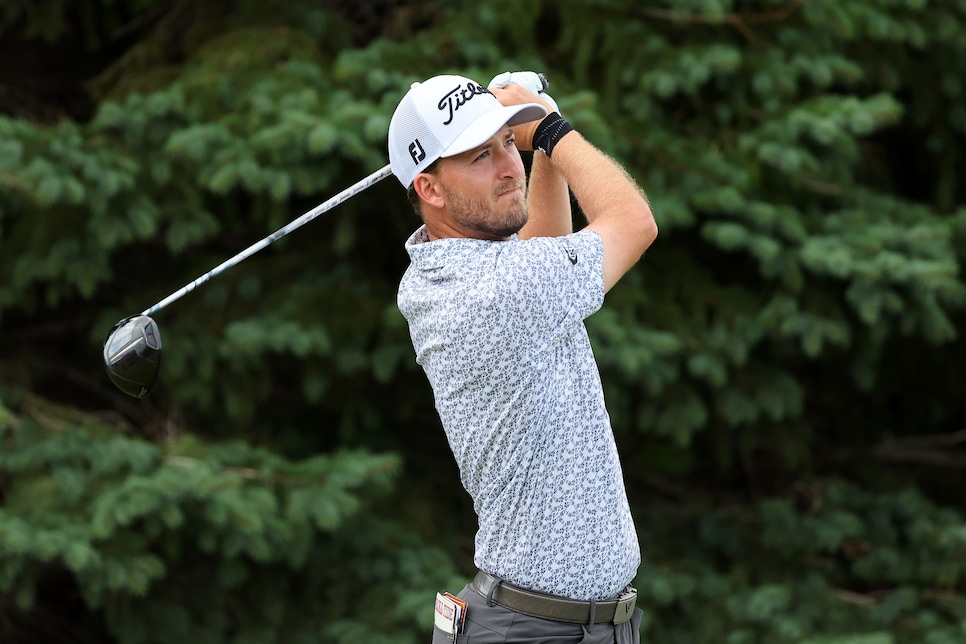 Lee Hodges plays his shot from the second tee during the third round of the 3M Open.
Stacy Revere
If you're vying for your first PGA Tour title, a five-stroke lead has to afford you a relative feeling of comfort. Perhaps that's one reason why Lee Hodges doesn't expect to be overly nervous heading into Sunday's final round of the 3M Open.
It probably doesn't hurt that he's playing the best golf of his young career. He's definitely playing the best golf this event has ever seen.
Hodges doesn't have the penultimate event of the tour's regular season sewn up just yet, but the golf he has stitched together through 54 holes at TPC Twin Cities makes for a swell security blanket. With five birdies on his inward nine, Hodges carded a third-round five-under 66 and continued to stretch his lead over the competition in Blaine, Minn.
At 20-under 193, Hodges eclipsed the previous tournament 54-hole record of 195 that Scott Piercy set a year ago. J.T. Poston is the closest pursuer at 198 after a 66, while defending champion Tony Finau is another stroke back following a 67.
It's probably worth noting that Finau erased a five-stroke deficit last year during a wind-swept final round. So danger lurks. But who is more dangerous than a guy who has converted 22 birdies and leads the field in strokes gained/total at plus 10.180?
No wonder Hodges, 28, shrugged when asked about the pressure he'll face. Will he be OK sleeping on the lead for the third night in a row?
"I honestly don't think I'll be that nervous tonight," said the Alabama native, who is 74th in the FedEx Cup standings and ranked 110th in the world. "I'll hang out with my wife; we'll go do something fun. I mean, yeah, it's just golf at the end of the day. I'm lucky to be here."
The tournament record is 21 under par, so Hodges has been more than lucky. He can't recall ever having a lead as large as the one he currently enjoys—"not even in junior golf," he said.
Even with that, he promised to stay aggressive. "I'm not going to try and make pars because pars aren't going to get it done tomorrow. I'm going to have to keep making birdies," said Hodges, who holds his second 54-hole lead of the season. He was the 54-hole co-leader at The American Express in January before ending up T-3.
"I have nothing to lose," he added, furthering the notion that he won't be tentative in the final round. "I'm out here playing with house money. I have a job next year on the PGA TOUR, this is all great. This is just icing on the cake."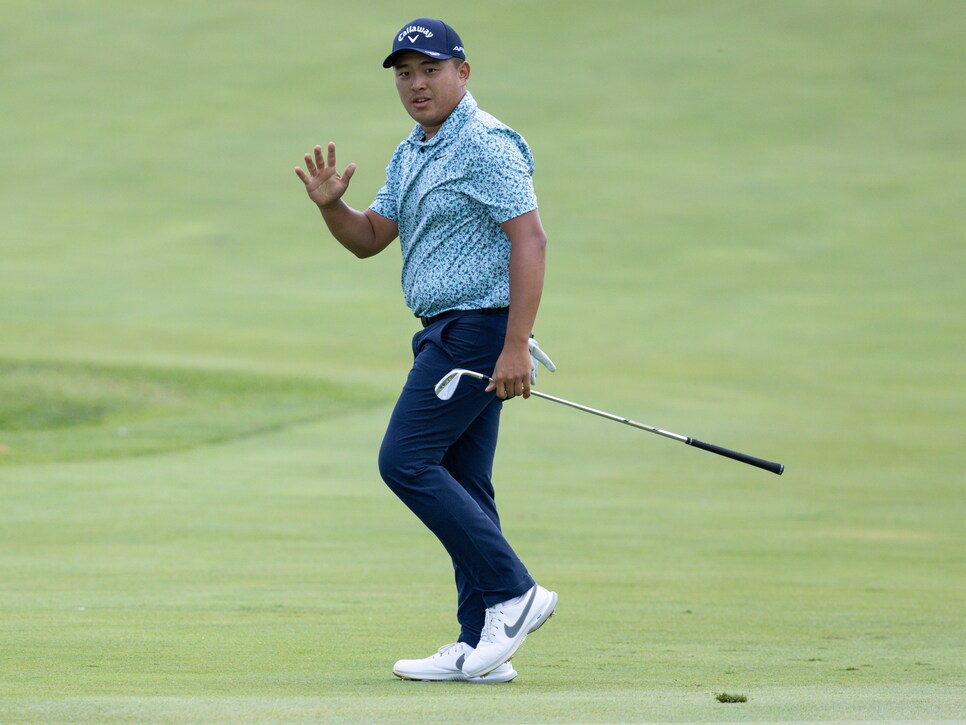 Kevin Yu waves to the fans after hitting a chip shot on the 12th hole during the third round of the 3M Open.
Icon Sportswire
When Kevin Yu opened with a record-tying six-under 29 Saturday at TPC Twin Cities, he not only blasted up the leaderboard, but also had a realistic chance to make a move towards a 59 with the easier inward nine left. Then he ran his birdie streak to six in a row with birdies at the 10th and 11th holes to get to eight under and within two strokes of leader Lee Hodges. His 22-foot birdie putt at 11 completed a run of nine straight one-putt greens.
When the PGA Tour rookie from Chinese Taipei reached the front edge of the par-five 12th in two shots, Yu couldn't have been in better shape. But that par 5 would be the momentum killer, ironic considering that Yu ranks 13th on tour in par-5 scoring average. All he could manage was a par, and he proceeded to bogey four of his last six holes. That included a bogey at the par-5 18th when his second shot found the water that guards the front of the green. He finished with a four-under 67 and drifted off the pace at 10-under 203.
Yu, 24, is 94th in the FedEx Cup standings, respectable considering he missed more than three months after left knee surgery, but quite a ways back from the top 70 who make the playoffs.
While Yu struggled coming in, Sam Ryder put together a textbook inward nine, making seven birdies for a 29 to rally for a 65. He enters the final round T-5 at 12-under 201. That could go a long way towards his playoff status. He began the week just inside the bubble at 69th in the standings.
Justin Thomas was pouring in the putts on Saturday at TPC Twin Cities. You read that right.While it's true that Thomas missed the cut on Friday in the 3M Open by two strokes with a two-under 140 total, the two-time PGA champion was seen on Saturday putting in extra work with his Scotty Cameron Phantom X 9 tour prototype putter on the practice green.
Players who miss the cut in PGA Tour events are still allowed to use the practice facilities over the weekend, and the tour captured videotape of Thomas, earbuds properly in place, holing a series of putts and posted it on Twitter. (Of course he was shown holing all of them.) Notice that Thomas, 160th in strokes gained/putting this season, has abandoned the left-hand low grip that he employed at the Scottish Open and British Open.
Thomas, of course, is in full grind mode as he prepares for the upcoming Wyndham Championship, the tour's final regular-season event. At 75th in the FedEx Cup standings, he needs a strong showing to finish among the top 70 and qualify for the playoffs. Then he would have perhaps three more starts to prove he belongs on the U.S. Ryder Cup team.It made sense for Thomas to hang around in Blaine, Minn., considering that he was headed to Cedar Rapids, Iowa, on Monday for a charity event. The host happens to be Zach Johnson, the U.S. Ryder Cup captain.