Kids do the dardnest things
Aaron Baddeley's daughter put pressure on tournament directors with letter-writing campaign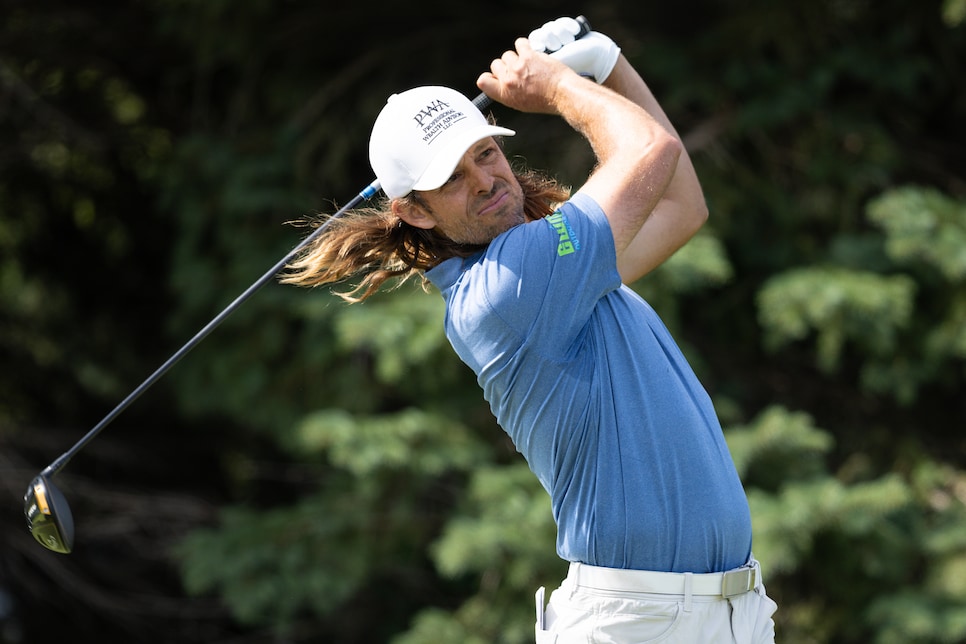 Aaron Baddeley hits a tee shot on the second hole during the third round of the 3M Open.
Icon Sportswire
It probably has been difficult for PGA Tour tournament directors to deny Aaron Baddeley a sponsor exemption this year. His letters had to have scored points for originality. And perhaps pulling at heartstrings. Especially considering he hasn't been writing them.
The father of six revealed on Saturday after a third-round 65 at the 3M Open that his 13-year-old daughter Jolee has been penning the requests on her dad's behalf.
"She wrote to the Phoenix Open telling them why … the tournament director there, Chance [Cozby], why I should have got an invite and giving all the reasons why I should be playing the tournament," said Baddeley, a four-time tour winner who is playing this season out of the Past Champion Category, one of the lower categories in the pecking order when it comes to getting into fields.
"I think it's just like, 'Works hard, is doing his best, he's had a good year, almost won in Bermuda,' stuff like that, yeah," he added when asked about the content of the letters.
Baddeley, 42, a native of Australia, is in the midst of his best season in years, sitting 109th in the FedEx Cup standings with two top-10 finishes and four in the top 25 in 21 starts. His six-under 65 effort in the third round at TPC Twin Cities left him in fourth place at 13-under 200, seven behind leader Lee Hodges. His goal of finishing in the top-10 for the week is well within reach, and it would give him a berth in next week's regular-season finale, the Wyndham Championship.
His status is not likely to be high enough to get into the field otherwise.
"It's a little bit like a four-day qualifier for next week," he said. "If I can play well enough to finish top-10, that gets me into next week for sure. … I feel like I've been playing well. I know I've missed a couple of cuts these last few events, but I feel it hasn't reflected on how I've been playing."
For the record, Baddeley, who lives in Scottsdale, Ariz., didn't get to play in the WM Phoenix Open. Good on Jolee to just keep writing, though.