FedEx Cup
Justin Thomas, Adam Scott and 9 other notable players on the PGA Tour playoff bubble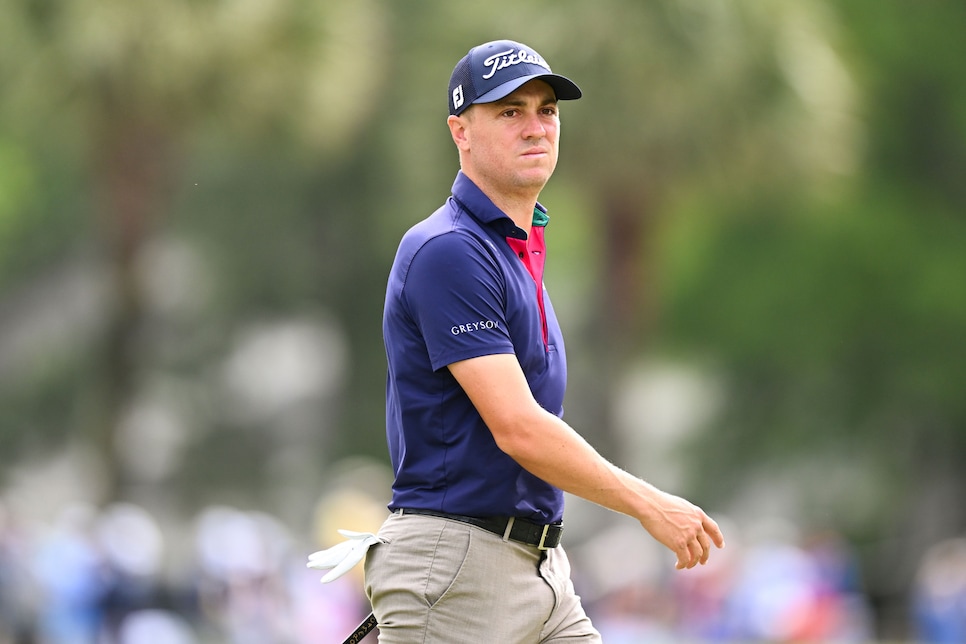 The PGA Tour's regular-season finale is this week at the Wyndham Championship. Depending on your perspective, this year's edition has more or less drama than past iterations.
Because of changes to the PGA Tour's infrastructure, those who don't make the tour's postseason will have the fall portion of the calendar to earn status for 2024, subtracting some of the inherent theater the Wyndham historically had. However, rather than 125 players earning an invite into the FedEx Cup playoffs, only 70 players will move on next week to the first postseason event in Memphis. That reduced field makes for a tighter and bigger playoff bubble, and a number of marquee names are currently on the outside looking in. Here are 11 notable players that need to have a good week in North Carolina in order to qualify for the FedEx Cup playoffs.
No. 75 - Davis Thompson
Thompson looked to have the inside track on Rookie of the Year honors in the first quarter of the season with a T-9 at the Fortinet Championship and runner-up finish at the American Express. But in 17 starts since that second-place showing, Thompson has just one finish inside the top 25 with eight missed cuts. The University of Georgia golfer has tons of power (22nd in SG/off-the-tee), but his second-shot prowess (161st in approach) is what has held him back in his debut season on tour.
No. 76 - Shane Lowry
Consider this standing more a byproduct of a limited schedule than his performance. Still, Lowry has not won on tour since his 2019 Open triumph at Portrush, and though he hasn't been bad in 17 starts this season (29th in strokes gained, 21st in SG/tee-to-green), he never truly has contended either, with just one top-10 finish on the year. Lowry's position is an interesting case that FedEx Cup points are weighted too heavily towards a great finish rather than a good finish, as Lowry does boast nine top-25s—three of which came at majors—this season.
No. 77 - Justin Suh
The reigning Korn Ferry Tour Player of the Year seemed to be in a safe position heading into the summer after a T-5 at the Honda Classic and T-6 at the Players Championship. And in his defense, we wouldn't classify Suh's last few months as a slump, missing just one cut in 14 starts since the Players. Conversely, he also has a lone top-20 finish in the stretch. Suh does have one of the better short games on tour (12th in SG/putting), which should translate well at the Wyndham.
No. 79 - Justin Thomas
Thomas has missed six cuts this season, five of them in his last seven starts. He also failed to reach Round 3 in three of the four majors and finished a distant T-65 at the PGA Championship. According to Data Golf, it's the short game that's been the bane of Thomas' existence over the past three months, losing almost half a stroke per round to the field in putting and around the green. In the last six years Thomas has finished no worse than seventh in the FedEx Cup standings, but will need a top-15 finish at Wyndham to get into the postseason.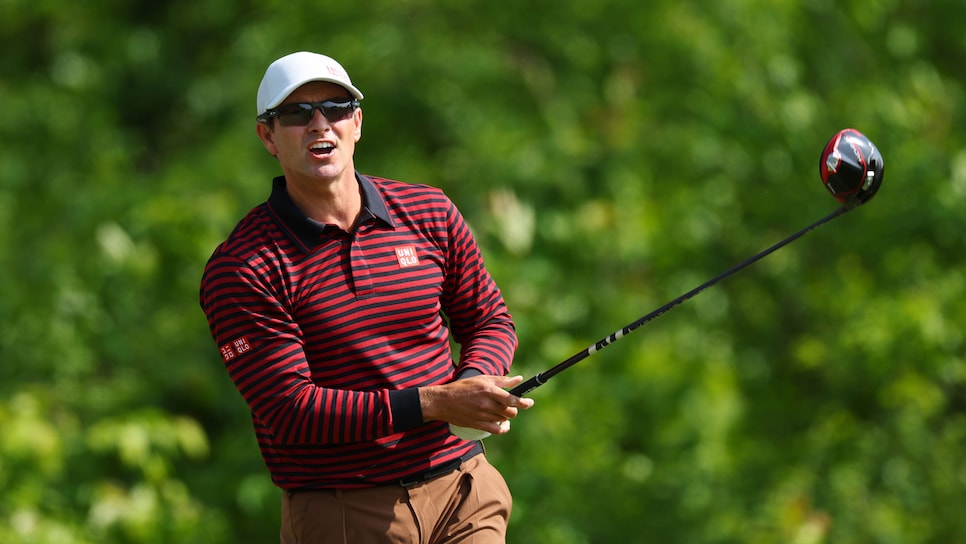 No. 81 - Adam Scott
Scott has played in every PGA Tour postseason since the FedEx Cup's inception in 2007, but that streak is very much in jeopardy. The former Masters champ hasn't been particularly bad in 2023, and enters the Wyndham ranked 20th in birdie average, 32nd in strokes gained and 16th in SG/off-the-tee. Scott's problem is twofold: His approach game has been brutal, ranking 130th in that strokes gained category, and he simply hasn't played enough, logging just 16 appearances this season. Scott had a nice month-long stretch from May to June with three top-10s, but hasn't done anything of note since.
No. 82 - Joel Dahmen
Dahmen ended the fall on a tear with three consecutive top-10s at the World Wide Technology Championship, Houston Open and RSM Classic. But summer has not been kind to the 35-year-old, missing the cut in seven of his past eight starts. The stats don't paint a pretty picture either, Dahman ranked 148th in strokes gained and 136th in scoring. Dahmen doesn't have much of a track record at the Wyndham (zero top 40s in four previous starts), so he'll need something special this week in order to get to Memphis.
No. 97 - Gary Woodland
It's been an odd 2023 for the 2019 U.S. Open champ. Few have been better than Woodland off the tee (11th) and in approach (10th). But those numbers underline just how bad his short game has been, ranking 117th around-the-green and 185th in SG/putting. Since a T-9 at the Genesis Invitational, Woodland has just two top-20 finishes and is now in danger of missing the postseason for the first time since 2012. Woodland essentially needs a win or runner-up to keep that streak alive.
No. 99 - Akshay Bhatia
Got to feel for Bhatia. Because Bhatia was a special temporary member this season, an obscure rule prevented him from receiving points at two alternate events, one of which he won (Barracuda Championship). The good news is Bhatia does have his tour card for the next two seasons, but to get into the playoffs, he needs to finish third or better at Wyndham.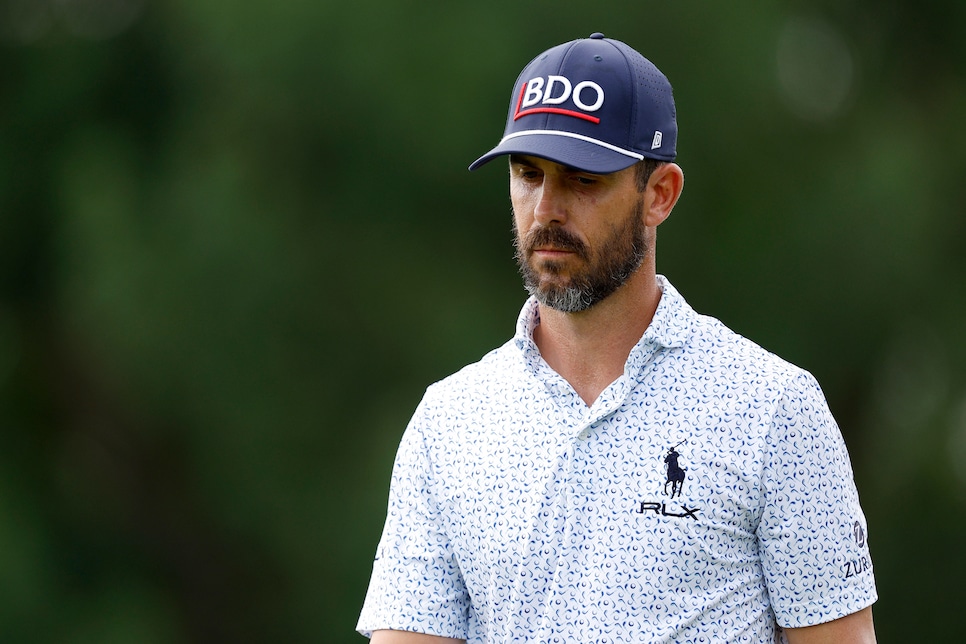 No. 116 - Billy Horschel
The former FedEx Cup champ has been in a slump that stretches back to last summer, and has missed nine cuts in 21 starts this season. Most of the woes can be chalked up to Horschel's ball-striking, ranking 154th in SG/off-the-tee and 145h in approach. Horschel is coming off his best finish in an individual stroke-play event with a T-13 at the 3M Open, so there is light at the end of the tunnel, but to avoid the fall season he'll need to win at Wyndham.
No. 139 - Cam Champ
It's been an extremely rough year for the three-time tour winner, missing the cut in 15 of 22 starts. Despite ranking 25th in SG/off-the-tee Champ is 154th in approach, and the short game continues to give him fits (192nd around-the-green, 170th putting). Champ, who WD'd from last week's 3M Open to be with his wife after the birth of their first child, also failed to qualify for the postseason in 2022, but will continue to have full-time status through next season thanks to his 2021 3M win.
No. 145 - Ludvig Aberg
The good news: Aberg has status next season thanks to being No. 1 in the PGA Tour U rankings when he wrapped up his senior year at Texas Tech in June. And in eight starts on tour this summer, he has more than proved his mettle, reaching the weekend seven times, including a T-4 at the John Deere Classic. Expecting to qualify for the Playoffs in such a short season was asking a lot, but Aberg's potential is so great he's being whispered as a potential Ryder Cup captain's pick for Team Europe. A win at the Wyndham would make that dream a reality.