PGA Tour
Akshay Bhatia sounds a little miffed about his FedEx Cup Playoffs conundrum (as he should be)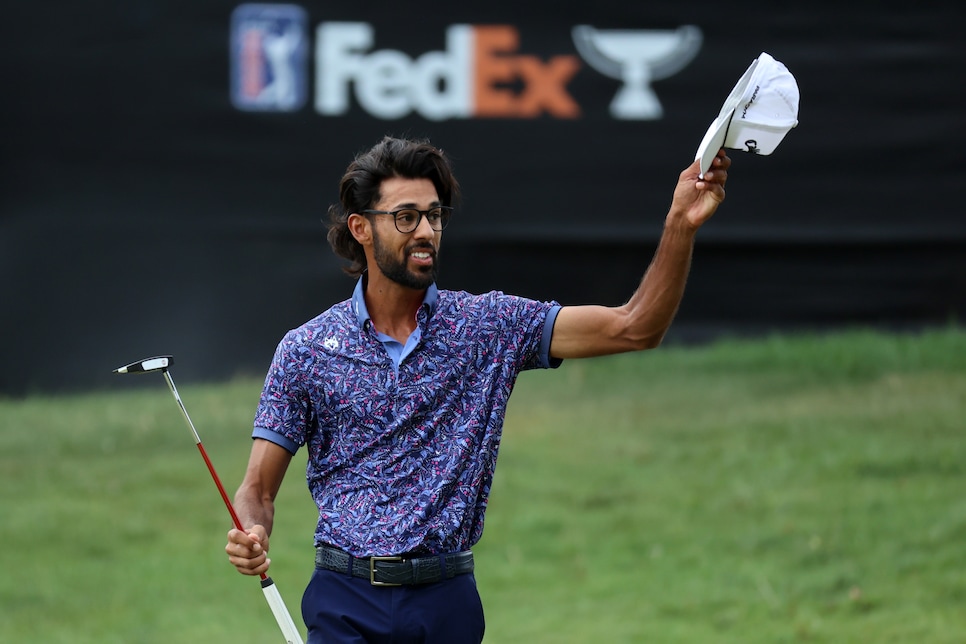 The golf world was shocked to hear that Akshay Bhatia, following his Barracuda championship victory, was not guaranteed a spot in the FedEx Cup Playoffs due to a very complicated reason. If reading and attempting to understand that reason still left you feeling confused, don't worry. Bhatia himself was in a similar boat.
Speaking on SiriusXM PGA Tour radio, the 21-year-old sounded a little miffed about the whole ordeal. As he should be. Despite picking up his first tour win, collecting four other top-10 finishes and making just shy of $2 million on the season, he's not guaranteed a spot in the top 70. Why? Because he's a Special Temporary Member of the PGA Tour, a status he earned with his runner-up finish in the Puerto Rico Open back in March.
Prior to the Barracuda, he also tied for ninth at the Barbasol Championship. Unfortunately for Bhatia, though, neither of those opposite-field events earned him FedEx Cup points due to his Temporary Status because the tour co-sanctions them with the DP World Tour. This means 50 spots go to the European Circuit's players, as the PGA Tour deems that there aren't enough of its own players in those tournaments to qualify Temporary Members for FedEx Cup points.
Is your head spinning yet? Bhatia's certainly was.
"My agent told me a couple hours after the [Barracuda] trophy presentation," Bhatia explained on SiriusXM. "I mean, I was just like, really shocked, because my caddie and I talked about going to play Barbasol and Barracuda, and with Special Temporary [status] obviously, you're just trying to win within these next four events to get into the playoffs. That's the whole goal.
"I was like, you know what, I told him [my caddie] I was going to play six in a row. Our goal is just to get one win, get in the playoffs, and then my schedule changes," he added.
For Bhatia to call his shot like this and then still find out it wasn't enough had to be soul-crushing. Of course, he can still fight his way inside the top 70 with good finishes this week at the 3M Open and next week at the Wyndham Championship. He's currently 96th in the FedEx Cup standings, having dropped four spots in the rankings after his win last week. For comparison's sake, Bhatia's $1,913,058 earned this season is more than Sam Stevens and Stephan Jaeger, both of whom are safely inside the top 70 as of this writing. A true "make it make sense" situation, as the kids would say.
"Given that it is so hard to get inside the top 70, especially what it means," he said. "You get into the top 50 and you're in all the elevated [events] next year, and that's huge for me as far as having my first full season. Playing against the best players in the world, playing bigger events.
"The fact that I finished top 10 and then I win and I'm not technically -- I'm not in the playoffs and I don't get the points, it is a little frustrating because you work so hard. It's not easy to win a PGA Tour event."
It's most certainly not, and normally when you do you'll hear things like "this is a life-changer!" and "this gets him into everything next season!" That couldn't be further from the truth in Bhatia's case, and you could imagine how frustrating that must have been. Should he go MC-MC this week and next, his season would be over.
The good news is Bhatia is a rising star who will likely end up being just fine, but in this sport nothing is guaranteed and it's necessary to cash in on a good run of form when you can. Bhatia not being able to do so because of some cockamamie rule is the latest proof that golf might be the cruelest professional sport going.