PGA Tour
Jay Monahan informs players PGA Tour will not abide by ball rollback; announces 'task force' for LIV Golf discipline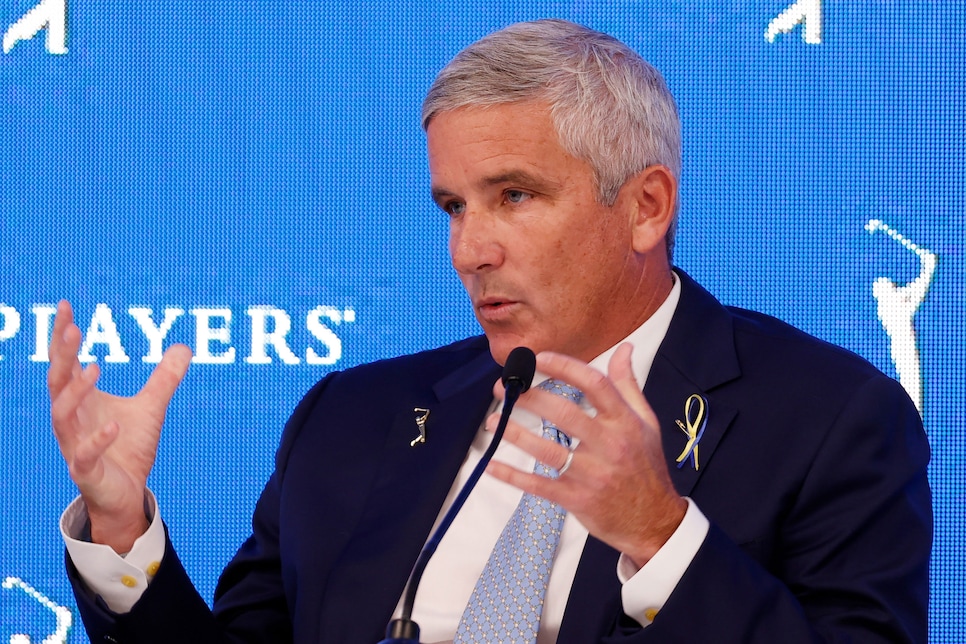 PGA Tour commissioner Jay Monahan sent a wide-ranging memo to players Wednesday, informing membership of updates on its work toward a partnership with Saudi Arabia's Public Investment Fund along with the tour's stance against the USGA's proposed rollback of the golf ball.
Monahan, who returned to his job last week following a health-related absence, announced initiatives on a "Player Benefit Program" to compensate players who remained with the tour and "Player Discipline" for LIV Golf members who seek to return to the tour.
"We have obtained player input that is helping to inform the potential structure, components and timeline," Monahan said about player compensation. "This program, should we reach a definitive agreement, will be financially significant in total and incremental to our planned compensation package."
As for potential discipline on LIV members should a deal with LIV come to pass, Monahan said a "task force" was being formed to decide what type of penalty players seeking to return would potentially face.
Monahan also announced that the PGA Tour would not abide by a modified local rule from the USGA and R&A that would curb increasing distance gains in the sport. Sources told Golf Digest at the Players Championship, just days before the USGA announced its proposal, that the tour was unlikely to go along with the proposal as currently constituted. However, Monahan did say he intends to collaborate with the governing bodies towards an eventual solution on the matter.
After news of the tour's stance on the rollback came out, the USGA issues this response: "We remain in a Notice & Comment period, accepting feedback from voices from across the game. The PGA Tour is an important stakeholder and we appreciate the feedback they have contributed to this conversation."
Monahan also stated the 2024 PGA Tour schedule will likely be released in two weeks at the tour's first playoff event in Memphis. Other notable items include the promotion of former tour player Jason Gore to an executive vice president and chief player officer position, and an update that the tour is looking for a new board member following the resignation of Randall Stephenson, who left the board in protest of the proposed deal with Saudi Arabia.
"I know this is a lot of information, but I hope you find it useful and exciting to track—and participate in—the strategic changes we are making to strengthen your organization for the future," Monahan wrote.