Monahan to return
Commissioner Jay Monahan announces return to PGA Tour following health scare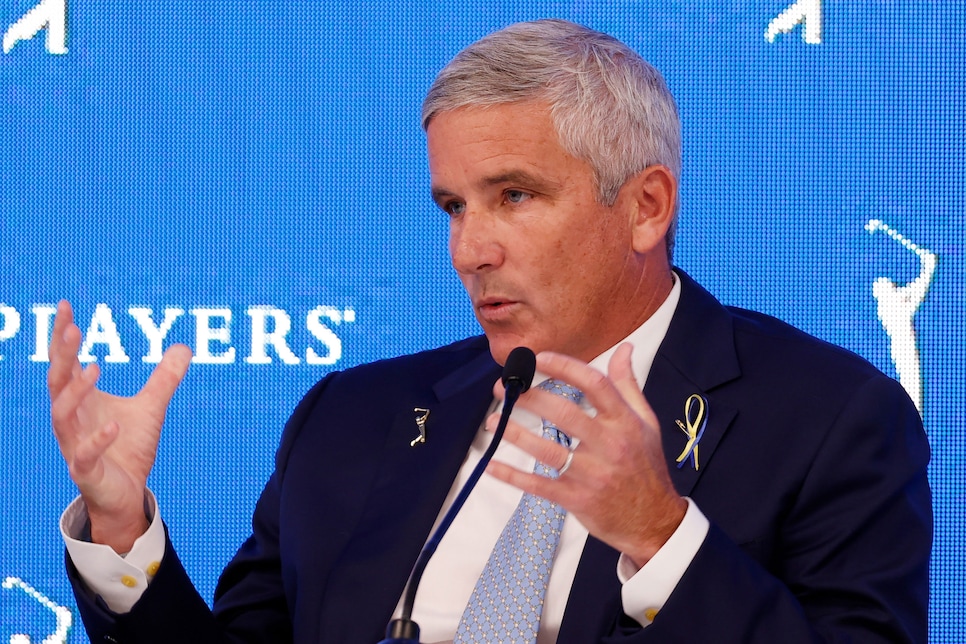 PGA Tour commissioner Jay Monahan announced to the tour board that he is returning to his role following a health-related absence.
On June 13, a week after the surprise announcement that the tour would be partnering with Saudi Arabia's Public Investment Fund, the tour announced that Monahan had suffered an undisclosed medical issue that required him to step away from his job, with no timetable listed for a possible return. But in a letter Friday Monahan wrote to his members that he will resume commissioner duties on July 17.
"I am deeply sorry that I haven't been able to be with you during this time," Monahan said. "The last two years have been grueling for us all. I experienced that toll personally in the days following the announcement of our framework agreement and encountered adverse impacts on my health. With the support of my family and thanks to world class medical care, my health has improved dramatically."
Monahan promised that he would continue to devote "every ounce of energy" to securing the tour amid continued discussions of where the league will ultimately go. "With the framework agreement with DP World Tour and PIF, we are on a path to accomplish this goal," Monahan said. "Should we be able to reach a definitive agreement, we can rest assured that the PGA Tour will continue to lead and shape the game for the future."
The announcement comes just days ahead of the PGA Tour's Congressional hearing on July 11 regarding its proposed partnership with Saudi Arabia. Monahan will not testify before the Senate, citing his health, with PGA Tour COO Ron Price and PGA Tour board member Jimmy Dunne representing the organization. Dunne, along with tour board member Ed Herlihy, facilitated the deal between the tour and Saudi Arabia, while Price is currently acting as co-commissioner in the absence of Monahan. LIV Golf's Greg Norman and PIF governor Yasir Al-Rumayyan passed on the invite to testify citing scheduling issues.
The deal between the PGA Tour and PIF could be reviewed by the Committee on Foreign Investment in the United States, which analyzes mergers regarding potential threats to the nation's security. Additionally, the tour continues to be under an antitrust probe by the U.S. Department of Justice, and PIF's investment into the tour is expected to fall under this investigation.
Monahan, 53, joined the tour in 2008 as executive director of the Players Championship. He moved over to an executive role with the tour in 2013, and took over as commissioner from Tim Finchem in 2017. Prior to becoming commissioner, Monahan was deputy to Finchem for two years and also served as chief operating officer.