Tour Life
Akshay Bhatia getting choked up thanking his girlfriend after his first PGA Tour win is the sweetest thing you'll see all week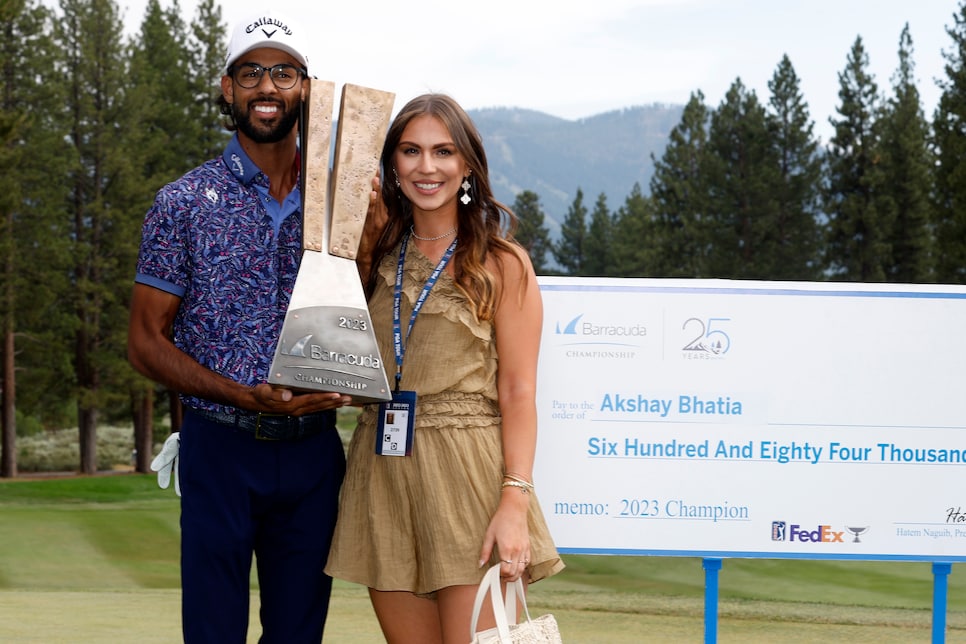 Akshay Bhatia was in a glass case of emotion following his first PGA Tour victory at the Barracuda Championship on Sunday. He may only be 21, but he's already been through a lifetime of ups and down since turning pro when he was still 17.
"I can't even talk," Bhatia told Golf Channel after. "I was telling my caddie, like your brain and everything, you can feel all this adrenaline, all this shakiness. It's pretty crazy."
Minutes later, he actually couldn't talk when asked about his girlfriend. That's because for the past two years Presleigh Schultz has been with Bhatia every step of the way—literally, in some cases as his caddie—since they slid into each others DMs ahead of the 2021 Valero Texas Open.
So it may be a modern tale of romance, but Bhatia offered some good old-fashioned feelings in his response. Have a look and listen:
Aww. That's great stuff right there. Well played, and well said, Akshay.
Presleigh wasn't on Bhatia's bag this week, but she was right there on the 18th green after Akshay defeated Patrick Rodgers in a playoff.
"Even if I question myself, she's always right there by my side," Bhatia said. "I can't wait to celebrate with her. We don't drink necessarily, but we might tonight, so . . ."
Go crazy, kids. Go crazy.