Be Right
Akshay Bhatia on his famous Instagram DM, money games with Phil and the time he ate In-N-Out three times in one day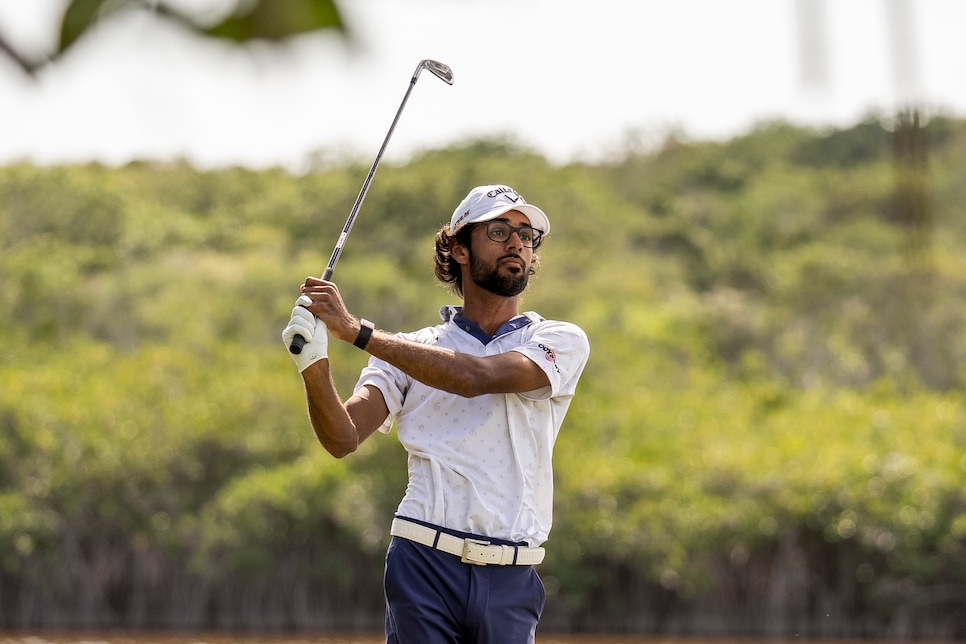 Akshay Bhatia's first Korn Ferry Tour victory was always going to be big news, but the fact it came with his new girlfriend on the bag, whom he direct-messaged on Instagram last April, made it the talk of Golf Twitter.
The story was so intriguing that Bhatia found himself on one of the most popular sports podcasts going right now - The Pat McAfee Show, which has over 320,000 listeners and consistently ranks among the top five sports podcasts in America. Lucky for us, Bhatia also carved out some time to be this week's guest on "Be Right" (on his 20th birthday, no less), where we talked everything from his famous Instagram DM to now-girlfriend Presleigh Schultz, to money games with fellow lefty Phil Mickelson, to the time he ate at In-N-Out Burger three times in one day after finishing in the top 10 on the PGA Tour for the first time.
Schultz, who knew nothing about golf prior to Bhatia reaching out to her, was part of what will be one of the more memorable weeks in Bhatia's life in the Bahamas. The lanky lefty carded a final-round 65 at The Bahamas Great Exuma Classic to claim his first KFT win, putting him one step closer to the PGA Tour. As he climbed the leader board down the stretch, Schultz had no idea he was closing in on a life-changing victory.
"I don't know if she did know," said Bhatia. "We only had like two or three scoreboards, one by the 11th and 12th holes, and then there wasn't another until 16.
"On 18, I told her, 'it's my time to win.' Everything was just going great for us that week. We got a comped room at a really nice resort at the golf course, her caddieing, we went to the beach - we did a lot of fun things. For it to lead up to that was just icing on the cake. But I told her, regardless if I finish first, second, third, fourth, whatever, if I hit this drive [on 18] in the water, it doesn't matter, because as long as I was playing the next week and I kind of locked up my [KFT] card for the whole year, I wasn't too worried about it."
The kid is wise beyond his years. Just before signing out of our Zoom call, which Bhatia did late Monday evening from Panama where this week's KFT event is being played, he said he was going to get a workout in. The grind never stops.
For our full conversation with Bhatia, plus this week's AT&T Pebble Beach Pro-Am picks, please have a listen below: