Fantasy Advice
AT&T Pebble Beach Pro-Am DFS picks 2022: Jordan Spieth's crossroads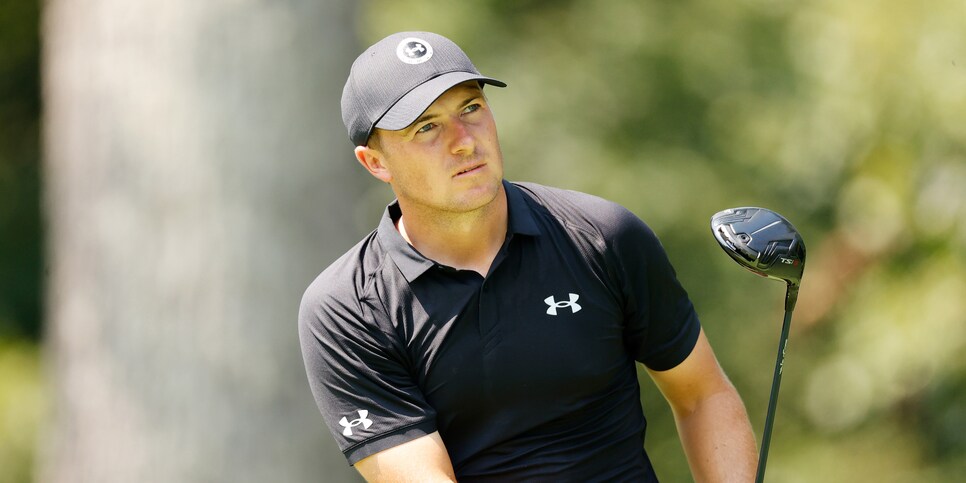 One of the PGA Tour's most famous events continues the California Swing this week at Pebble Beach. Dating back to Sam Snead's win in 1937, the Bing Crosby Pro-Am endures all these years later. Though it's not a favorite of many DFS golf fans—with a lack of Shotlink at the other courses in the three-course rotation, the long pro-am format and a lack of cameras over at the other courses—but to other PGA Tour fans, this is a great week.
Briefly on the format: There will be a 54-hole cut after all competitors have played the three courses—Pebble Beach Golf Links, Spyglass Hill and Monterey Peninsula Country Club's Shore course.
Historically, shorter hitters have been able to contend at this event since each course plays under 7,100 yards. Pebble Beach, specifically, often plays to "natural landing areas," which most golfers will play their second shots from. So while distance off the tee isn't a prerequisite for success, it'll definitely help on the approach shot, when longer hitters are hitting shorter clubs into the green.
One fascinating storyline this week is the course history versus current form of Jordan Spieth. He has a victory and four other top-10s—including the past two years—but he's playing some of the worst golf of his career right now. In fact, this is the worst seven-event stretch—looking at the strokes he has lost to the field—of his career (yes, even worse than his struggles back in 2020). Can the familiar confines of Pebble Beach reignite his game?
Here are my favorite plays and fades this week at the 2022 AT&T Pebble Beach Pro-Am.
Price range: $9,000 and above
High Upside: Patrick Cantlay ($11,200 DraftKings | $12,300 FanDuel)
The data shows that in the past 12 months, Jon Rahm has clearly been the best player in the world. It's also clear that in the same timeframe, Patrick Cantlay has been the second-best player in the world. Over the past 50 rounds, Cantlay is gaining 2.26 Weighted Strokes Gained (taking strength of field into account) per round—by far the best in this field per the RickRunGood.com golf database. Cantlay and Daniel Berger are the only two golfers gaining 1+ in the wSG category during that stretch, so they are truly in a class of their own. Cantlay has never missed the cut at this event, owns three top-11 finishes, including a T-3 last year.
Safest Option: Daniel Berger ($10,500 DraftKings | $11,900 FanDuel)
Berger is coming off a T-20 at Torrey Pines that was accomplished in "Classic Berger" fashion. He gained strokes in all four major categories. He was one of only five golfers inside the top 25 last week who accomplished that feat. His well-rounded skill-set gives him a high floor, and now he returns to Pebble Beach as the defending champion with three straight Top 10s at this event.
Most Likely To Disappoint: Jordan Spieth ($10,300 DraftKings | $11,500 FanDuel)
When Spieth tees off on Thursday morning, we will be 63 days away from the Masters. We are going to need to learn a lot about Spieth's game between now and then with Pebble Beach serving as a solid litmus test. After a scorching summer, Spieth has cooled off considerably. He's lost strokes to the field in six of his last seven events, and as I mentioned above, he has lost the most strokes to the field in those seven starts than any seven-event stretch in his career. He's losing a ton of strokes on approach, and he's having trouble keeping it on the planet with his driver. With historically great results at this event, it will truly be a battle of course history versus recent form.
Pick To Win: Cameron Tringale ($9,500 DraftKings | $11,200 FanDuel)
Tringale enters this week with three top-seven finishes in his past five starts, including a T-3 last week. He didn't blink in the final round, grouped with Jon Rahm, beating him by a stroke. Now Tringale enters with great form against a much weaker field, looking to notch his first career PGA Tour victory. It's time.
High Upside: Christiaan Bezuidenhout ($8,700 DraftKings | $10,500 FanDuel)
The missed cut in Houston for Bezuidenhout is his only missed cut, anywhere in the world, since November 2020. He's best known for his putting prowess, but he's actually gained strokes on approach in three straight events. We are seeing him get more comfortable with every PGA Tour start, and he can compete on nearly any course that he tees it up.
Safest Option: Mito Pereira ($8,300 DraftKings | $10,700 FanDuel)
In the 12 measured events since his promotion to the PGA Tour, Pereira has gained strokes on approach in nine of them. He's gained at least three strokes on five separate occasions, and he has made nine of his past 11 cuts. After a two-month layoff, he picked up right where he left off at Torrey Pines last week, gaining 3.53 strokes from tee-to-green, finishing T-25.
Most Likely To Disappoint: Mackenzie Hughes ($8,400 DraftKings | $10,300 FanDuel)
On paper, this should be a great tournament for Hughes seeing as he lacks distance off the tee but can lean into his short game. For whatever reason, that hasn't been the case. After his T-10 at this event in 2017, Hughes has failed to make the cut in three consecutive starts. There appears to be other options in this range more worthy of your consideration.
Pick To Win: Tom Hoge ($8,500 DraftKings | $9,700 FanDuel)
When Hoge plays well, he contends. He finished runner-up at The American Express and T-4 at the RSM Classic. Those are both within his past four starts. He is one of the better tee-to-green players in this range and finished 12th in this event last year.
High Upside: Min Woo Lee ($7,700 DraftKings | $10,000 FanDuel)
Min Woo Lee is the 51st-ranked player in the world, who primarily plays on the DP World Tour. He's been on an outstanding run of golf, earning four top-eight finishes in his past six starts. He's certainly no stranger to better fields—he won the Scottish Open last summer in a field that was twice as difficult as this field will be in California.
Safest Option: Brandon Harkins ($7,100 DraftKings | $8,700 FanDuel)
Harkins won on the Korn Ferry Tour last week, which usually creates a scramble and quick turnaround to get to the next event. However, that event finished on Wednesday, so Harkins has had plenty of time to re-focus, get to California and prepare for this week. It also helps that he's played this event twice, finishing T-15 and T-28.
Most Likely To Disappoint: Brandt Snedeker ($7,400 DraftKings | $9,300 FanDuel)
Snedeker has won this event twice (2013 and 2015), but his form in 2022 is nowhere near that peak Sneds form. He's lost strokes to the field in seven of his past 12 events, per the RickRunGood.com golf database. He's unreliable in the two major SG/ball-striking categories, and he has missed the cut in his past three trips to the AT&T Pebble Beach Pro-Am.
Pick To Win: Lucas Glover ($7,800 DraftKings | $9,400 FanDuel)
In this pricing tier, with a field this weak, it's difficult to find golfers with legitimate winning upside. Lucas Glover certainly has it—evidenced by his win at the John Deere Classic just 13 starts ago. He'll enter this week with three straight top-35 finishes, including a T-5 at the Sony Open. His ball-striking has routinely been excellent, and he's a better putter on Poa annua greens than other surfaces.
High Upside: Satoshi Kodaira ($6,900 DraftKings | $7,900 FanDuel)
Let's be real … this is a deep flier. But Kodaira is coming off a T-12 at the Sony Open in which he gained strokes across the board. Poa annua is the only putting surface where he gains strokes, and this is one of the few events each year that will allow him to contend with accuracy (not distance) off the tee.
Safest Option: Brian Gay ($6,400 DraftKings | $7,800 FanDuel)
Is Brian Gay safe? Maybe not. But we are in the tier where no one is safe. The setup at these three courses couldn't be better suited for Gay, who is in the shorter tier of PGA Tour players but is one of the best putters when he's hot. The 50-year-old has made the cut in eight straight trips to this event with top 10s in 2018 and 2019.
Most Likely To Disappoint: Lee Hodges ($6,900 DraftKings |$8,200 FanDuel)
Hodges had a T-3 at The American Express, where he was in the lead on Sunday. Everyone will remember that, see his name and plug him into lineups. But remember, that was his first top 25 in a non-opposite field event on the PGA Tour. He has lost strokes putting in all but one measured start this year, and he has been erratic with his ball-striking. It's a recent familiar name but not one with a whole ton of stats to back it up.
Pick To Win: Adam Svensson ($6,900 DraftKings | $8,000 FanDuel)
If there was a "watercooler" around the PGA Tour, they'd all be gossiping about Svensson. The raw talent is incredible—he just needs to refine all aspects of his game. He won on the Korn Ferry Tour late last year and has made three cuts in a row on the PGA Tour. When it all "clicks," he'll be dangerous.