Tour Life
British Open 2023: You couldn't guess how Brian Harman plans to celebrate his big win if you had a thousand tries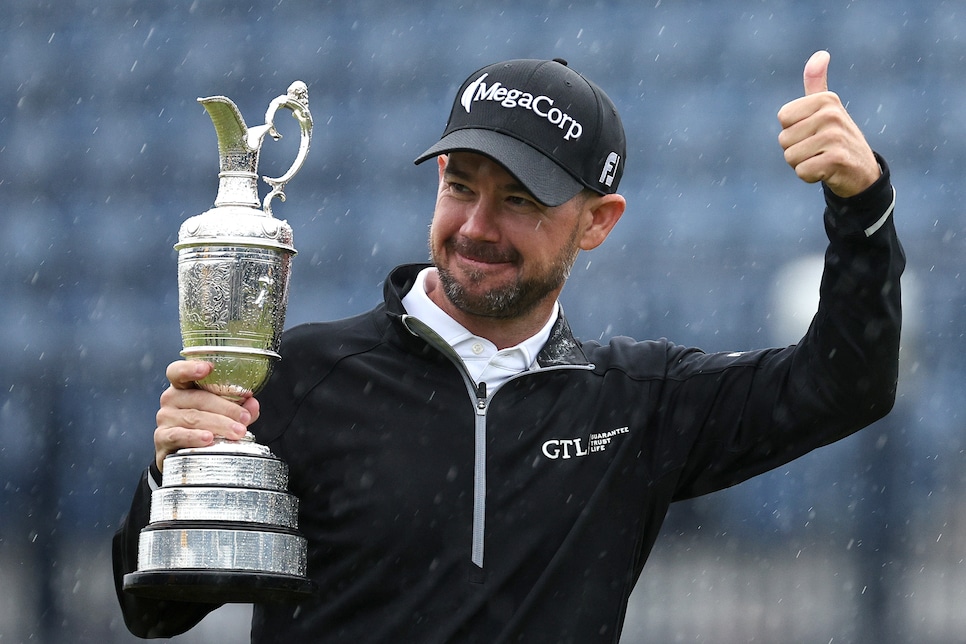 Of course, there will be a few beverages enjoyed from the claret jug on Sunday night. Brian Harman said as much during the trophy presentation following his dominant victory at the Open Championship. But how does the newly crowned Champion Golfer of the Year plan to treat himself when he gets back home to Georgia? We could give you literally a million guesses and you wouldn't get it.
Harman revealed how he plans to really get loose following his first major victory during his winning press conference. And let's just say we're pretty sure he's the first Open champ to gush about riding around in an orange . . . tractor? Yep, an orange tractor. Actually, Louis Oosthuizen has a thing for John Deeres, but this sounds like a whole other level.
We learned of this through a series of questions of one reporter, who began by asking about Harman's hunting hobby—something that didn't go over well in Great Britain throughout the week. It wound up producing this incredible exchange about Harman's new custom yard toy that he actually bought himself after another good finish a couple weeks ago.
Q. I'm just wondering if as a treat and with your passion for hunting over the past few days, whether there will be a hunting trip to celebrate, whether you'll go out? Or seeing as you've won quite a lot of money today, is there money for a new rifle?
HARMAN: I'm a bow hunter, no new rifles. I had a nice week a couple weeks ago and I bought a new tractor for my hunting place, so I'll get home and I'll be on the tractor mowing grass in the next few weeks, so I'm excited about that.
Q. So that's going to be the reward, you're going ride your tractor?
HARMAN: Yeah, I might take a whole day. Just put my phone away and go get on the tractor.
Q. Could you tell us a little bit more about your tractor, please?
HARMAN: I haven't seen it yet. It's on order. It's a 105 horse Kybota tractor and it's going to be a pretty one.
Q. How many acres will you mow?
HARMAN: Let's see, we've got about 25 acres of food plots that need, and, gosh, I don't know how many miles of roads, but I'd call it probably 40 acres total that needs to get mowed.
Q. I've never known an Open Champion to celebrate by mowing grass on a tractor --
HARMAN: I've got a lot of layers, man. I'm like an onion.
Q. Will that be the place where you just lose yourself and come back down to earth from this, your ultimate sort of chill-out?
HARMAN: My family is up at a lake house in upstate New York, so I'm going to get there tomorrow evening and I'll spend three days with them, and we'll do some fishing and I'll get to spend some good time family. So that's where I'll disappear, and take it from there.
There's so much to unpack here. An orange tractor. A "whole day" of mowing grass. "I'm like an onion." Who said this guy is boring? This is gold!
And we saved the funniest response for last. This dogged reporter asked one final question (seriously, he had to break a record for follow-ups) and it was a rather forthright one: "How much was the tractor?"
"Oh, gosh," Harman said with a big smile. "I don't know. Probably … I haven't told my wife how much I spent on it yet."
Well played, Brian. Although considering you got a finance degree from Georgia and you just won another $3 million, we don't think she would mind much. Anyway, go enjoy that tractor, champ. You earned it.