First Person
British Open 2023: Why Brian Harman hunts animals, in his own words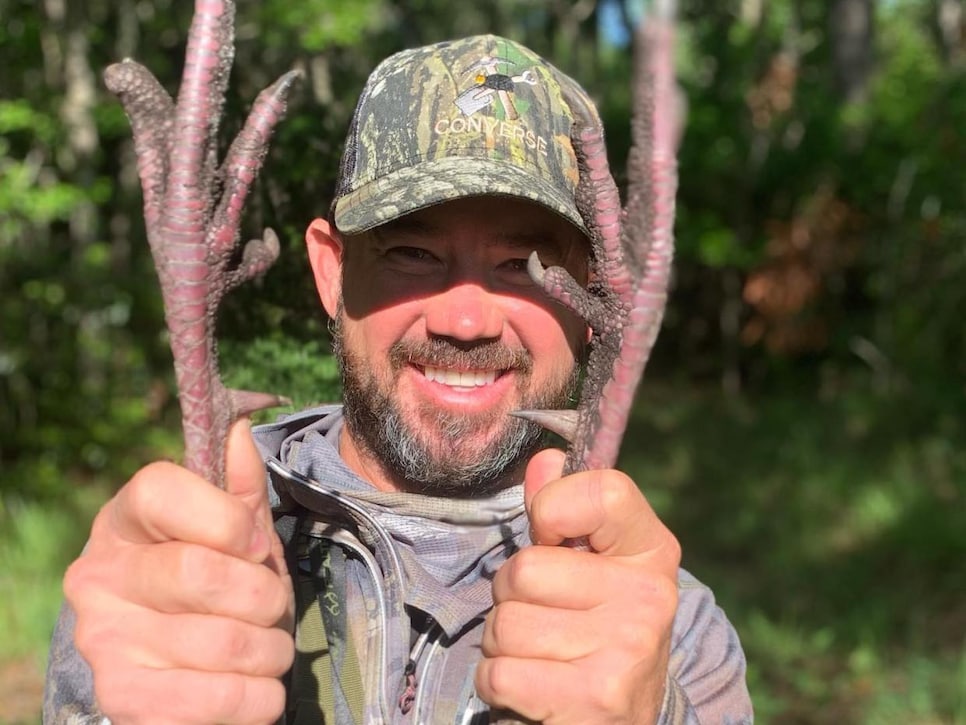 Author's note: During the Open Championship at Royal Liverpool, Brian Harman's hunting has been a topic of great interest—and some criticism—among media and fans, with a few tabloids christening him "The Butcher of Hoylake." In two long interviews with the author held in 2014, Harman spoke about how and why he hunts, and outlined the philosophy underlying what for him is less hobby than lifestyle. The interviews have been lightly edited for clarity.
I'm a big outdoorsman. I love hunting, my brother and I do a lot of turkey hunting. I love to deer hunt, I do a lot of bow hunting, we duck hunt. I killed the biggest deer of my life two years ago.
For me, I don't shoot deer that aren't mature. A deer's life is that they live about seven or eight years, so most deer die when they're 5 1/2 to 6 years old, so for me I'm trying to shoot a deer once he gets to four, once he gets to four and a half, I'll shoot him. A lot of people say it's cruel to kill an animal, but for me instead of depending on a grocery store—I enjoy eating meat—instead of depending on a grocery store, I go and I kill an animal that's been roaming free its entire life and is about to die anyway. And I butcher it myself, I take care of all the meat myself and then I eat it or I give it to someone to eat or I cook it for someone else to eat.
So for me, it's the ultimate respect for our position on the food chain, you know what I mean? And venison is so good for you. Let me find this, I've got a picture of the deer.
[At this point in the interview, Harman began to show pictures and videos from his phone.]
We love to deer hunt and duck hunt, so that's a picture of the deer I killed. He's an eight-pointer, he's a nice one. This was him. I hit him pretty good. So that's a picture of him beforehand, this is a week before. See that's him right there. I set the camera up, so I knew he was in there but I didn't know when he was going to show up, that was right before the McGladrey (now the RSM Classic) two years ago.
You have to hunt during the day, you can only hunt them 30 minutes before sunrise to 30 minutes after sunset, that's the rule. Those are the last two that I've killed. I love it, man.
So I'm really passionate about that kinda stuff, I like it from the start to finish. Some guys, someone just takes them out to a deer stand, says, 'shoot that one,' and boom. I like the preparation, I like the hunting, I like the killing, I like the butchering, I like it all. The other way is like slaughter almost. For me, if I'm going to end something's life, then it deserves for me to respect that animal enough to eat it, and if it's you eating it, you better be cooking it for somebody.
For me, I do it because I'm not so sure there's always going to be grocery stores, and I want to be able to appreciate how life was, what, 80 years ago? We're one generation removed from all living in the woods, you know what I mean? So I post a lot of pictures of the animals I harvest, and I get a lot of flack for it on Twitter and Instagram and things like that, but for me I'm like, we're a generation or two removed from having to chase down every meal you had, so it's like just something I feel we should always respect.
I mean, who knows? We're so lucky to live in this time. How lucky am I that I get to play golf for a living, you know? We're one big war or one big anything from all this going away, so for me it's about appreciating where you came from and just being happy to appreciate your spot in life. It could be a whole lot different.
Is it the British Open or the Open Championship? The name of the final men's major of the golf season is a subject of continued discussion. The event's official name, as explained in this op-ed by former R&A chairman Ian Pattinson, is the Open Championship. But since many United States golf fans continue to refer to it as the British Open, and search news around the event accordingly, Golf Digest continues to utilize both names in its coverage.
MORE FROM GOLF DIGEST @ THE BRITISH OPEN