British Open 2023
British Open 2023: Tommy Fleetwood opens with 66 after getting an earful from his caddie about being 'hometown' favorite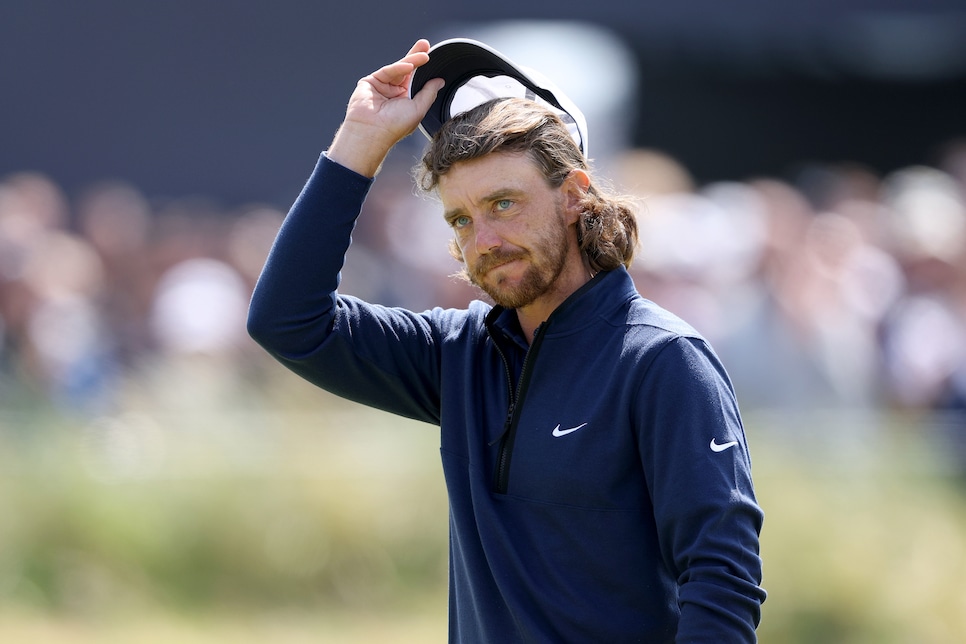 Tommy Fleetwood acknowledges the crowd on Day 1 of the 151st Open.
Warren Little
HOYLAKE, England — "Home favorite" has always been a label imbued with good and bad vibes. The biggest benefit is obvious: support from one's own people always carries with it a psychological boost. But there is a downside in the added pressure the recipient can feel in trying not to let anyone down.
So it has been in the run-up to this Open Championship at Royal Liverpool. Tommy Fleetwood may not be a native of the city that gave us the Beatles, but he's the next best thing. The 32-year-old hails from nearby Southport, a fact that has inevitably led to an increase in attention prior to the 151st playing of golf's oldest major.
Happily, Fleetwood got that aspect of this endlessly complex game right on Day 1. His five-under-par 66 was marked by an air of calm that augurs well for the 54 holes that lie between the World No. 21 and what would be a maiden major victory.
"The level of attention Tommy has been getting has actually helped as this event got closer," says his caddie, Ian Finnis. "Because there were so many people chasing him, he realized he can't be listening to everyone. So the focus shifted to his golf. Which meant he took control rather than listen to 500 different people. He's too polite at times. I say that as his mate, more than his caddie. Normally, he can't say 'no' enough. But coming in here he's just been doing his own thing. That's what I told him, 'For once, look after yourself. Be selfish at times. It doesn't make you a bad person.'
"He's been like that since the U.S. Open to be honest," continued Finnis. "It's no coincidence that he has started well here. That hasn't been happening for a while, especially at majors. That was another thing I told him, 'This is the week we start well.' He needs to hear that more. Everyone hides away from telling him that truth. Too many have been telling him, 'You're doing great' after he finishes in the top five. Which is why we had a chat about him being really ready to play this week. To that end, he's actually done less of everything."
Indeed, there is much evidence to back up Finnis' plain-spoken contention. Too often recently, Fleetwood has started somewhere between badly and slowly in major championships. Take last year's Open at St. Andrews, where he eventually pulled up in a tie for fourth place. But he did so after kicking off with a level-par round of 72. The three men who ended up ahead of him: Cam Smith, Cameron Young and Rory McIlroy shot 67, 64 and 66, respectively, on Day 1.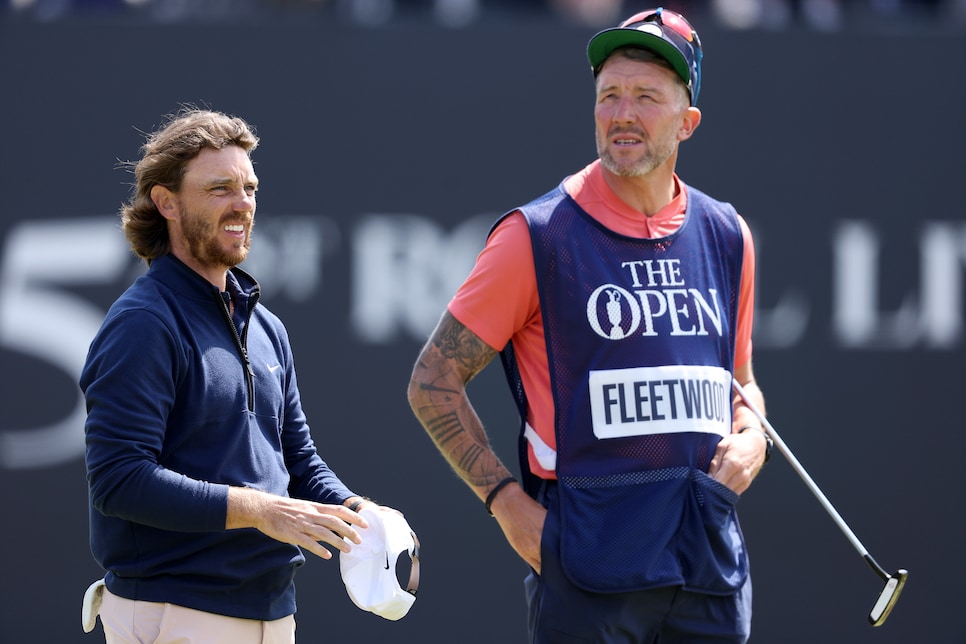 Tommy Fleetwood and caddie Ian Finnis.
Warren Little
Fleetwood was playing catch-up, something he actually did rather well. His aggregate of 202 over the next three rounds was one-shot worse than Smith, the eventual champion, but it was better than both Young and McIlroy.
"As first rounds go, that's absolutely the one you wanted," Fleetwood said of his six-birdie and one-bogey effort. "It is one my most enjoyable opening grounds ever, for sure. One of the things we've said this week is what an amazing time it is for us to be out on the golf course with that support, playing in an Open. It's very, very special."
All of which is not to say that Fleetwood has arrived on Merseyside short of form. "Bubbling under" might be an appropriate description of his recent play. A playoff loss at last month's Canadian Open was immediately followed by a T-5 finish in the U.S. Open at Los Angeles Country Club (where he started with a 73 and finished with a 63). And last week he was a solid T-6 in the Scottish Open won by Rory McIlroy.
So this is a change of pace. Quicker than has been the case over the past few months, he is off and running. Resounding and prolonged cheers from a crowd dominated by his 'own people' have helped too.
"You can easily put too much pressure on yourself," said Fleetwood. "You can easily try too hard. But just having that support and people egging you on, whether you've hit a good shot or a bad shot, good hole, bad hole. It just pushes you on. As I said at the start of the week, I'm very, very lucky to be able to play an Open so close to home. It's an amazing opportunity and an amazing thing to have the chance to do. All I want to do now is keep working hard, keep playing, and keep putting myself in position. Hopefully it'll be my turn to win soon."
No time like the present. And no place like home to get it done.