No doubt
British Open 2023: Stewart Cink, 50, in contention early with 'no doubts that I can win this'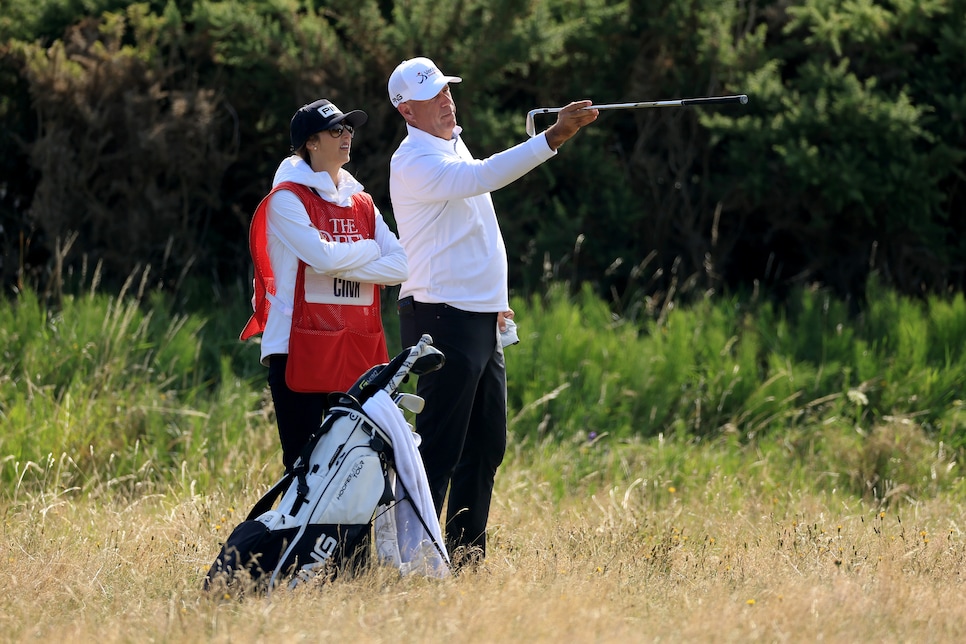 HOYLAKE, England — That Stewart Cink should begin his 24th appearance in the Open Championship at Royal Liverpool with a bogey-free three-under 68 is not so surprising. No one has ever had a closer view of what a 50-something man needs to do to win golf's oldest major than the 2009 champion at Turnberry. It was there that a 36-year-old Cink killed off what could and would have been the story of the century by beating then 59-year-old Tom Watson in a four-hole play-off.
So it was no surprise to hear Cink, now 50 himself, declare that yes, he does think he can claim a second claret jug come Sunday.
"Even now I'm still way younger than Tom was then," he said with a smile. "I just have to look back a few years to Phil Mickelson winning the PGA. I think that was probably a more difficult course than this. I draw from that. Absolutely. Watching Phil win didn't really surprise anybody. He's been so good for so long. Plus, I have wins recently and I'm not that different of a golfer than I was then. I have no doubts that I can win this. It's going to take a lot. It's going to take some really, really exceptional play on my behalf, but it's in there."
Indeed, Cink's play on Day 1 of this 151st Open was encouraging enough to forgive his mind wandering forward three days. Three birdies dotted his blemish-free card, the result of some classic links play, even if he strangely claimed that the Hoylake links "doesn't fit my game."
Only once, on the par-5 18th, was Cink forced to play from a bunker. As ever, that is a key to scoring well on any Open venue.
"The more you hit into these bunkers you're going to end up getting hosed big time," said Cink. "I was in one today but I was in the dead center of it. So I had no lip issues really. But in my group we had some backwards and sideways shots out of bunkers. Eventually it'll catch up with you. You don't want to be in these bunkers. They're so flat. The bottoms of them are so flat that if a ball comes in with any momentum, it's just going right up to the lip. There's not a little upslope that helps you at all. They are very penal."
From there, it was on to the subject of winning, one of Cink's favorite topics, which is fair enough, the Georgian has eight victories on the PGA Tour, the most recent the 2021 RBC Heritage. So, as he said, he remembers how to get the job done.
"The key to winning out here is knowing you're not going to wrestle the bull to the ground very often," Cink explained. "You just need to get yourself in position enough times where the winning happens. Sometimes it happens; sometimes it doesn't. It doesn't matter who you are. The greatest thing about Tiger was he put himself in position to win a whole lot of times, and it happened for him a lot of times.
"I want to get myself in the mix to have a chance to win on the last round, last nine holes," he continued. "The key is to stick with the attitude and the game plan that you bring to the course on Thursday. At my age it's hard to avoid hitting the wall. In my late 40s and now 50, I get fatigued. I don't mean physically tired, just mentally drained. So I try to offload everything before rounds If I have something that I've got to take care of, I do it the night before. I feel like I can make decisions for only a finite amount of time."
A big help in the psychological department is Cink's caddie, his wife Lisa. She may not know how to "decide between a 4-iron and a 5-iron," but she makes up for any lack of golfing nous by acting as her husband's "on-course therapist."
"The psychology of golf and the mentality and the emotional ebbs and flows are to me a huge part of the game," said Cink. "It's something I really enjoy learning about myself and monitoring. She knows all that about me and is really good about keeping my heart and head in the game. When things start to get off the rails a little bit, she's there. She's really good about keeping me where I need to be to be my best out there on the course."
At least for one round then, it was a car of "job done" for both Cinks.
Is it the British Open or the Open Championship? The name of the final men's major of the golf season is a subject of continued discussion. The event's official name, as explained in this op-ed by former R&A chairman Ian Pattinson, is the Open Championship. But since many United States golf fans continue to refer to it as the British Open, and search news around the event accordingly, Golf Digest continues to utilizes both names in its coverage.