The Complain Train
British Open 2023: Golf Twitter loses its collective mind over NBC not showing Rickie Fowler's disastrous final hole live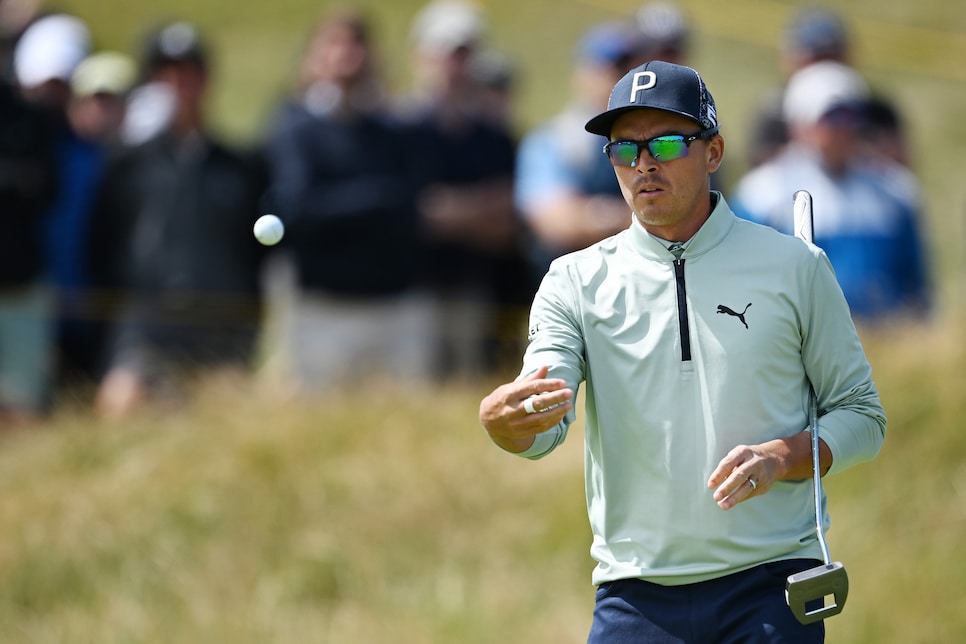 We're not going to sit here behind a computer screen and claim that producing a golf broadcast is an easy task. There's so much more that goes into it than any of us could possibly know, and it's so easy to fire off tweets crapping on TV network from our couches.
That being said, there are certain moments that are such layups to show LIVE that all you can do is scratch your head when they aren't shown LIVE. Of course, Golf Twitter's version of "scratching your head" is breaking out the torches and pitchforks and asking for NBC to be burnt to the ground. Case in point, the Rickie Fowler situation on the par-5 18th hole at Royal Liverpool on Thursday.
After making birdie at the already-infamous par-3 17th, Fowler found the 18th fairway and appeared on track to make another birdie, potentially even an eagle. This would seemingly be a good time to cut to Fowler live, but NBC decided to show a few of the marquee groups teeing off in the afternoon instead, groups that included Rory McIlroy and Jon Rahm. Completely fair.
But that's when disaster struck for Fowler, who hit two consecutive shots out-of-bounds thanks to the internal out-of-bounds on 18 at Hoylake this week and went on to make a triple-bogey 8. Because it wasn't being shown live, however, fans were left wondering how on earth this happened, and the Open Championship's shot tracker wasn't exactly helping matters:
Knowing what we know now, this was the pertinent information, but without seeing it it was impossible to know how or where Fowler went out of bounds. For a solid 15-20 minutes, the broadcast ignored it entirely.
You can imagine how social media reacted to that. Or we can just show you how they did:
NBC eventually did get around to showing it long after it actually happened, with Fowler missing two shots well to the right of the green and finding the internal out-of-bounds. That led to a disastrous triple-bogey 8 that saw his two under round turn into a one-over 72. Unfortunately, there is still no video of it on social media, which is par for the course, no pun intended.
UPDATED: An NBC spokesperson noted that like many other major international sporting events (i.e. the World Cup, the Olympics), the broadcast utilizes the world feed and supplements with its own coverage, meaning NBC does not have unilateral control to always follow players, especially on Thursday and Friday when there are 156 players on the course. This would explain why the broadcast wasn't able to get to the Fowler debacle until well after it happened live.