Royal Liverpool
British Open 2023: Max Homa, after a painful U.S. Open, just shot the lowest round of his major career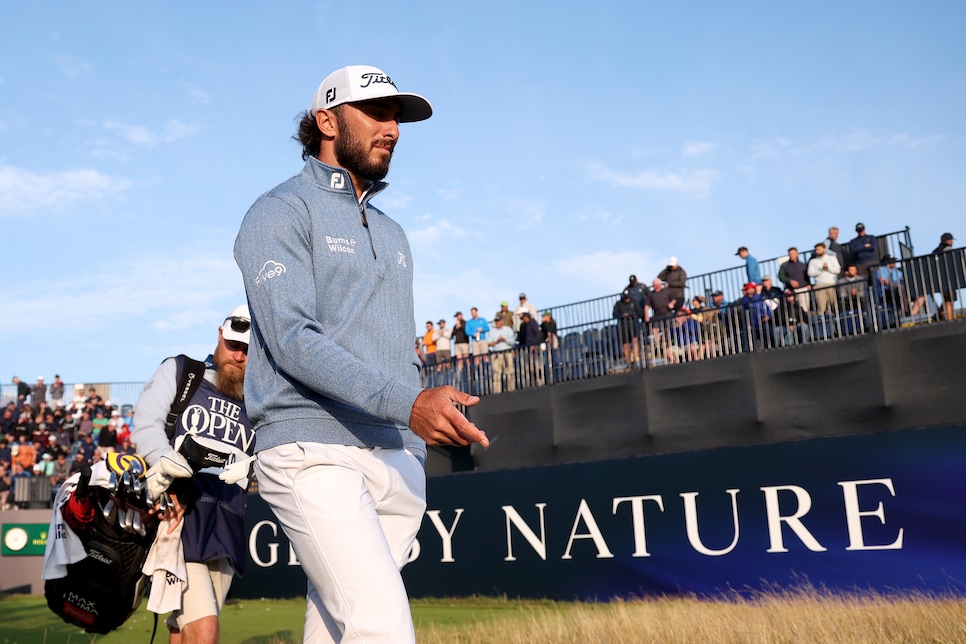 HOYLAKE, ENGLAND — "Got your thought?"
That brief exchange, between Joe Greiner and Max Homa on the 16th hole, preceded what might have been the biggest shot of Homa's round. Heading into the 15th green, Homa stood at 3 under, and had a four-foot putt to reach 4 under, which would have been one shot off the lead.
That putt rattled out, and moments later, rattled on the 16th tee, he hit what Greiner called his "first real bad shot he hit all day," a pulled drive to the left. They found the ball in an area trampled down by fans, with a fortunate lie, but he still had a 4-iron left. Make bogey, and his tremendous round to that point would have taken a major hit, and what could have been 4 under would be 2 under with two tricky holes left and...well, you can start to see how a spiral might develop.
The problem was accentuated by Homa's rough record in majors. He's one of the most open players in the game, which means he doesn't shy away from that part of his resume – "everybody knows my major record sucks," he said.
"I missed a short one on 15," he said, "which is always funny because I played so well and made so many good putts, and you miss one and it almost jars you, and that 16th tee shot is pretty awkward. Every club we have basically will go in a bunker."
"I think he felt pretty comfortable once he was over it," Greiner added. "I know when he's feeling good I don't have to say much."
With all that in mind, Homa stepped up and laced his approach to 30 feet, then made a comfortable par.
"I reminded myself that I've hit a lot of good shots and then I just striped a 4-iron," he said. "I was just really proud of that one because I felt like I didn't kind of judge what I had done off the tee...as you start to maybe make one kind of hiccup, you don't want that to spiral, especially with how great that round was."
With the Welsh hills in the background framing the 17th green, Homa played the controversial hole conservatively to make par and despite a glacial pace on 18 as players in front of him struggled with the pot bunkers, he made a comfortable par there too as the sun set past the grandstand. (The only oddity on 18 came as he was stood over his second shot, and had a surreal moment when he heard the announcers from the big screen saying that he had taken too much club...which, he said after, was the point, adding that he hoped they would turn the volume down for Friday.)
All told, it was a 3-under 68, a T-7 finish, and to par the best round he's ever played in a major. By raw numbers, it matched the 68 he shot at L.A. Country Club in the first round of the U.S. Open, which he followed up with a 76 to miss the cut. The similarities weren't lost on him afterward, and again he spoke frankly on how majors bring out the worst in him.
"The U.S. Open hurt me a lot," he said. "I played awesome. Had a three-hole stretch that was bad, and it just didn't feel like I deserved to miss that cut. Then I went to the next week in Connecticut and missed that one by one and played fine. It's just one of those feels like I'm gripping the wheel real tight...I think I'm not myself when I play them."
As Homa has accomplished more and more in his career, winning multiple events and rising up the world rankings, his next mission is to translate the free feeling from the PGA Tour into these big events. As part of the process, he wrote the three letters "NFG" on his glove. You can imagine what that stands for—"no" and "given" are almost certainly the first and third words—and if you can't, he elaborated on Thursday.
"It's just kind of a mantra," he said. "It has a bad word in it, so I won't tell you what it is. It's just something I started doing in Detroit. Just stop caring so much and let myself just be myself."
It's hard not to see that and think about the old golf axiom "you have to practice like it's your everything, and play like you don't care." Homa clearly has the first part down, and is geared now toward solving the second.
The cold air rolled in as he finished his round just past 8:30 p.m., and a quiet settled over Royal Liverpool. It seemed to match Homa's demeanor; despite his great honesty and sense of humor, there's a stillness to his bearing on the course when he's in the thick of battle with Greiner, and that stillness even translates to the way he walks, with little movement of the upper body, like a ship coasting on the water. Beneath the surface, though, the brain is churning, and his main obstacle now is ensuring that it doesn't churn more than normal at the four biggest events of the year. He made a huge stride in that department Thursday, and never was that more evident than the moment on 16 when it could have unraveled. He was equal to the moment, and though he obviously cares a great deal about improving his major record, he achieved an important mental state when it counted: No you-know-whats given.