PGA Tour/LIV Golf
Can a PGA Tour loyalist be 'thankful' for LIV Golf? Jon Rahm says yes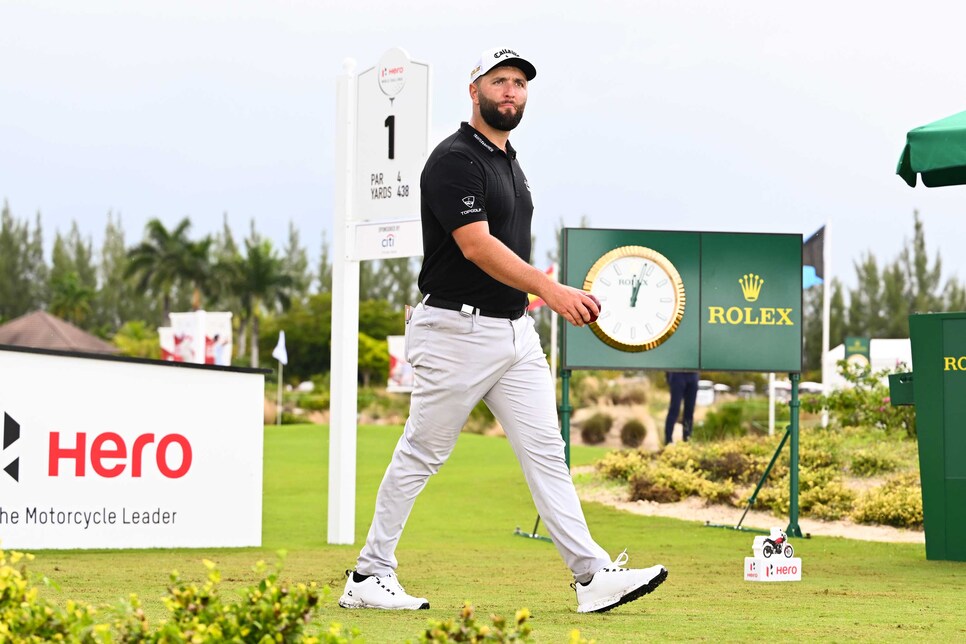 NASSAU, Bahamas — One of the more outspoken stalwarts in support of the PGA Tour, Jon Rahm nevertheless has to admit that recent changes to golf's top circuit, including increases in prize money and the Player Impact Program bonus fund, likely would not have come about if not for the fledgling LIV Golf Series that launched in June.
Controversially backed by Saudi Arabia's Public Investment Fund, LIV lured a number of well-known players away from the tour with estimated nine-figure signing bonuses and $25 million purses in 54-hole events. Dustin Johnson, Phil Mickelson, Brooks Koepka and reigning Open champion Cam Smith are among the defectors from the tour. In response, the PGA Tour has created a series of "elevated" events, most offering purses of $20 million.
"I think on this side of things, we should be thankful that LIV happened," Rahm said on Wednesday ahead of the start of the Hero World Challenge, the $3.5 million, 20-man event that he won at Albany in 2018. "I don't know if those changes would have happened if LIV wasn't in the picture. So to an extent, yeah, we should be thankful."
One wrinkle to the creation of the elevated events is the requirement that the game's top players compete in all of those designated tournaments as a prerequisite for eligibility in the $100 million PIP bonus pool. As a member of the DP World Tour as well as the PGA Tour, Rahm, like Rory McIlroy, Shane Lowry, Viktor Hovland and other top European players, faces challenges in putting together a schedule that allows him to compete at his best.
Rahm, 28, said his schedule is virtually set for 2023, and it will mostly resemble his schedule from last season. If he were to miss one of the elite tournaments (the PGA Tour approved players passing on one event) it might be the Wells Fargo Championship at Quail Hollow Club in early May. Rahm plans to defend his title at the Mexico Open at Vidanta the week prior and then will be gearing up for the PGA Championship and U.S. Open while also attending the Memorial in between in June, a tournament he won in 2020.
He averred that he is not driven by money--not even at the start of his pro career in 2016. "I don't let financial reasons … golf-wise at least, I don't let it make my decisions," Rahm explained. "Every decision I make when it comes to golf is to become the best player I can become."
Nevertheless, he knows a good deal when he sees it and intends to check all the boxes, competition-wise, in 2023.
"I want to play against the best players in the world, right?" he said, "Listen, I'm saying I'm not playing for money. I'm also not stupid, OK? If I've earned it, and all I have to do is play maybe two or three events I haven't played before for $20 million, yeah, I might make the effort and do it. It's an added motivation, but I'm not going to be giving away millions of dollars just because I don't want to play one or two events. It doesn't really change my schedule that much. If it was a massive change to where … it would be a big change in my career or my year, yeah, but it really isn't."