Tiger Watch
Jon Rahm can't believe Tiger Woods was put on the clock at the Masters—or how well he handled it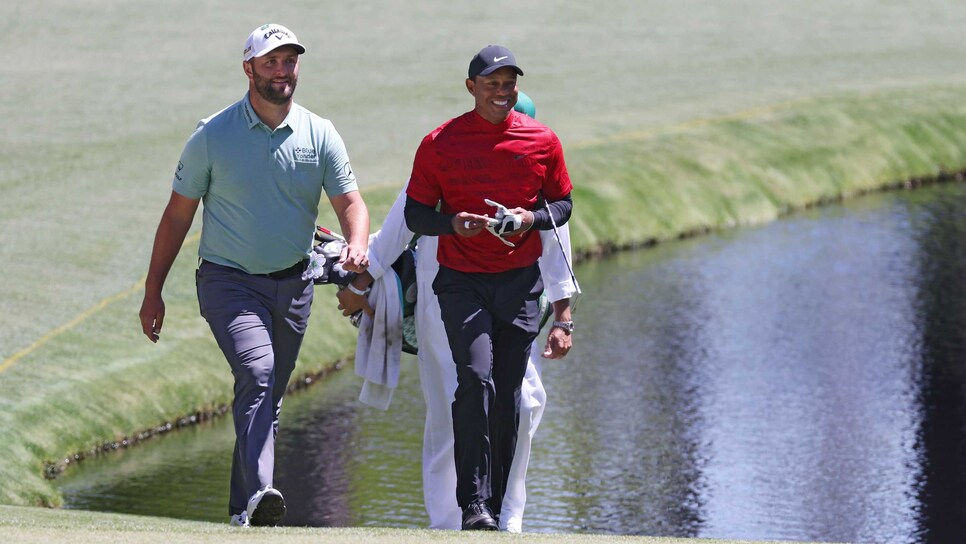 Jon Rahm and Tiger Woods walk to the 16th green during the final round of the 2022 Masters.
Gregory Shamus
NASSAU, Bahamas — Hobbled severely by his surgically repaired right leg and in obvious discomfort after nearly a week walking the arduous terrain at Augusta National Golf Club in his comeback to competitive golf after his February 2021 car accident, Tiger Woods was just trying to get through the final round of the Masters.
Jon Rahm, paired with Woods that Sunday in the fifth group, remembers how "inspiring" it was to play with the five-time Masters champion. He also remembers with lingering incredulity that the twosome was put on the clock for slow play on the par-4 seventh hole.
"We all looked at the official, like, 'He can't walk any faster, let's be honest,'" Rahm recalled on Wednesday at Albany, where the Spaniard will play in the Hero World Challenge, the 20-man event that Woods has hosted annually since 2000. "Like, he was already doing an amazing job trying to move up and down those hills."
The Masters was just one of three events in which Woods competed this year along with the PGA Championship in May and the Open Championship in July. Woods made the cut in the first two—an astounding effort after how severely he was injured in the accident. The 15-time major winner intended to compete this week at the Hero but had to withdraw on Monday because of a foot injury. Sepp Straka, No. 29 in the world, replaced him.
Ranked No. 5 in the world and coming off a victory in the DP World Championship, Rahm couldn't hide his disgust recalling the incident at Augusta, where Woods, occasionally using a club as a walking stick to help advance himself up and down slopes, gutted out a final-round six-over 78 and ended up in 47th place.
"We all joked around with the official, and then when he turned around, Tiger takes off," the 28-year-old Spaniard said, "and I'm looking at my caddie, like, well, this is incredible."
So was the aftermath, where Rahm signed for a 69 to finish T-27.
"We saw the reality afterwards that the cameras don't see," he said. "He puts on a bit of a show for the camera, like, he's not going to show how much he's really hurting. But when we finished scoring, just seeing him stand up and move around that room when there's nobody watching, there was a difference. Especially after playing 18 holes and after sitting down when your legs cool off a little bit, it changes.
"It's really inspiring. How many surgeries has he had where he was written off? He was done, he's not playing again, [and then] he's not only come back and won tournaments, right? It seems right now that we might be reaching that point, but I don't put anything past him. He surprised me before, and he surprised a lot of people before."
And he'd like to be surprised again.
"I'm hoping that he can keep playing, he can contend again, especially major championships," said Rahm, who won the Hero at Albany in 2018. "That Sunday's going to be a fun one to remember. Maybe because of my comments in the past, he was a lot more talkative in that round. I don't know if he was just trying to prove a point to me or not, but he was a little bit more talkative, and he shared a lot of great stories, a lot of personal stories. I asked a little bit about golf and parenting, and he was very … open about it and very respectful. It was great. It will be a round I remember for a long time."