The Grind
John Daly's disastrous finish, Phil Mickelson's latest beer commercial, and an embarrassing social media mix-up
Welcome to another edition of The Grind, where we hate to inform you that your favorite golfer (or athlete) has probably never touched their own Twitter feed (unless you count Kevin Durant's burners). This has never been more clear than following Sam Burns' first PGA Tour win, which was celebrated with a big shout-out to his sponsors by. . . Bryson DeChambeau?
As someone who has simultaneously handled a couple Twitter accounts, been there, done that. But, thankfully, never with this much at stake. Remember, it's PLAYER IMPACT PROGRAM szn, y'all! Then again, if this was actually done on purpose, well, then Sam Burns' social media manager is playing 3-D chess. In any event, here's what else has us talking this week.
Sam Burns: What a week for this young man, not that golf fans (and gamblers) didn't see this coming. After all, Burns has now led or co-led after nine rounds this season, the most on the PGA Tour. But that maiden tour win had proven elusive until getting the job done on Sunday at the Valspar Championship. Making it even more special? Burns was joined by his wife and parents on the 18th green: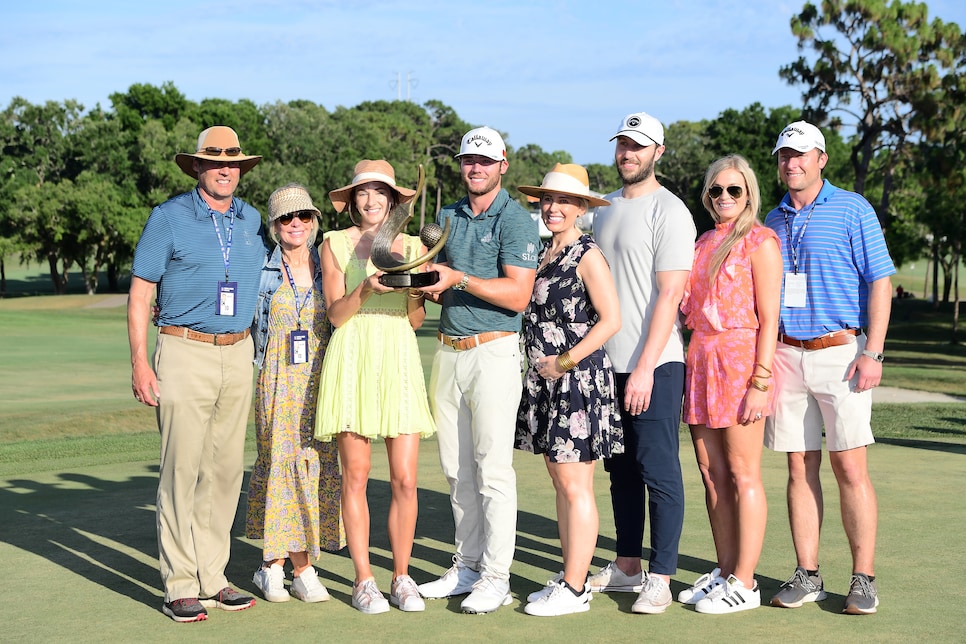 Aww. And boy, do those parents deserve to be there. Turns out, Burns negotiated a backyard putting green out of them when he was in eighth grade by promising to play one more year of football. And about a decade later, he's one of the best putters on the planet. So that home improvement was definitely worth it and Burns certainly made the right choice in terms of sports. I just wish he had picked a week to win when I put a few bucks on him.
Mike Weir: Burns was still in elementary school the last time this guy won anywhere. Good for Weir for hanging tough through slumps and injuries to make it to that promised land known as the PGA Tour Champions. And the 50-year-old lefty picked up his first victory on the senior circuit at the Insperity Invitational, plus got a nice shout-out from his girlfriend, Michelle Money, a former contestant on "The Bachelor":
Yes, Mike Weir is dating a former Bachelor contestant. We've been through this. Many times. Keep up, people. It's just too bad for him that wasn't the case when he was on the PGA Tour. That would have helped his PIP score a lot.
Cameron Tringale: He didn't win, but he picked up a nice check. You may as well engrave that on Tringale's tombstone after a T-3 at Innisbrook earned him a check for $407,000. In fact, Tringale is now No. 1 in PGA Tour career earnings. . . among those who have never won on the PGA Tour.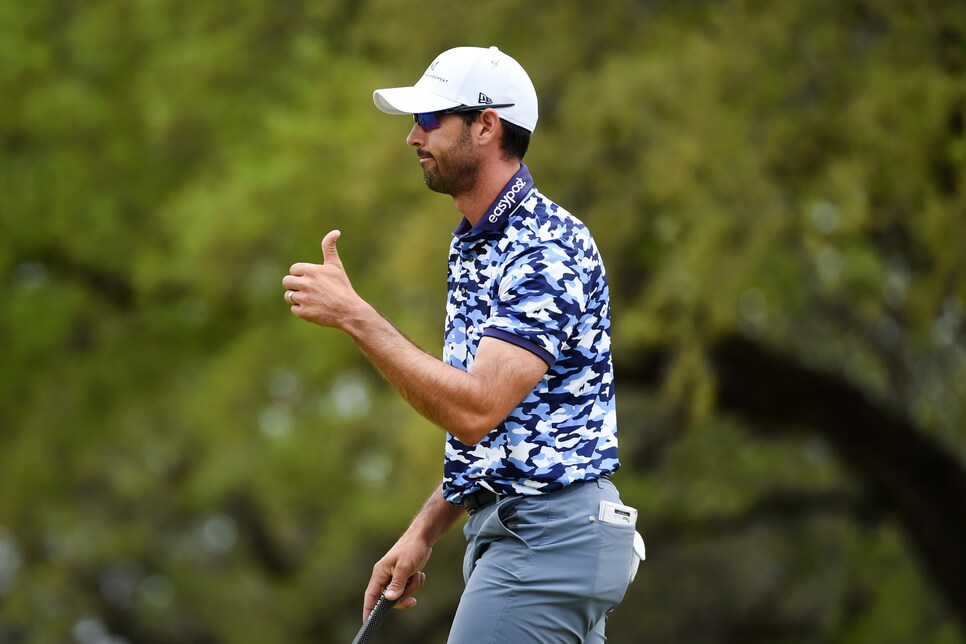 Hey, you'd be smiling too if you've won nearly $14 million on the PGA Tour. Even if your trophy case is empty.
John Daly's finish: First of all, it's great to see Daly healthy and playing well—even if he looks like he's auditioning for a gig as a department store Santa Claus. That beard is big enough to be considered a penalty area, but we're here to talk about another hazard. Daly was tied for the lead on the 18th hole on Sunday at the Insperity Invitational when he dumped his approach in the water. Ouch.
As you can see, Daly thought he hit a great shot—and he reiterated that after. If so—same with Xander Schauffele on 16 at the Masters—that was quite a mis-club. Anyway, between Weir and Daly, it was just another big week on the PGA Tour Champions.
Rickie Fowler's special exemption: I'm not going crazy over this, and I certainly don't fault him for taking it, but it just doesn't seem right that Rickie received one. Especially since all he has to do, as a member of the 2018 Ryder Cup team, is be ranked inside the top 100 in the world to earn a spot. And he hasn't exactly been playing every week to try to improve on his current position of No. 116. Plus, doesn't this guy get enough of a bonus with the Player Impact Program? Just saying.
Hitting a ball from a water hazard: Because of situations like this:
Seriously, unless you're Bill Haas with $10 million on the line, what are you doing?
The PGA Tour heads to Charlotte for the Wells Fargo Championship at Quail Hollow, AKA that place where Rory McIlroy has been so dominant, he has a bald eagle named after him. True story. Also a true story? Rory has fallen to 15th in the Official World Golf Ranking–his worst position in a dozen years, or before he even won his first PGA Tour title at this event in 2010. Maybe reuniting with his eagle with pull him out of this latest slump.
Random tournament fact: Speaking of the OWGR, Will Zalatoris is up to No. 28, but he still needed another sponsor exemption this week based on the fact he's still only a special temporary member of the PGA Tour. Seriously, people, what are we doing here? Just make him a full-time member already. He'll probably pass Rory in the ranking this week!
RANDOM PROP BETS OF THE WEEK
—I would have made the PGA Tour with a backyard putting green: 1 MILLION-to-1 odds
—Cameron Tringale will win this week: 35-to-1 (actual odds)
—Cameron Tringale will be happy with another check for $400K: LOCK
So four senior tour golfers walk into an IHOP. . . that's not the setup to a joke, but an actual thing that happened:
What a photo. And yep, that's Ernie Els, Bernhard Langer, Retief Goosen and Gene Sauers. Although you may not have recognized Goosen because he was smiling. But who wouldn't be smiling when you're about to sit down to a pile of fluffy pancakes, am I right?
VIRAL VIDEO OF THE WEEK (HOLY S#*! DIVISION)
We love European Tour shenanigans and Marcus "The Bullet" Armitage as much as anyone. But combine the two and the result is magical. Here's Armitage and a stunt driver successfully attempting to break the Guiness Book of World Records mark for longest golf shot ever hit into a moving car (seriously, who thinks of these things?):
Incredible—especially when Armitage loses his shirt celebrating. Of course, the craziest part is this duo pulled off the trick twice because the first one wasn't long enough. But 303 yards did the trick. Damn, these guys are good. And that stunt driver wasn't too shabby, either.
VIRAL VIDEO OF THE WEEK (WTF?! DIVISION)
And then there was. . . this. . .
To be fair, not everyone grows up with a backyard putting green like Sam Burns.
THIS WEEK IN PUBLIC DISPLAYS OF AFFECTION
Brooks Koepka and Jena Sims celebrated Brooks' 31st birthday:
Also, we found out that Robert MacIntyre is so beloved in Scotland that someone wrote him a theme song:
Pretty catchy! And thanks to Google, I've learned "Craic" means a good time. The more you know.
THIS WEEK IN PHIL BEING PHIL
Another week, another beer commercial. This time, Phil teaches us how to do a proper, simple cheers:
He's not quite Peyton Manning, but Mickelson is moving up the list of great athletes with great comedic timing.
"Yeah, they're all in a box in my office. We're kind of in between houses, so I didn't unpack anything, even though I've been there for like three years, but just never unpacked any of them. They're all sitting together in boxes. I've got a few of them out." —Dustin Johnson on his trophies. Just DJ perfectly being DJ. In the immortal words of Dan Hicks: "Expect anything different?!"
Congrats to Hyo Joo Kim on capturing the HSBC Women's World Championship to end a five-year winless drought. Yep, it's comeback szn on the LPGA Tour as well. . . . Congrats to Westchester club pro Frank Bensel for winning the PGA Club Pro Championship and earning a spot in the PGA Championship at Kiawah later this month. Yes, I realize Omar Uresti actually won, but Bensel finished first among those who are actually club pros. . . . Congrats to 6-foot-8 Jordan Hahn for becoming the tallest recorded player in PGA Tour history. But he's also now the tallest player to miss the cut in PGA Tour history. . . . And finally, shout-out to co-workers Stephen Hennessey and Derek Duncan (and a bunch of other people who worked tirelessly on this mammoth project) for the Golf Digest's latest list of America's 100 Greatest Golf Courses. The ranking and what makes a golf course "great" is also the subject of our latest Local Knowledge podcast so please check it out:
And like I say in the pod, please direct any complaints to Steve and Derek. Thanks. And sorry, guys.
RANDOM QUESTIONS TO PONDER
Who will be the next golfer to have a theme song?
Who is ahead in the Player Impact Program standings?
Who will hire someone to make a theme song to improve their PIP standing?