PGA of America
Omar Uresti, golf's most controversial 'club pro,' just qualified again for the PGA Championship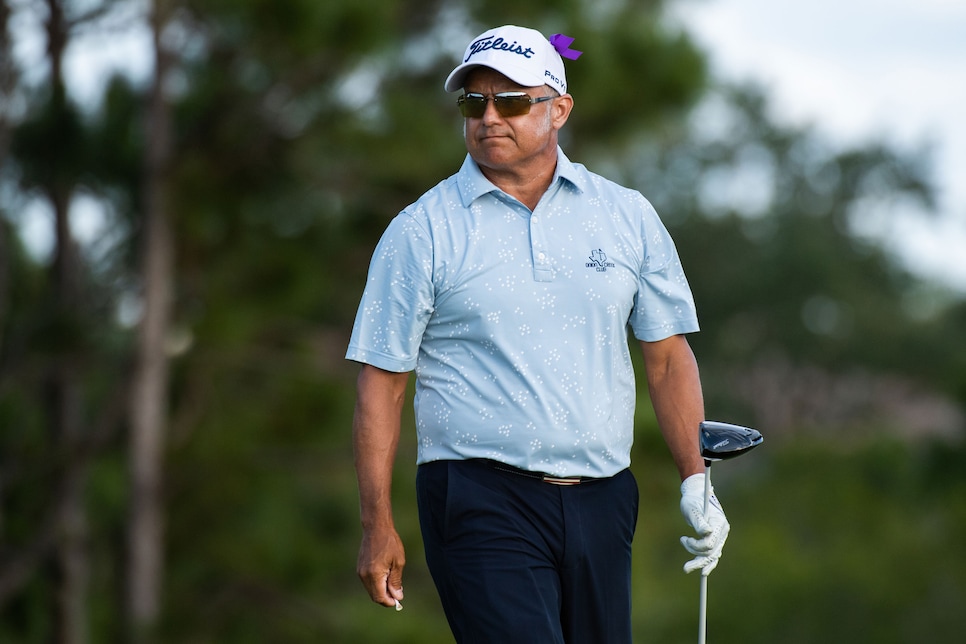 Omar Uresti won the PGA Professional Championship for the second time, qualifying to play in the PGA Championship for the fifth time as a club professional.
Montana Pritchard/PGA of America
Appearance wise, there seems to be a disconnect. Omar Uresti doesn't cut the figure of a man who is, at least according to the Court of Twitter Opinions, too accomplished to play in the tournament he just won rather comfortably. There were no 320-yard drives to speak of. He's not a 20-something with biceps stretching his shirtsleeves.
Uresti is 52-year-old who stands 5-feet-6 on his best day, with no hair on the top of his head but grey mutton chops on his cheeks—and $3.87 million in career earnings on the PGA Tour. The Texas native never won (or finished second) in his 377 starts on the big tour, but this is a new chapter for him, and he's now won the PGA of America's PGA Professional Championship twice after a dominant performance this week at PGA Golf Club in Port St. Lucie, Fla.
The former University of Texas All-American built a seven-shot lead after his first three rounds of 67, 68 and 65, which gave him enough cushion to survive a nervy final-round 76—he was four over for the day through four—and still win by three over Frank Bensel Jr. Uresti becomes the oldest winner in the championship's history, and he will now lead the contingent top-20 finishers who earned a spot in next month's PGA Championship at Kiawah.
"I was a little anxious on the driving range," Uresti said. "But then on the course, I felt good with my swing. Just the first four holes played pretty difficult, especially the first three. Got a couple bad breaks on No. 3, then was able to settle down and hit shots. Didn't make any putts like I did first three days, but was able to hang in there and hit greens and two putt."
There's a touch of romanticism to earning a spot in the field at Kiawah: the club pros, the guys who fold shirts and give lessons all year, getting a chance to tee it up alongside the Rorys and Dustins and Jordans for a week. Which is why there was a healthy chorus of blowback when Uresti first won this tournament in 2017. Why was a guy who played 11 full seasons on the PGA Tour—and who is not currently on staff at any golf club—competing in an event created for guys who spend their weekends buzzing around in carts waving to members?
The answer is twofold: Uresti isn't breaking any rules, and a lot of the guys he's playing against don't exactly do what you think they do.
The PGA Professional Championship was known as the PGA Club Professional Championship for the first 38 years of its existence after its first playing in 1968, and that old name (gone since 2006) certainly plays a role in the criticism. But the tournament is not limited to club pros. Any PGA of America member who is a Class A PGA professional is eligible, so long as they have made less than 10 starts on professional tours (including developmental and senior tours) during the last 12 months, not including majors. Uresti is indeed a Class A, a title he earned, in a stroke of irony, by being a member of the PGA Tour for 20 years. And he's played just four events on pro tours in the past year—three missed cuts on the PGA Tour and a T-63 on the PGA Tour Champions.
"A lot of people don't know what I do on the side," Uresti said after his 2017 victory. "Not that I'm a full-time shop guy. But I have some kids and juniors who I teach on the side. I give free pointers to members at Onion Creek where I play and practice. I host a fundraiser for The First Tee of Greater Austin, the Omar Uresti Invitational. I play in other fundraisers.
"I've been paying dues to the PGA of America since 1993. During all those years I did play and travel, I played in hundreds of pro-ams. I gave lots of tips to these amateurs. One of the biggest things in the PGA of America is to promote the game. I've been promoting the game for as long as I can remember."
If there were a time for officials with the PGA of America to alter these rules—say, to prevent players with a certain amount of career starts on a certain tour from playing—it was then. They declined to do so. And Uresti, who has now qualified for the PGA five times through the PGA Professional Championship after never qualifying as a PGA Tour member, wasn't the only former tour pro who teed it up this week. There was Jeff Brehaut, who played six seasons on the PGA Tour in the early 2000s; Jason Caron, who played six years on the Korn Ferry Tour and had full status on the PGA Tour in 2003; Bob Sowards, who got through Q School in 2007; and Sonny Skinner, who played four years in the big leagues, to name a few.
Yes, Uresti is the most accomplished of the bunch, although he never exactly sniffed the Ryder Cup picture—his career high World Ranking is No. 179, he never made more than $583,704 in a single season and he has just 14 career top-10 finishes. But he was hardly the only one in the field who has played full-time, or is currently playing full-time. (It's also worth noting that a past champion of the event is Sam Snead, who also happens to have won 82 PGA Tour events.)
Which brings us to our second point. Would it be nice to have a tournament limited to guys who do run member-guests and don't have time to practice like tour pros? Perhaps, but this simply isn't that event. While the majority of the competitors do, indeed, have an affiliation with a club, several aren't there working on a daily (or, in some cases, weekly) basis. The PGA Professional Championship is the crown jewel of the "club pro" circuit—there are tournaments year-round, and these guys play in them, and their employers understand that having a great player representing their course brings a certain cache. So they grant them time to work on their game with the hope that they will play their way onto TV or into news articles, with their name attached to the course's.
Take Alex Beach, who entered this week as the defending champion after winning in 2019 (last year's edition was canceled due to the pandemic) and finished tied for sixth. Beach is 32 and represents Westchester Country Club in New York, but told Golf Digest last year that his "goal is definitely to earn full status on tour, and play full time."
The online outrage, it would seem, should be directed toward the PGA of America rather than Uresti, whose greatest crime is his desire to compete and his recent propensity for winning. Don't hate the player, hate the game.